While I was living in Byron Bay, Sydney went through some radical changes. It lost a lot of its unselfconscious charm. It became the Olympic City, and with that came development on an unprecedented scale, a huge rise in prices of food, accommodation and entertainment, more congested roads, and a pretentious, bombastic egocentric attitude that can be very off-putting. It's also bloody cold in Sydney!!

mm© Ken Done
If it wasn't for the beautiful harbour and beaches, and the obviously picturesque skyline by day or night, there might be no reason to forgive Sydney for its current personality. I moved back in late 2000 for work and family reasons and stayed six years. I missed Byron Bay every single day (and so moved back there in late 2006), and I missed Los Angeles at least every second day. But spending more time with old friends was and is a wonderful thing. Here's a glimpse of my life in Sydney these days. For latest happenings, go straight to the bottom of the page.

mmm

I'm over the whole fireworks extravaganza that Sydney puts on each year, and on New Year's Eve 2001/2002, while bushfires raged, it was strange to see the sky lit up with millions of dollars worth of explosives. Nevertheless, the tourists love it, especially tourists from the UK who aren't used to balmy weather at New Year.


L-R: Hayley, Ros, Deb, Adam and Paul

Here I am with my cousins on 31 December 2001 with the Sydney Harbour Bridge behind us (even though you can't see it!). They had climbed the Bridge the night before. The Bridge Climb is a fairly recent development in Sydney tourism. It looks like an amazing experience, one that I will never have the courage to do.
| | |
| --- | --- |
| | My girlfriend Judy from LA loves coming to Australia. She climbed the Bridge last time she was in town in 2000. Here we are that year, standing in the middle of Pitt Street Mall. Once upon a time, before they made it a pedestrian precinct, this street had the busiest traffic in Sydney. My favourite music store, Palings & Nicholson, used to be here and I bought my Linda Ronstadt-style tambourine there in 1978. Now it's a hodge podge of shopping arcades and crazy people. |
| | |
| --- | --- |
| Just around the corner from Pitt Street is Market Street, where the beautiful old State Theatre is. The State is one of the few remaining old-style theatre palaces from the early to mid-20th century. Developers have torn down the Regent, Paris, Forum and many others, so only the State and Capitol are left. The State Theatre is the home for the Sydney Film Festival and many important premieres. This picture was taken of me on the red carpet for the Vanilla Sky premiere in December 2001. It was nice catching up with Tom again. | Photo by Bob King |
I am in regular contact with my best school friends to this day. That's Killara High, of course, and there's a whole page about those younger years if you're interested. At an October 2001 barbeque at Glenbrook, at the foot of the Blue Mountains, west of Sydney, a group of us and their multitudes of children gathered for the 40th birthdays of Marcus and Simon. There were a lot of 40th birthday celebrations around that time. There was more excitement on this occasion, however, over my new Rav 4. Oh what a feeling!


Tracey, Norm, Simon, Deb, James and some kids... so many kids...

Pete's wedding day
L-R: Simon, Kirsteen, Peter, Debbie, Andrew, Marcus

My dear old school friend Peter celebrated his second wedding in August 2001 and he and his bride Kirsteen decided we should all freeze our tits and butts off in Sofala, an old gold mining town in the NSW Central West (too close for comfort to Bathurst, arsehole of the universe). Only for Peter would I go to such a place, and only that once. Next wedding is in Port Douglas!
| | |
| --- | --- |
| And here we are again, this time at Bronte Park for a Geriatric's Brunch in honour of our friend Norm's 40th. Activities included crutch races, medicine and spoon races, and eye tests. | L-R: Andrew, Anna, Dorelle, James and Deb |
One of my Killara High friends, Melinda, has been an amazing inspiration over the past decade or so. She's the powerhouse behind all the great school reunions we've had, and she did me the great honour of asking me to be her bridesmaid at her wedding in 1992. When she celebrated her 40th in February 2002 it was a great gathering of the old school girls. We all look pretty good for our vintage, don't you think?


Back L-R: Robyn, Meg, Carolyn, Sue
Front L-R: Caroline, Debbie, Merryn, Alison, Debbie and Melinda

It was over 25 years since Alison and I donned our ABBA outfits and staged a tribute to the Swedish girls at the Killara High Entertainers talent quest, but in 2002 we obviously still have something special. At Melinda's party we ran through an enormous repertoire from ABBA to Queen. Here we are performing a very dramatic rendition of "Bohemian Rhapsody."
With long-time friends like Wayne Harrison and Justin Fleming there is usually a dramatic or literary event happening in Sydney that I partake in — although both live overseas most of the time these days. In December 2001 a book called Paris Studio was launched at the Australia Council, a volume of short stories, journal extracts and other pieces by writers who had spent time at the Australia Council's studio apartment in Paris. Justin met his wife Fay while on one of his Paris Studio sojourns, and has been back numerous time since, and he contributed to the book.


At the Paris Studio book launch.
Wayne, Debbie, Fay, Justin.
| | |
| --- | --- |
| | My own 40th birthday was celebrated in August 2002 on both sides of the Pacific, with an elegant afternoon soiree at my parents' house in Sydney, and then an Aussie barbie in LA a week later. Click on the photo at left to see all the photos from the Sydney gathering. |
| | |
| --- | --- |
| In early December 2002 my dear old school friend Andréa, who lives in London, came home for a visit for the first time in seven years. The old gang loved catching up with her again and got together in a very Sydney-ish locale, at the Cruise Bar in Circular Quay (lousy service - don't ask for the wedges!). | Debbie and Andréa do the Sydney scene |
| | |
| --- | --- |
| Some of the gang. L-R: Norm, Stutch, Andréa, Deb and James | Andréa stays in London because she likes the "gritty" feel of the city, and while she loved her visit back to Sydney, she could see that much of Sydney's grittiness has been smoothed out now into the slick shiny "we are the greatest at everything" city that it believes itself to be. We hope she will move home anyway. |
In June 2003 the music industry held an intimate tribute night for a much loved production manager/roadie named Wane "Swampy" Jarvis. I didn't know Swampy but I wanted to pay my respects (especially as Sherbet were playing at the tribute show) and I had a fun catch up with Donnie Sutherland, he of Sound Unlimited fame. Check out some pics of Sherbet from the night here.


Donnie and Deb catch up for a good cause
Photo by Bob King
| | |
| --- | --- |
| | In December 2003 I went along to the annual morning soiree to announce finalists for the Golden Guitar Awards. Nice to catch up with some country music pals and talk to a couple of great songwriters about doing interviews for my upcoming book. Here I am at left with Joy McKean, wife of the late Slim Dusty and a legendary songwriter in her own right, and of course the irrepressible Glenn A Baker. |
| | |
| --- | --- |
| And this is me in deep conversation with CMAA President and true blue songwriter, John Williamson. Thanks as always to my good mate Bob King for snapping me in all the right places. Figuratively speaking! | |
| | |
| --- | --- |
| | January is always Sydney Festival time. As a teenager and then in my twenties as an Arts writer and enthusiast, the Festival of Sydney, as it was then called, was a yearly ritual that I worshipped. Nowadays most of the festival events pass me by, as I am no longer a dedicated follower of the Yarts, but my old friend Brett Sheehy, 2002-2005 Director of the Festival, kindly invites me to a few things, including the opening night gala. So here I am with friend Mandy at the 2004 opening party, looking suitably celebratory. |
And totally blissed out in party mode was my wonderful friend Wayne Harrison, with me at right.

The opening night theatre event I went to, Hashirigaki, defied meaning. All agreed it meant absolutely nothing but it was fun to watch and listen to. The second night play, Strindberg's Dance of Death, starring Sir Ian McKellen, reminded me why I don't go to the theatre much any more. Ahh, I'm just a rock chick now I guess.
| | |
| --- | --- |
| | Always nice to catch up with friends in the music industry in party mode. In July 2004 The Music Network — Australia's trade rag for the business — held a shindig to celebrate its 500th issue. I popped in on a freezing winter night and bumped into my old APRA colleague and pal, Bernadette, who works at J Albert & Son publishers these days. |
| | |
| --- | --- |
| And here I am with a couple of industry stalwarts. Don't you love that word "stalwart"? Gill Robert and Trevor Smith, record company and radio gurus respectively, are two of the nicest guys in the business. But don't tell them I said so. | |
August 2004 and another birthday came and went. There's a great new restaurant called Lazar's across the road from where I live so I celebrated over dinner with excellent food, fine wine and a massive Bombe Alaska. Here I am at left with Peter and Norm, and below with James and Mike. Hip hip hooray.
After a balmy Spring weekend in September, Sydney experienced a pretty outrageous hailstorm which transformed parts of the city into a "winter wonderland". Here are some pics from my neighbourhood and back patio. Crazy stuff.
| | |
| --- | --- |
| I made one of my rare visits to the theatre in November 2004 to see the new work by Justin Fleming, my dear old friend who pops up all over the Debsite. Satango is a sizzling two-hander and its premiere season starred Simon Burke and Sharon Millerchip. Composed by Stuart D'Arrietta and with lyrics and book by Justin. I loved it. | Debbie and Justin at the Satango opening at the Stables Theatre |
There's nowhere else on the Desbite to have this rave, so it has to be here. The Eagles played a massive tour of Australia in November and December of 2004 and I went to see them twice at the Sydney Superdome. Just as a fan. No free tickets, no backstage passes, just me being a totally besotted fan again. Notwithstanding Bruce Elder's mean and nasty review in the Sydney Morning Herald (click here if you dare), it was a really wonderful concert, especially the second one I saw, on the last night of their tour, when I was sitting in the fourth row (and then right up the front for the finale, "Desperado", of course).

My wonderful pal Bob King took some stunning pics of the boys at their first Sydney show, as hinted in strip above. I won't put them here in a bigger size as I am sure rampant Eagles fans will pinch them disregarding copyright. I didn't take my own photos because I was too happy just watching them, and exhanging affections with Mr Henley. Thanks for the kiss, Don. It makes up for that BAY FM program ID you wouldn't give me nine years ago! (See here for the story on that.)

What my ridiculous ticket price got me was a laminate making me look like I had a backstage pass, even though I didn't, and a free drink (I had champagne, which is why I was dancing up a storm at the end, thereby catching the attention of the usually reserved Mr Henley), some free crinkle-cut chips, and a cushion to sit on.
Don't you wish you had one just like it?

I thought that in the nine years since the boys were last here, having befriended some of the extended Eagles family like JD Souther (see interview with JD here) and Ned Doheny and Henry Diltz (see recent pics of me and Ned and Henry here), and really having spent more time devoted to Chicagoholicism than my once-intense Eagles obsession, that I was over it. But no, it turns out I am still very much under their spell. Sigh... I hope it's not nine years until next time.
The second Thursday before Christmas each year marks a celebratory gathering of my favourite Killara High pals for drinks and dinner at well-known establishment at The Rocks. We had a great turnout in 2004, as Andréa was in town from London, and Simon graced us with his presence from the Blue Mountains. If you've followed the development of this page, you'll know who everyone is in this photo.

Killara High friends at annual Christmas drinks, 2004.
Yes, I'm the one in the bright colours.
Yours truly with Simon, left, and Andrew, right. I love my old high school friends.
| | |
| --- | --- |
| | My gorgeous friend Jeffrey hasn't popped up on this page of the Debsite (well, he's in the 40th birthday gallery, and in an earlier incarnation on the Roaring Twenties page) so I figured it was time to rectify that. He had some pics taken of us in his sunny courtyard during the wonderful late burst of summer we had in April 2005 and I thought this was nice enough to share. |
This is a fun one. My great pal Wayne Mac, radio guru supreme, without whose input my celebrated 2SM page wouldn't be quite the shrine it is, popped up to Sydney in May 2005 (he resides in Canberra) and we felt it only fitting to do lunch at a cafe across the road from the old 2SM building in McMahons Point. That's the great old glass tower behind us, sans the red 2SM neon sign.

Wayne has a book coming out soon about the history of commercial radio in Australia. Check out the Wayne Mac website for all the details, and some terrific archival photos of various radio legends.
Photo by Keith Saunders
In May 2005 I interviewed Ken Done, iconic Australian artist, for an upcoming cover story in the Melbourne Weekly magazine. My great friend Keith Saunders came along to do the photo shoot, and snapped this one of DK and KD with a backdrop of the sparkling waters of Chinaman's Beach.

I devotedly used Ken Done's yearly diaries and calendars during the 1980s, before my Filofax took over and I got into dog calendars, and then Leunig calendars. Walking into his studio and taking in the many canvases of brightly coloured flowers and sunny depictions of his happy life, was good for the soul. You can read the published result of my visit here.
| | |
| --- | --- |
| October 2005, and my book Songwriters Speak continues to sell and get attention. One of the interviewees in my book, Chrissy Amphlett, lives in New York, so couldn't make it to my book launch in August, but she was in town last week for the launch of her own book, Pleasure and Pain, and she invited me along to the shindig. | |
| | |
| --- | --- |
| | Chrissy's memoir is sure to be a great tale, one I'm saving up for Christmas holiday reading. Meanwhile, at her launch, it was good to be in the company of music industry types including fellow rock writers Glenn A Baker, Toby Creswell and Stuart Coupe, and rock snappers Tony Mott and Bob King. My trusty pal Bob took the pics of me and Chrissy. |
While I was promoting my book back in August, I put together a lengthy piece for the (sydney) magazine on Sydney songwriters. It was published finally in the issue that came out with the Sydney Morning Herald on October 27.
Those from the book who are featured include Don Walker, Iva Davies and Sharon O'Neill, and I interviewed some extras, namely Peter Garrett and Tim Freedman. Click on Mr Garrett, above, for a look at the whole piece. It's also available to read on the Songwriters Speak Press page.
Killara High friends at annual Christmas drinks, 2005
L-R: Norm, James, Simon, Debbie, Shorty, Anna.

Christmas rolls around faster each year, but at least that means it's time again for the annual gathering of school friends at Phillip's Foote in The Rocks. In 2005 we were graced with the rare presence of Marcus, who, like Moses, came down from the mountain, and with a special surprise visit from Michael (aka Shorty) who debunked to Melbourne in 1978 and had not been seen since.
Shorty had found me after seeing my book, Songwriters Speak, in a Melbourne shop, and then looked up my website. He emailed me:

"I was attending Killara High School from 1975 until 1978. I was walking through a music store the other day and whilst looking through the music book section I noticed the title of a book and then noticed the author had the same name as a girl I went to Killara High with. I had a good friend whom I remember I used to 'hang out' with, on a seat along the walkway next to B block (or I where used to have Home Economics classes.) Our other friends were also there, James (or Owly), Roan (Ralph) Peter (Dicko), Marcus, Andrew (Stutch), Simon (from England). We were all into music and I have to say that those times at school with all of these people had a huge influence on my musical tastes and directions.

"We used to talk about like bands Steely Dan, Steve Miller Band, Joan Armatrading, Doobie Brothers, Gerry Rafferty, 10c.c., Little River Band and Fleetwood Mac. I have very fond memories going to a concert at The Opera House with 100,000 other people and my friends, including Debbie Kruger. Little River Band were playing as well as Stars... There can't be two Debbie Krugers that went to Killara High, in the late '70s, can there!!"
James and Shorty meet again
Christmas 2005

Of course there can't be! As demonstrated on my Younger Years and 2SM and Music & Mayhem pages, I am that same Debbie Kruger (albeit without the penchant for Joan Armatrading).

So James and I came up with Project Get Shorty, to surprise the others at the Christmas gathering. Michael, who doesn't really like being called Shorty any more, now that he's grown to full height, was thrilled at the prospect of seeing us all again after 27 years.

There's something about those old friendships that can just pick up where they left off, even when the gap spans nearly three decades. Shorty (he'll always be Shorty to us) slotted right back in.

Here, at right, is an old photo from 1977 taken from my Younger Years page, with names attached to the guys. And there they are below, these days. Reckon they've changed much?

Killara friends in 1977

L-R in 2005: Marcus, Peter, Andrew, Norm, James and half of Simon
Simon catches up on some
essential reading

| | |
| --- | --- |
| | Marcus and I made a fine pair some 26 years earlier and are still looking good these days. There is nothing quite like basking in the glow of great old friendships. |


Marcus and Debbie
December 2005
January is Sydney Festival time. I wasn't that interested in the 2006 Festival until my fabulous friend Wayne Marshall – organist, pianist and conductor extraordinaire – informed me he would be coming out to conduct Gershwin (his specialty) at the Symphony in the Domain concert on January 21. As it's some years since he's been in Australia (the first time was when I did his publicity on the 1995 Brisbane Biennial), several catch-ups were mandatory.

Wayne Marshall and Debbie

Wayne arrived in Sydney early, with his beautiful wife Anne, to enjoy a holiday before the concert (notwithstanding the wet, wet weather). Soon after their arrival we were enjoying the fine food at Flying Fish restaurant. Apart from the sensational food and the mesmerising mood lighting, the most fascinating thing about the restaurant was the design of the toilet cubicles, which I am told are the same in the men's as they are in the women's restrooms.

Wayne and Anne enjoying Sydney
in spite of the challenging weather

Innovative restroom design
My former Biennial sidekick, Melissa, with whom I've stayed friends all these years, came down to Sydney from Brisbane for the weekend of the concert, especially to catch up with Wayne... and me, of course.
Sydney's wet weather suddenly broke into beautiful fine weather in time for the Symphony in the Domain, and we enjoyed VIP seats with perfect views of the Sydney Symphony Orchestra and our friend Wayne, the conductor/pianist/host of the evening, along with endless supplies of bubbly. The catered food was pretty good, too.

Debbie and Melissa feeling symphonic in the Domain

Of course there were the obligatory fireworks accompanying the obligatory performance of Tchaikovsky's 1812 Overture, but the main musical thrust of the night was Gershwin, in all his rhapsodic glory.

| | |
| --- | --- |
| | Later that evening, back at the Sir Stamford Hotel in Circular Quay, we had supper and farewell drinks before Wayne and Anne flew back to icy England the next day. Wayne says he might be back next year for the 2007 Sydney Festival. If that happens, we'll see what we can do about the big January Sydney Wet! |
Peter Dawkins is a name that features often on the songs and albums I collected during the 1970s and '80s. He produced hits for John Farnham (when he was still Johnny), Ross Ryan, Russell Morris, Dragon, Air Supply, Mi-sex, Australian Crawl and many more. Peter is a sufferer of Parkinson's Disease, and in March 2006 a select gathering of the Aussie music industry rallied together for a fundraising dinner to help cover the costs of Peter's expensive surgery and medical care.

There were live performances from several of the above mentioned artists. It was wonderful to hear Ross sing his 1974 classic "I Am Pegasus"; Russell's "Wings of An Eagle" had a room full of people singing along to "waa-hoo"; Todd Hunter was there with his new version of Dragon, featuring Mark Williams on lead vocal, doing "April Sun in Cuba" and "Are You Old Enough?"; and there were also Mike Rudd, James Reyne, Troy Cassar-Daley and my good pal Glenn Shorrock in fine voice.
Bob King was on hand, as always, to take photos and, unless indicated, all these pics are by him.

This is me with Peter Dawkins, the man of the evening. There were great speeches from him and from his team of doctors who performed groundbreaking surgery to bring Peter back to a near-normal, functioning life.
| | |
| --- | --- |
| | Here I am with Jamie Rigg, Jo Shorrock and Russell Morris, who recently decided to stop wearing his trademark cowboy hat and felt that necessitated doing away with the hair that was then exposed. |
| | |
| --- | --- |
| I hadn't seen Russell since I was working on my book, Songwriters Speak, in which he features. He said he loves the book and has read every chapter... except his own. Go figure. | |
| | |
| --- | --- |
| | Always great to catch up with Angela Bishop, sassy entertainment reporter from Channel Ten News. Here she is with Peter Dawkins, me and Jo Shorrock, while Mike Rudd sings "I'll Be Gone" in the background. |
That's Mike Rudd, on the left, alongside Russell, Ross, and Mark Holden, who came along to lend his support. The photo is courtesy of Ross Ryan, whom I first met back in my APRA days when I

interviewed

him for APrap magazine.
| | |
| --- | --- |
| | Here we are at dinner; I'm engrossed in conversation with Richard Clapton, who's hidden next to his manager, Mark Pope, and that's Billy Birmingham in between me and Glenn Shorrock. |
Yours truly and some of the above also featured in the social pages of the Daily Telegraph on the following Saturday. You can check that out here.
| | |
| --- | --- |
| Debbie with Ralph and Warner's Libby Blakey | I caught up with Richard Clapton again in April 2006 at the Warner Music launch for his new album, Unwired. It's another take on the "unplugged" idea, with all his classic hits like "Deep Water" and "Lucky Country" done acoustically. It was a fun night at the Vanguard in Newtown, where the music and pizza were mighty fine. |
| | |
| --- | --- |
| The lovely lass from Scotland, the soulful, mellifluous and funny Eddi Reader, was in Australia on a whistlestop tour in April 2006. We spent an afternoon together in the brisk autumn air, on the harbour foreshore – Opera House locale – catching up and swapping tales of life, love and music. | |
I was championing Eddi's post-Fairground Attraction solo work way back in the early and mid-'90s, long before she started visiting down here. We befriended back in '94 through correspondence and have managed to keep in touch all this time. I even interviewed her a couple of times over the years, and you can read those in my Freelance Writing section here.
Eddi's show on April 25 was at The Basement, which was packed to the rafters. Wonderful to see her so adored, which means that she will probably be back again soon, fingers crossed. Her last visit in 2005 produced a new live album which you can find out about here.
| | |
| --- | --- |
| My beautiful friend Amber got married in late April 2006 to her long-time love, Stuart. It was the first wedding I'd been to in six years! All my friends were getting married... now only a few are left to do so. Here I am with Amber at her wedding reception. No, I didn't catch the bouquet. She wouldn't throw it! | |
Marcus and Simon, as featured in many places on this page, live in the Blue Mountains, west of Sydney. A lovely area if you like the mountains and cold air. Hmmm. I've made it a policy not to go that far west of Sydney unless absolutely necessary, but visiting Simon and Marcus is worth the effort. We took a little excursion down to Echo Point to view the Three Sisters. I'd been there so many times in my younger years, but not since they had developed the point into a full-on tourist facility.

| | |
| --- | --- |
| And here's the view we were standing in front of in the previous photo. It's nothing on the Grand Canyon, but it's pretty grand when viewed with the naked eye. Simon would like me to come up for another visit this year. I will do it, because I love my friends, but I am waiting until winter is over! | |
The winter of 2006 in Sydney has been the coldest on record for some 25 years. It was officially the coldest June for at least that long. In my capacity as the acting senior publicist at Sydney Harbour Foreshore Authority during the winter of 2006, I was called upon to attend various outdoor events, to work with the photographer to capture the spirit of each occasion.

At the Darling Harbour Jazz Festival on the Queen's Birthday Long Weekend, a crowd of faithful enthusiasts flocked to Darling Harbour, braving some pretty abysmal conditions - icy winds and nasty rains - to see James Morrison, Joe Camilleri and other top acts. And I was there, too. Looking delighted, as you can tell. A singlet top under a thermal long-sleeved top, under a Stella McCartney fleece jacket, under a Stella McCartney fleecy hooded shrug, under an old weather-proof jacket from my London days. And two layers of gloves. And I was still cold!

It's been so cold that my favourite winter boots have had a few good wearings. They are sheepskin-lined Giuseppe Zanotti calfskin boots that I got at a fraction of the price on ebay in 2005. Very divine. (But probably not rating high with Stella McCartney, an avowed anti-leather designer.) On this occasion I was resting my weary feet at the opening of the Art on The Rocks exhibition, just a few days after the Jazz Festival.
And then there's my old fake fur coat that I bought in London in 1990 during one of those snow-bound winters. It's huge and heavy and has been getting quite a few outings in 2006, especially at the Darling Harbour Winter Concert Series events, which featured free gigs by Tap Dogs, The Whitlams and Peter Cousens. In the pic above right, I'm with my offsider at the Foreshore Authority, Billy Gentle (yes, the Gentle man), meeting and greeting guests in the VIP tent at The Whitlams concert. As you do.
Meanwhile at my other PR gig... Jamm 4 Genes took place on Friday 4 August 2006 after months of work. Live music gigs all over the country in pubs and clubs raised money as part of the annual Jeans for Genes Day campaign for the Children's Medical Research Institute. At the Jamm 4 Genes "host" event, at Sydney's Civic Hotel, a bunch of organisers, musicians and punters gathered for the cause.

Beccy Cole was one of the official campaign spokespeople and she sang at the Civic and hyped up the good word on the CMRI. That's me and Beccy, above, as snapped by official campaign photographer, my pal Bob King.

Beccy's manager and all-round good guy of the Australian music biz, Gill Robert, was hanging around, too. That's me and Gill, left, enjoying a drop at the end of an exhausting week.

Given that Friday 4 August was the coldest day of the a miserably cold winter, it was good form for people all over Sydney to wear their jeans to work, buy a badge, turn up to a Jamm 4 Genes gig, buy a dog tag (!!) and support a worthy charity.
In September 2006 my friend Leanne, from Geelong, paid a visit to Sydney with her husband Mark and their kids Marlee and Mitchell. The main purpose of the trip was for Leanne to attend the Countdown Spectacular with me, details of which can be found here.

Sydney turned on some spectacularly warm late-winter weather for their visit, too.

Leanne and I have an amazing 30+ year friendship that for some reason has yet to be documented on the Debsite. But my Countdown Spectacular page gives some background to our connection. She has a very nice looking family, doesn't she!
Ode to a home...

8 September 2006 marked a very sad day for the Kruger family, with the settlement of the sale of our family home of 32 years.

My parents bought the block of land and had the house built for us in 1974, so this wasn't just a house we had bought, used and dispensed with. Every nook and cranny of our house was imbued with family memories.

So many important times in my life... girlfriends sleeping over... studying for the HSC on the front porch.. swimming parties and barbecues with great friends... many birthday parties, including the great Dallas 21st and the elegant 40th celebration... And my father's last breaths... in this house.

With Dad gone, it was time for Mum to downsize. This was a heartbreaking change in our lives. But everyone goes through it, don't they?
Another Sydney Harbour Foreshore Authority event, another freeeeezing night! Cut to the October long weekend (which started on September 30, go figure) and the Darling Harbour Fiesta. We promoted it as "hot chilli nights" with a "sizzling" atmosphere. It was freeeezing!

But fun, too.

Here I am with the Authority's event photographer, Matthew Vasilescu, on our last gig together before I left the job. Matthew's a great photographer and you can check out his website here.
When I finished up my contract at the Sydney Harbour Foreshore Authority in early October 2006, I was taken out for a lovely lunch to say thanks and goodbye. These were the nicest bunch of people I have ever worked with. Going around the table left to right are: Julie-Anne, Amy, Charmaine, Billy, Elaine (whose job I was acting in while she was on maternity leave), Karen and yours truly.

| | |
| --- | --- |
| | And this is Dave, a passionate lover of all things sport, especially the World Cup Soccer and the Cricket Ashes Test. He's a team player and prefers team sport; I couldn't get him very involved in discussions about Wimbledon. |

This is me with Anthia, who had a baby just a few weeks behind Elaine and was also on maternity leave (Billy filling in for her). I had the pleasure of working with Anthia for those few weeks before she left, and we stayed in touch throughout my six months at the Authority. Julie-Anne is on Anthia's other side. Gorgeous girls.

| | |
| --- | --- |
| | Billy stayed on for a few months after I left, working with Elaine until Anthia was ready to return from her maternity leave. Here I am with Billy and Elaine. Two more of our colleagues fell pregnant while Billy and I were there... Pregnancy is a known risk of working in Sydney Harbour Foreshore Authority's Publicity Department. Billy and I both averted the risk, emerging unscathed. Well, at least I think Billy is okay... |
My fabulous film producer friend from London, Ray, came to Sydney in early October to work with George Miller's post-production team on Happy Feet, the worldwide box office smash animated film about a dancing penguin. Ray produced all the foreign language versions... you know, Russian penguins, German penuins, Spanish penguins...

| | |
| --- | --- |
| | Ray and I have been friends for 16 years, since I was living in London. We caught up briefly before I left Sydney for Byron Bay. Unfortunately our crazy conflicting schedules meant that we all we had time for was a quick breakfast in Chatswood, which is not exactly teeming with great breakfast venues. This is certainly not an endorsement for Bay Swiss. |

For years and years I have called Ray my "little ray of sunshine". He never got it. During his visit to Sydney he got himself a copy of my book, Songwriters Speak, and now has no excuse for not knowing the reference.
Although I moved back to Byron Bay in October 2006, I was already back in Sydney for a while in December, for some business and for a lot of pre-Christmas festivities. Lunches, dinners, drinks and parties... Oy! One such occasion was a beautiful dinner at Lo Studio, a swish Italian eatery, with Wayne Harrison, only a couple of weeks before his big New Years Eve extravaganza. (In 2005 and 2006 Wayne has been Director of New Years Eve for the City of Sydney)
Wayne and I have a tradition of being photographed together at great restaurants around the world – Sydney, Los Angeles, London et al. So this night was no exception.

We were also joined by Justin Fleming and his wife Fay, and it was a jolly night with great old friends. Thanks to Wayne for taking the photos on the night and sending them through speedily for the Debsite.
Another Christmas, another dinner at Phillip's Foote in The Rocks with my best high school pals in December 2006. You've seen this mob (or variations of this mob) at this location a few times on this web page... but I do love to keep you updated. Here are Andrew, James, Debbie and David having a merry old time.

| | |
| --- | --- |
| | And here are the boys with Anna. Simon joined us, too, but left before I brought the camera out. It was a much more intimate gathering this year. Phillip's Foote has a long history and as such as a good venue for a group of friends with a long-term shared history. You can find out about Phillip's Foote at their website. |

Debbie and Andrew at Phillip's Foote... again.


Compare to

two years ago (click to see)

– how are we ageing?
In late 2006 I moved my base back to Byron Bay after six years back in Sydney. Moving up the coast is not such a big deal these days... it's really just the Far Upper North Shore, right? Head over to the Byron Bay Bliss Part 2 page for continuing news on my life between Sydney happenings.
I ended up spending a lot of 2007 back in Sydney, caring for my ill mother, but there was some compensation, especially when the Countdown Spectacular 2 concert tour came to town in August. Be still my beating heart... I met one of my lifelong heroes.
He had just celebrated his 58th birthday the day before (and me my 45th the week before). Looking good, hey? Click on me and the gorgeous Rick Springfield to find out more.
Vanessa from Melbourne came up for a "goodbye" visit in late September 2007; she was off to live in the south of France a few weeks later and was bringing her new amour to see Sydney. Here we are in the most iconic of locales, just before we had a very pleasant lunch at the Park Hyatt's harbourkitchen&bar – yes, all one word, in that pretentious Sydney way! Nice food, though.

| | |
| --- | --- |
| | We also went to Bondi and did the coastal walk to Bronte Beach. Which for some reason I had never done before. It was glorious. Click on the pic of Vanessa and me on the left to see more photos from that day in the Beach Baby section. |
In late October at the Sydney Morning Herald Food & Wine Fair, my great old pal Terri and her daughter Taylor spent a few hours with me as we stuffed our faces on food samples from restaurants around town. No pics of us eating, just some nice happy snappies in Hyde Park.
L-R: Shooshi, Debbie, Jenni and Judith

In November 2007 a renunion of people I went to primary school with was held at a waterfront location in Sydney's Eastern Suburbs. Given that Masada College was and still is a North Shore school, it was a bit of a schlep, but co-organiser Orna offered a lovely home for the event and gee it was great to catch up with some old friends, some of whom I hadn't seen in decades, like Shooshi, renowned star of the 1972 production of Oliver.

| | | |
| --- | --- | --- |
| It was also a lovely opportunity to see lifelong friends, sisters Nicole and Gabriella, who both live in Western Australia. Lately we'd only been seeing each other when our respective parents were being buried; they had missed my mother's funeral by only five days. It was comforting to be with them, if only briefly for that one evening. | | L-R: Nic, Deb, Gab |

Because Masada was such a small school back in the years 1967-1977, some classes only had a handful of students. When I did Year 6 there were only six of us! So we had combined classes and team teaching – very advanced for those days.

| | |
| --- | --- |
| Sarah-Lee and Debbie | This reunion, therefore, included people who'd been at Masada at any stage during those first ten years of the school. My long lost friend Sarah-Lee was a year beneath me at Masada. It was so cool to see her again. |

| | | |
| --- | --- | --- |
| I would have loved to see Rachel, my childhood friend and rival who always beat me to the best roles in the school musicals, but she lives in Israel and we haven't seen each other in more than 20 years. A few of her siblings were at the reunion, though, including older brother Paul, who terrified me when we were kids, but who in fact is a total sweetheart now. | | Debbie and Paul |

They're all sweethearts, my old primary school friends, and I hope we'll have more reunions in the future, now that this one was such a success.

Some of the gorgeous girls from Masada's early years
L-R: Debbie, Sarah-Lee, Judith (front), Janine, Shooshi, Yvonne (front), Kathy, Orna
I don't generally talk about deeply personal, sad life issues on the Debsite, which is why I did not go into any details about why I was back in Sydney through 2007 after making the big announcement about moving home to Byron Bay in late 2006. But after a horrible illness, my mother sadly passed away in November 2007. I'd basically returned to Sydney to look after Mum for as long as it took. That was eight months. Then there was another five weeks of sorting and clearing out the flat she'd been living in since selling the family home the year before, and preparing to finally return home to Byron knowing that I no longer had a home base in Sydney, or a beloved dog to take home to Byron with me (Morgan died the same week as my mother). That was heavy stuff.

The one incredibly wonderful thing that came out of this tragedy was that my cousin Cyndy from London, who is more like an older sister than a cousin, with whom I have quite a profound connection, and who had never been to Australia before, flew out here to spend two weeks with me in December 2007, to help me finish up in Sydney and to accompany me on my final journey home to Byron Bay. We had a brilliant time together, as we always do. Her visit is chronicled in three sections – here, in Beach Baby, and in Byron Bay Bliss Part 2.

Cousins reunited – Debbie and Cyndy do Sydney

No sooner had she arrived and had a good night's sleep than I was whisking Cyndy off to a friend's swish waterfront home in Woolloomooloo for an afternoon barbeque. It was a stylish way to introduce her to Sydney.

For some background on my cousin Cyndy you can check out details of my last London visit and see her in her own milieu.

| | | |
| --- | --- | --- |
| After eating way too much food (me), drinking way too much wine (Cyndy), watching a lamb cook slowly on a spit for many hours, and viewing the activity across the water at the Finger Wharf, we met up with my friend Tracy for drinks at a newish restaurant/bar called Salon Blanc. | | Tracy, Debbie and Cyndy do Salon Blanc |
A day exploring Sydney's northern beaches was mandatory, but not before starting with breakfast at the Bather's Pavilion at Balmoral Beach, one of my favourite waterfront eateries. Pics of the rest of our day are over at Beach Baby.

Cyndy and I spent a lot of time photographing each other during her visit, and as always I share my pictorial diary with you.

Debbie bathing in happiness at brekky in Balmoral
We tried out Christine Manfield's groovy new restaurant Universal, in Darlinghurst, where the cocktails were enticing, the food was seriously superb, and the desserts were grown-up versions of old favourites... that pyramid-like dish below is actually a "Universal Golden Gaytime".

| | |
| --- | --- |
| | That's Malcolm with us for dinner. He's a suave fellow about town that I've known for many years... he was actually a teacher at Killara High way way back, but he wasn't one of my teachers. Nowadays we teach each other about the finer things in life – music, food, how to put on a doona cover, that sort of thing. |
Sydney weather got down and dirty during Cyndy's visit. As it does. It turned seriously chilly and wet just on the day we scheduled the obligatory sightseeing around the city thing. Here I am making the best of it at the entrance to the Botanical Gardens.

And here we are looking like tourists, with the weather closing in all around us.

It's interesting to occasionally view Sydney from the perspective of a visitor, particularly one who has never been there before. Cyndy loved Sydney, bad weather and all, and loved photographing it.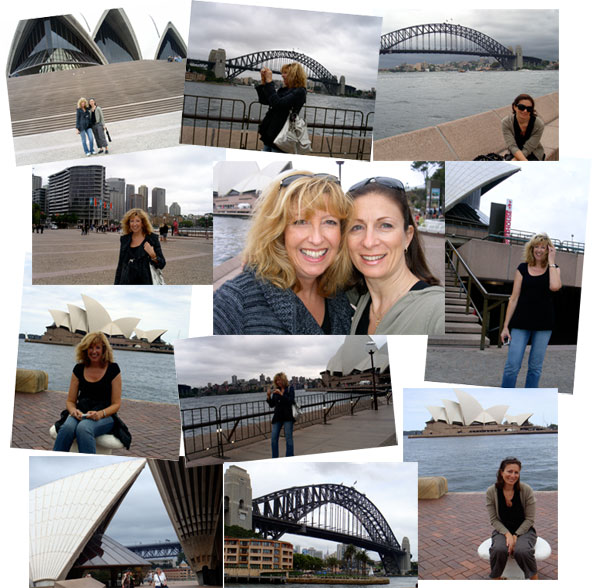 Before leaving Sydney to return home to Byron, a lunch at one of the bills cafes was in order; this is me and Tracy at bills in Woollahra.

And below are scenes from the pizza restaurant downstairs from my mother's flat in Killara, where she lived for the last year or so of her life. I don't even remember the name of this cafe, but Charles, the owner, makes a good lasagne and a good wood-fired pizza.

The next day, after my last supper in the Killara pizza joint, Cyndy and I headed home to Byron Bay, so you can see what we got up to while she was there in my Byron Bay Bliss Part 2 section. Don't forget to check out what Cyndy and I did coastally in Sydney in the Beach Baby section.
It seems like only yesterday when I was going to all my friends' 40th birthday parties – and having a mighty fine 40th celebration myself. Now the 50ths have begun! Well, granted, this was for my friend Jane's husband, Neil, who's always been a bit ahead of us young 'uns. I came back to Sydney in February 2008 for this party as it was too good to miss.

Debbie celebrates with a royale Singo

Neil fancies himself as something of a 007, so he billed the event "Singo Royale" (a reference to his surname). Glamorous women, suave black-tied men, and roulette tables set the scene.

Perfect occasion to break out the current favourite, a Cavalli top, and one of my mother's vintage Glomesh bags from the seventies.

Pity the Sydney weather was so abysmal. It had been the coldest February morning in the history of civilisation.

Not that it deterred us all from glamming up. My gorgeous girlfriends from the Killara High days were looking stunning, especially the hostess of the party, Jane, in an elegant Lisa Ho gown.

Meredith, Gwen and Jane at the party royale

| | | |
| --- | --- | --- |
| My new Nokia phone has a 3 megapixel camera and should take a better picture than this grainy effort. Not sure what I'm doing wrong, but here's one of me with Meredith, Gwen and Viv. It was a great night. And it will be a few years before we all start celebrating – or otherwise – our own 50th birthdays! | | Grainy glam girls |
I was back in Sydney in April 08 for my mother's headstone consecration and took the opportunity to catch up with friends in the few days I had there.
Tracy is busy raising her cheeky and too-cute daughter, Isabelle. We spent an evening together having dinner at Limoncello in Double Bay – Isabelle's first time there – and hanging out back at Tracy's apartment. So why is Isabelle wearing a devious, crafty look on her face?

Because her mind is on cupcakes!

She was very partial to her carrot, too, convinced that it had a hole in it. Never one to argue with a two year-old princess wielding a carrot, I agreed about the hole and snapped this fetching picture. There aren't a lot of little kids on the Debsite, being that I have an aversion to most of them, but Isabelle is worth the cyberspace. She's a doll.
It was mostly a weekend for reflection, nostalgia and old friends. On Friday night I shared dinner with three of my best friends from Killara High in the'70s. I hadn't seen Emanuel, who lived in Israel for a couple of decades, since some time in the early '80s. He's living back in Australia, on the Sunshine Coast of Queensland, and we've spoken on the phone and emailed, but this was our first time together in all those years.

Clare, David, Debbie and Emanuel

I was staying with Eva, family friend and mother of my old school friend David, who of course was there, and as well as Emanuel, we were joined by Clare, whom I see too little of lately. Beautiful friends.
| | |
| --- | --- |
| | In all my years living back in Sydney during this decade, I somehow never got around to eating at any of Justin Hemmes' trendy restaurants at Establishment in George Street. But thanks to my classy friend Malcolm, that's being rectified. In February he took me to eat at est., and this time we ate at Sushi-e, and had the best Japanese food I've tasted in a long time. Then lounged in the Hemmesphere bar with the beautiful people. Fab. |
| | |
| --- | --- |
| More high school friends met with me on Sunday afternoon after Mum's consecration, to give me a bit of support and to bid me bon voyage the day before I was flying out to Hawaii. We met at the Greengate Hotel, the old pub closest to Killara High, although most said the place was unrecognisable, with all the upgrades and renovations since they had last set foot in the pub more than 20 years ago! | L-R: Melinda, Norm, Jane, Simon, Debbie, James |
| | |
| --- | --- |
| | June 2008, a typically cold wet winter's night, and I flew down from Byron Bay especially to see Sex And The City (the movie) on its first official day of screening, with my best gal pal, Tracy. A long way to go to see a movie, but worth it to experience it with a SATC soul mate. Yes, we got Carried Away. |

This page is always developing, wherever I am in Australia or the world, because Sydney is where I come from, where so many of my friends are, where a lot of my work is. Stay tuned for further reports!