Before during and after my 2SM addiction, I was also listening to and watching other music media here in Australia that influenced me one way or another in my life and work. Here's a summary.
The first radio station I remember actively listening to was 2UW. I listened to the last Beatles hits while soaking in a bath at the age of seven or eight. I had my babysitter phone in and make requests in my name on the Saturday night request line in 1972. Procol Harum's "Conquistador" was one of my favourite requests. And I listened to Father Jim McLaren's SOS program on Sunday nights. Father Jim counselled teenagers in a caring and non-patronizing way. He was a groovy priest and something of a radio institution in the 1970s in Sydney. If my memory serves me correctly, he later moved over to 2SM. I get confused on this one, so if anyone can clarify, please do.
The 2UW breakfast DJ, Malcolm T Elliot, was good value and good entertainment, and I was quite content having my radio dial at 1107 AM until my high school friends convinced me that I was a total dag and should be listening to 2SM.
Even after migrating to 1270 on the AM dial, I still switched back to 2UW on Sunday afternoons to hear Kasey Casem's American Top 40 where I heard the first broadcasts in Australia of songs like "Killer Queen," "Afternoon Delight" and "Love Hurts." I guess it was an early attraction to American radio that stayed in the psyche forever.
- Top -

Some time before the Countdown revolution, a smart radio guy named

Graham Webb

had the idea for a show of music film clips and interviews. Sound Unlimited went to air nationally in February 1974 as the Graham Webb Saturday Today Show on Channel 7 in Sydney only, as a follow-on from the Monday to Friday 7 to 9am Today Show hosted by Steve Leibman before he went to Channel 9. The show evolved into the national Sound Unlimited program we knew and loved, and as a three-hour music program, it was the first of its kind anywhere in the world.


Logo courtesy Graham Webb

Graham Webb at Sunshine FM, 2002
Photo courtesy Webby

In March 1975, on the first day of colour TV in Australia, Webby, deciding to concentrate on producing the show, passed on the hosting job to DJ and one-time HJ (horse jockey) Donnie Sutherland. The show was brilliant. Donnie often appeared hung over, his guests often appeared hung over, but everyone trapsed into the Sound Unlimited studio at some stage during the show's 16-year run — Sherbet, JPY, Jon English, Marcia Hines, and the odd overseas guest who could handle live TV on a Saturday morning.
As Webby recalls, one overseas guest who appeared was Don McLean, who wasn't allowed to perform, according to the Musicians Union, so he played and sang, as a "demonstration of his art," being the artist he was. Contrary to popular belief, artists were never allowed to mime; they had to be miked and sang along with their records. Suzi Quatro was another overseas artist who appeared on the show whenever she was in town.
There were competitions such as Sutho's Wheel and, one of my favourite things, occasional industry forums where musicians and music industry big-wigs would sit on raked seating and debate issues such as American accents in Australian songs. That was one that would get Rolf Harris very animated!


Donnie Sutherland

Many thanks to the eternally effusive Graham Webb for checking out this page and filling in some gaps for me! He's based on the QLD Sunshine Coast and involved in the local Community Radio station, Sunshine FM, which pulls over 10% of the local market at the moment making it the most successful Community Radio Station in Australia.

Air Supply at a 1977 Sound Unlimited free gig

Once or twice in my memory Sound Unlimited presented a free concert. One in January 1977 at the Haymarket in Sydney featured one of Air Supply's earliest performances.

Donnie continued to come into the studio appearing hung over, and there were news stories whenever he was charged for drunk driving, so I used to call him Donnie-I-lost-my-licence-now-I-can't-drive-Sutherland. But he was such good value, had such a passion for the music in an understated way, and he was often very funny.
Donnie also had a late night music program called After Dark on the Seven Network which ran for a while in the early 1980s. Around that time, when video clips replaced film clips, Sound Unlimited became Sounds, and the first hour was cut, so it aired from 10am to midday on Saturday mornings.
Thanks to the advent of YouTube, it's possible to re-live many of those Sounds moments. Here are a couple of clips for you.

When the show finally ended in 1986 it was truly the end of an institution. But then there was still Countdown...



- Top -

Like enough hasn't already been said about Countdown over the years...?

Yes, it was revolutionary. It was influential. It was a way of life. Countdown was broadcast on ABC-TV on Sunday nights at 6pm from 1974 to 1987. More than any other music program on TV, particularly in the 1970s, it was the one everybody had to watch.

We grew fond of Ian Molly Meldrum's advice for us to do ourselves a favour. We loved it when Sherbet hosted the show, or Squeak or Skyhooks. We loved it when ABBA or Pussyfoot or Leo Sayer or Peter Frampton or Smokie or The Knack were on the show live. We cringed when Molly fumbled his lines over and over when he had Prince Charles in the studio sitting next to him.

We love it in January each year when ABC-TV plays re-runs of old Countdown episodes every Saturday night on Rage. We tape them so that episodes of Countdown exist for posterity in our video cabinet. Well... I do. If you go to the ABC's Rage web page you can check out past playlists and even see video clips of those famous Countdown program IDs.

There are also plenty of Countdown clips on YouTube.
| | | |
| --- | --- | --- |
| | With all the archival footage available, I still reckon the best thing you can do to find out all about the Countdown phenomenon is to seek out Peter Wilmoth's marvellous book, Glad All Over - The Countdown Years 1975-1987 (McPhee Gribble, 1993). You can also check out these Countdown links: | |
Countdown enjoyed a huge revival in 2006 and 2007 with the Countdown Spectacular tours. Click here for my own account of these events.

- Top -

| | |
| --- | --- |
| Overlooked when appraisals are done of music television in the 1970s is the groovy afternoon show Flashez, which ran on ABC-TV on weekday afternoons. It debuted some time in the second half of 1976 and quickly became the perfect way to unwind after a day at school. And those silver "I'm a Flashez Freak" stickers became quite the collector's item. I still have two. If only web pages could glisten and shine like the sticker does in real life. | |

Ray Burgess made some girls scream
Glenn A Baker Archive

Flashez was hosted by hairy-chested larrikin pop star Ray Burgess, along with sidekick Mike Meade, who sat cross-legged on the floor in front of the camera commenting on new releases and tours, punctuating every paragraph with the word "fine." In Meade World, everything was "fine."

While Ray Burgess was having top 40 hits with "Gloria" and "Touch Me," gracing magazine covers and being totally sexy, Mike Meade quickly became the thinking woman's anti-heart throb all teenage girls wanted to get close to. My friend Robyn and I visited the ABC-TV studios one afternoon after school to see if we could get close. John Paul Young was the studio guest so there was hysteria in the foyer, but I did manage to meet Mike and get a photo (below).
Flashez even held a free concert in January 1977 in Sydney's Hyde Park, featuring the Lemming Quintet (Mark Holden, Ross Ryan, Mike Meade, someone called Paul, and a cardboard cutout named Bruce), Marty Rhone and Jon English (with Sherbet's just-departed guitarist Clive Shakespeare on guitar). 2SM's

Alan Steele

was even there doing some MC-ing, so it was a total spunk fest.


He's so fine

The Lemmings at Hyde Park.
Bruce is the sexy one in white.


Jon English backed by Clive Shakespeare on
guitar and dangling cigarette. So cool.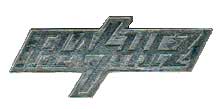 Did you have one of these Flashez badges? No, me neither.
Thanks to fellow Flashez Freak, Ian from Adelaide, for sharing this.
I actually can't remember when Flashez was taken off the air or why. I do remember being really disappointed about it. Ray Burgess has continued to entertain on stage, record, TV and radio ever since, which you can find out about on his website. Mike Meade drifted off into children's television and other pursuits; today he designs websites and album covers, and occasionally writes funny emails. He also has his own website which you can check out here.
| | |
| --- | --- |
| | Speaking of Alan Steele, as I was just a moment ago, he was the second host of another afternoon music show in the late 1970s. Right On aired on Channel Ten at 4.30pm on weekdays, a half hour of music film clips and the odd interview. |
The original host was Kobe Steele, who was no relation to Alan, but she and a friend shared a house with him for a while. Kobe and Alan had originally met while working at 6PM in Perth. Kobe had a big smile and a sunny disposition. Her first TV gig was for six months co-hosting Rock 'n' Roll Milkbar on Saturday mornings, a three-hour live show that probably didn't survive because everyone was watching Sound Unlimited. But Channel 10 saw Kobe's potential and gave her a show of her own – Right On. She was the first female to host a national rock music show, and she was only 18 at the time.

She managed to get plenty of big stars on the show – stars who were, of course, appealing to the after-school Channel 10 audience.


Kobe Steele


Leif and Kobe circa 1977. What spunks.

During her 18 months at Right On Kobe met Mark Evans, the bass player from AC/DC, whom she later married. When she left the program in mid-1978, Alan Steele took over. He was a big radio star but I'm not sure that the transition to TV was all that successful. Right On was axed a couple of months later. Alan disappeared into obscurity. Kobe worked in radio for many years and ended up settling down on the Gold Coast. She very kindly provided some of this history and sent me these pictures.
- Top -

Melbourne DJ Lee Simon had dreamy bedroom eyes and was just the right host for the late night rock show, Nightmoves, featuring videos, interviews and live performances on the Seven Network. Friday nights were very cool if you weren't going out.
Here is a great clip of Lee and Donnie joining Molly on Countdown during a Humdrum segment.
| | |
| --- | --- |
| | There was also Rockarena, a Thursday night show featuring live concert footage, clips and interviews of very cool bands on ABC-TV, which, when you think about it, was incredibly suportive of music in the 1970s and 80s. Rockarena was hosted by various people, including Glenn Shorrock, Andrew Peters and Suzanne Dowling. Occasionally you can catch an old episode on Rage amid the Countdown, GTK and Hit Scene repeats. |
- Top -



Once the 1970s were over, the radio scene altered dramatically. In August 1980 two new FM stations hit the airwaves in Sydney — 2DAY FM and Triple M. It took me nearly three years to move permanently to the FM dial, and when I did, my first port of call was 2DAY FM, because that's where ex-2SM jock George Moore took up residence.
2DAY played lots of Eagles, thanks to morning DJ Tim Webster, whom I'd listen to on the way to university. The format felt comfortable to me so I stayed a while. They even put on a free concert in Hyde Park, "A Day for Animals," to raise money for animal welfare.
The gig was on 3 October 1982 and while it had nothing on a 2SM concert, it was a good day out. I had my old concert buddy Marcus with me, along with a bunch of other friends, and tens of thousands of other intimate acquaintances. Richard Clapton warmed the crowd nicely for the new Little River Band with John Farnham on lead vocal.


Dickie Clapton in Hyde Park



John Farnham with LRB for a new radio station
in a new era
2DAY FM was actually where I made my professional radio debut... as a trial receptionist for a week in 1985. I failed dismally, putting general manager Noel McGurgan's calls through to program director Cherie Romaro, and vice versa. I was so embarassed by my ineptitude, I didn't even bother making myself known to George Moore, who was breezing around with enough of a scent of 2SM to make me nostalgic.

At any rate, by the end of 1985 I was a confirmed Triple M listener, and never really returned to 2DAY. Nowadays 2DAY FM has a musical focus I cannot even begin to fathom and I never ever tune in any more.

- Top -
| | |
| --- | --- |
| Just as I had been persuaded to move from 2UW to 2SM in the mid-1970s, so it was in the mid-1980s that everyone I knew convinced me that Triple M was the place for me. Once I switched over I was fairly content to stay for the rest of the decade. As it was, many of my favourite 2SM jocks were there, so it was the ideal place for an active radio listener to be. Especially if your ears had brains. Click on the Triple M logo at right to hear the station's most famous jingle (it's a large file). | |
I even talked about my 2MMM affinity for the Sydney Morning Herald Good Weekend magazine on 8 February 1986, when a handful of "interesting" Sydney-siders were surveyed on their radio listening habits. Although my quote about waking up and switching to Triple M to hear the weather report so that I knew what to wear for the day wasn't exactly encapsulating my story.

The truth was that I, like most of the rest of Sydney, was tuning into Triple M for breakfast because of Doug Mulray, the new king of breakfast radio. Doug Mulray — aka Uncle Doug aka the Reverand Uncle Doug aka many other things — had the perfect face for radio. His team comprised his girlfriend Liz Muir (sister of owner Rod Muir), known to listeners as Miss Lizzie, and Andrew the Boy Genius from Indoor Cricket (aka Andrew Denton). A daily radio serial called "How Green Was My Cactus" and regular phone-in characters such as Hymie and Madam Zelda made for a circus at breakfast time that made Sydney radio lots of fun again.

Doug Mulray, with his irreverence and wit, was a major inspiration to me, evident years later when I started presenting my own breakfast radio program, Debbie Does Breakfast. Mulray tried to retire from Triple M several times, but each time the station's owners — Hoyts Media by the late 1980s — would persuade him to stay on. He was the most successful breakfast announcer ever on Sydney radio in terms of ratings wins, so why would the Ms want to let him go?

He also made a couple of forays into television, including the infamous night when he hosted his first and last episode of Australia's Naughtiest Home Videos but had the plug pulled 20 minutes into the show by the Nine Network's owner, Kerry Packer.

Eventually, however, he got out of Triple M. By then it was the 1990s, and he turned up at the "new old" 2SM briefly in 1997, and then presented the drive shift on 2WS for a while, before starting his own internet radio station with The Basement's Hamish Cameron. Then he disappeared from the scene altogether, leaving us with nothing but memories.
There were other things to love about Triple M. Aside from the 2SM jocks who now resided there, I enjoyed listening to guys like Rob Duckworth and Stuart Cranney. The station also had great competitions, including a bigger better Time Freeze (originally conceived at 2SM in 1978). David White compiled all the questions, and boy, was I stoked that day in 1989 when I called in and won $1,000 by naming the actor who starred in The Buddy Holly Story. Thank you Gary Busey. Thank you Keith Williams and David White! Hoyts honcho Peter Ivany wasn't so thrilled when I thanked him, being that I was a scribe for Variety at the time and Ivany was an industry colleague, but that's show business!
These days Triple M is owned by Austereo, along with 2DAY FM, in an age where uniqueness, individuality and personality is almost non-existent. It all sounds the same — loud, crass, boring. Uncle Doug's old apprentice Andrew Denton spent several years hosting Triple M breakfast in the late 1990s, quitting in December 2001. I can't think of any good reason to switch to Triple M these days, so I just don't.
- Top -

| | |
| --- | --- |
| During my years working in Brisbane for the Biennial International Music Festival and Brisbane International Film Festival in the mid-1990s, I tuned into 4KQ for their great classic hits format. I must have been in Brisbane too long, because I even grew quite fond of their breakfast presenters, Kim and Laurel. It's many years since I was listening to breakfast radio in BrisVegas, but I know Laurel is still there. Click on the logo at right to go to the 4KQ website. | |
2WS first went to air as an AM station on 23 November 1978 with the specific charter (at the time) to provide a service for Sydney's growing Western region. At that time it was the first new station to enter the Sydney marketplace in 46 years. 2WS caught my attention very early on because they recorded the Sydney Chicago concert on 20 January 1979 and broadcast it soon after. It was one of my all-time favourite tapes, and people were very impressed when I played them the intro to "Just You 'n' Me" where my ear-piercing scream was easily identifiable.
Some years later, when my tape collection was stolen, the lovely Fran Smith at 2WS not only found the Chicago concert tapes for me, she actually sent me the original masters. I still have the huge reels with the whole glorious mono recording of that Chicago concert.

These days 2WS is on the FM dial, offering classic hits and making it the only palatable commercial radio station in Sydney for my ears. Ron E Sparx is there every day, too, sounding just as he did 30 years ago on 2SM. Click on the logo above to head over to the WS FM website.
| | |
| --- | --- |
| However, usually these days if I'm not listening to a CD in the car, and if I have to be stuck in Sydney traffic, I have the dial tuned to 702 on the AM dial for ABC's local talk-back station. I guess I'm just turning into an oldie like most of the music I love. Click on the 702 logo to find out what goes on at ABC Sydney. | |