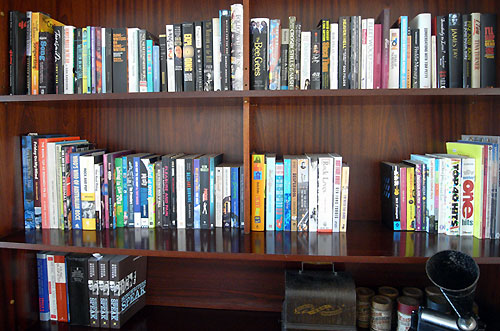 These are the books in my private library that assist in presenting a well-informed radio show and a life of earnest musicology. I'll add more as I read more.

The quavers indicate my rating from 1 (pretty sucky) to 5 (you have to have it). Where possible, I have provided a link to purchase the book or at least find out more about it. Just click on the title.

If you want to know what my favourite music book of all time is, click here.
Precious And Few – Pop Music in the Early '70s
Don Breithaupt and Jeff Breithaupt (St Martins Griffin, 1996)
Night Moves – Pop Music in the Late '70s
Don Breithaupt and Jeff Breithaupt (St Martins Griffin, 2000)
Both these books by the Breithaupt brothers from Canada are full of facts, memories and laughs. They might as well have been listening to 2SM with me!
The Billboard Book Of Number One Hits (3rd edition)
Fred Bronson (Billboard Books, 1992)
Good for fact-checking. More recent edition available.
Fire And Rain – The Beatles, Simon & Garfunkle, James Taylor, CSNY and the Lost Story of 1970
David Browne (Da Capo Press, 2011)
This book took so long to get a flow, and was turgid for much of its 338 pages, with occasional bursts of colour and a few tales I hadn't read anywhere else. It goes through the year of 1970 month by painstaking month, weaving political and social events around what was happening with the four artists/bands mentioned in the title. A book that passes the time but doesn't leave a deep impression.
Exploding: The Highs, Hits, Hype, Heroes and Hustlers of the Warner Music Group
Stan Cornyn with Paul Scanlon (Harper Collins, 2002)
A long dense read but worth wading through as the whole experience is very satisfying, as well as sobering. Tracing the history of Warner from a time when the music was all to the miserable demise of idealism as money men in suits ruled and ruined. Lots of great anecdotes from Cornyn, one of Warner's major inside players for many years.
Stand And Be Counted
David Crosby and David Bender (Harper Collins, 2000)
A beautiful book on activism – political, civil rights, environmental etc – in the music industry. Written as a companion piece to an equally beautiful four-hour documentary on TLC.
Hit Men
Frederic Dannen (Vintage, 1991)
A sobering account of the business side of the industry. Dark, dirty and totally gripping.
Desperados – The Roots of Country Rock
John Einarson (Cooper Square Press, 2001)
Einarson knows his stuff and he will wear you down with it. Turgid at times but packed with every little fact you could ever want to know about The Byrds, The Flying Burrito Brothers, Poco, Gram Parsons et al. You'll feel you know it all when you're finished.
Led Zeppelin Crashed Here: The Rock and Roll Landmarks of North America
Chris Epting (Santa Monica Press, 2007)
Lots of detail on concert sites, recording sites, death sites, grave sites, eating and accommodation sites and hundreds of other notable rock, blues and jazz landmarks. Includes very useful state-by-state index.
The L.A. Musical History Tour (2nd edition)
Art Fein (2.13.61 Publications, 1998)
Don't go to LA without it.
A&R
Bill Flanagan (Random House, 2000)
This "fictitious" novel is a brilliant, terrifyingly funny and accurate account of the music industry.
Not Fade Away
Ben Fong-Torres (Miller Freeman Books, 1999)
Good, unpretentious interviews from the former Rolling Stone editor.
Rock Family Trees
Pete Frame (Omnibus Press, 1993)
Intricately hand-written and drawn charts tracing the development and history of bands such as Led Zeppelin, Crosby Stills Nash & Young, Jefferson Airplain, Rolling Stones and many more. Mind-boggling.
The Mansion On The Hill
Fred Goodman (Times Books, 1997)
Subtitled "Dylan, Young, Geffen, Springsteen and the Head-on Collision of Rock and Commerce", this is a heavy-going book telling a fascinating story.
The Faber Companion To 20th Century Popular Music
Phil Hardy and Dave Laing
Mine is an early (1990) edition but there is a more recent one, now published by Da Capo. An essential encyclopedia with a few errors of fact here and there. I used to work with Phil Hardy at Variety in London so mine's autographed.
Hotel California – Singer-Songwriters and Cocaine Cowboys in the LA Canyons, 1967-1976
Barney Hoskyns (Fourth Estate, 2005)
A wonderful in-depth treatment on the period of music I am most connected to. Essential for fans of Crosby Stills & Nash, Joni Mitchell, the Eagles, JD Souther, Linda Ronstadt, Gram Partsons et al. As the brilliantly eloquent Hoskyns writes in his introduction: "This is an epic tale of songs and sunshine, drugs and denim, genius and greed... It's about the myriad relationships, professional and personal, between these artists and the songs they wrote... More than anything it's a narrative of Rise and Fall – from 'Take It Easy' to 'Take It To The Limit', from the hootenanny innocence of boys and girls with acoustic guitars to the coked-out stadium-rock superstardom of the mid-'70s." The only reason this doesn't get a five-rating, as Hoskyn's earlier book, below, did, is because of the bad taste it left in my mouth about some of the artists I have adored for so long. No bad taste about Barney Hoskyns, however. Bring on his next book!
NB. Different cover and subtitle in the US. I've provided the link to the UK Amazon site for the original publication.
Waiting For The Sun – The History of the Los Angeles Music Scene
Barney Hoskyns (Viking, 1996)
A truly superb book, covering the LA scene from the jazz music of the '40s through to the rap of the '90s, with a lot of focus on the quintessential West Coast music of the '60s and '70s. I love this book.
I Hate Myself And Want To Die – The 52 most depressing songs you've ever heard
Tom Reynolds (Random House, 2005)
Something to keep by the toilet. One song each day should keep you regular. Seriously, other than offering a few rare chuckles, this book and its author mostly annoyed me. Apart from the incorrect facts in too many places, the smart-arse comments too often bored me. I'm giving it two points purely on the basis of the author having written about so many songs in such depth.
We Had Joy We Had Fun – The Lost Recording Artists of the Seventies
Barry Scott (Faber and Faber, 1994)
Everything you ever wanted to know about Terry Jacks and his ilk. Good stuff for trivia hounds.
Summer of Love
Joel Selvin (Cooper Square Press, 1994)
The subtitle of this one is "The Inside Story of LSD, Rock & Roll, Free Love and High Times in the Wild West" and it delivers beautifully. A long detailed read for devotees of the San Francisco music scene of the 1960s.

Laurel Canyon – The inside story of rock and roll's legendary neighborhood
Michael Walker (Faber and Faber, 2006)
This is a fabulously in-depth look at life in and around the Laurel Canyon area of Los Angeles during the '60s and '70s. It's about more than the music; it's about the social and cultural pathways that made the music what it was. Some of the stories are hysterical, others are horrific, some are just charming. A great companion piece to Barney Hoskyns' Hotel California book, above.
The Billboard Book Of Top 40 Hits (4th edition)
Joel Whitburn (Billboard Books, 1989)
Factually useful. It's now up to its 7th edition, much more recent than mine.
Rock Lives
Timothy White (Henry Holt, 1990)
Billboard editor-in-chief White gives good interview with all the big names. Fairly essential reading.
Anyone Who Had a Heart – My Life and Music
Burt Bacharach with Robert Greenfield (Harper Collins, 2013)
This is a quick and easy read. Bacharach did interviews with Greenfield who writes the book as if in the composer's voice; it surprised me that Bacharach was okay with coming off this way. As beautiful as his songs have been, his personality comes across less than great. For the most part, he was a jerk. His marriages, infidelities, inability to commit for most of his life, obsession with racehorses, selfishness in his relationships especially with lyricist Hal David... hmmm. I didn't know he had had an autistic daughter who committed suicide and found that and other aspects of his personal life touching. It was insightful to have ex-wives Angie Dickinson and Carole Bayer-Sager have their say throughout the book. Elvis Costello's and Mike Meyers' awe and joy in working with their idol was great reading. Bacharach's recollections of writing and recording his iconic songs were great and the book would have been better with more of that.
The Ultimate Biography Of The Bee Gees – Tales of the Brothers Gibb
Melinda Bilyeu, Hector Cook and Andrew Môn Hughes plus others (Omnibus Press, 2001)
This 678-page book took ages to plough through. An almost day by day, month by month, year by year account of the lives and careers of the Gibb brothers, including Andy, it should be a lot better than it is. It has too many authors, meaning a variety of writing styles, and although there are thousands of quotes, the sources are rarely attributed and you get the feeling that they are mainly plagiarised from magazine interviews. Whatever. It tells the story in painstaking detail and there are a lot of facts for Bee Gees enthusiasts. At times I almost enjoyed the reading, but overall this was turgid in the extreme. Yet... I'm glad I persevered.

Rough Mix
Jimmy Bowen and Jim Jerome (Simon and Schuster, 1997)
A good yarn, particularly about the Nashville scene. Not sure how seriously to take some of Bowen's claims, but I enjoyed this book.
Heart In The Studio
Jake Brown (ECW Press, 2008)
This is a really poorly written book but it's the only biography of sorts on Heart available, so it's worth wading through if you are a fan, as I am. The book focuses on album production so the bulk of it involves long detailed and tedious descriptions of studio set-ups, how drums were microphoned, that sort of stuff, rather than what songs were written about and what inspired Ann and Nancy's music. I wanted more on their lives, less quotes from producer after producer about Ann's fantastic voice. We know she has a fantastic voice, already! Why do such below-par authors get such fantastic gigs like this one?
Wonderful Today
Pattie Boyd with Penny Junor (Headline, 2007)
Boyd has a fascinating story to tell about her marriages to George Harrison and Eric Clapton, and her struggle to find her real self whilst being submerged by such monumental egos. Being a muse has its costs. Sometimes I wanted to shake her and say "What were you thinking???" But it was a different time, and she's been making up for it since.
Could It Be Forever? David Cassidy – My Story
David Cassidy (Headline Review, 2007)
An easy read, taking you right back to those halcyon days of the Partridge Family. Except those days aren't halcyon for Cassidy, who relates with brutal honesty how he coped (or didn't cope) with being a puppet for TV producers and record company moguls. The challenge to find artistic expression drove him to survive through the toughest of times. If you're not a David Cassidy fan, no matter, it's a good yarn and you'll probably respect him in the morning.

Long Time Gone – The Autobiography of David Crosby
David Crosby and Carl Gottleib (Dell, 1988)
One of my top three music books of all time. Heart-wrenchingly and at times brutally honest. A great story of a great musician.
Unfortunately this is hard to get. I was lucky to snap up an autographed copy during a recent reprinting. Check frequently on ebay.com or the David Crosby CPR website.

Since Then – How I Survived Everything and Lived to Tell
About It
David Crosby and Carl Gottleib (Putnam, 2006)
Eighteen years on from his first fabulous autobiography, David Crosby tells more tales wild and true, including a liver transplant, heart attack, discovery of two children who had been adopted out at birth, being arrested for gun and drug possession, surviving an earthquake, and making some of the best music of his career. Certain moments bring tears to the eyes; other moments, when he pontificates on politics, terrorism and world peace, I wish he'd play another song. But a briliant read.
The Soundtrack of My Life
Clive Davis with Anthony DeCurtis (Simon & Schuster, 2012)
A huge tome, coming in at 551 pages plus acknowledgements and index, and not very favourably reviewed by the US press on its release. Yet I really enjoyed it. Having run Columbia Records, founded Arista and J Records, and risen to the very top of the record industry, the guy is well into his eighties and is much loved by the artists he's worked with through his career. You don't get that far if you haven't got talent, insight and balls. Sure, Davis has always been a player and no doubt far more conniving and manipulative than he portrays himself in the book. But the stories are real. The many letters of endorsement he's received and which he reprints in the book are authentic. His anecdotes about Janis Joplin, Grateful Dead, Simon & Garfunkel, Barry Manilow, Aretha Franklin, Dionner Warwick, Bruce Springsteen, Santana, Whitney Houston and many more are for the most part engaging and often poignant. I found the section where he details all the winners of the American Idol series tedious, and for every artist he writes about through the book, he lists their record sales, Grammys and other awards, details that can be cumbersome. But altogether this is a good chronicle of a successful man's successful career in music.
I'm With The Band – Confessions of a Groupie
Pamela Des Barres (Updated Edition, Chicago Review Press, 1987-2005)
Amazing to me that it took me so long to read this book. Tales of adoration of rock gods in the '60s and '70s, unrequited love and passionate sex with the likes of Jimmy Page, Chris Hillman and many more, musical interludes of questionable merit with Frank Zappa's GTOs, and Miss Pamela's blind optimism in the face of her rock stars' sexist and heartless antics. Easy to see where Cameron Crowe got his inspiration for his movie Almost Famous.
Chronicles Volume One
Bob Dylan (Simon & Schuster, 2004)
This is just marvellous. Even if you're not a huge fan of Dylan's music, you'll be captivated by his seemingly rambling style. It's in fact poetic and symmetrical, and although this first voume of what will apparently be five jumps across the years leaving big gaps in the story, you'll learn so much about the man, his influences, inspirations, fears and foibles. Can't wait for volume two.
For What It's Worth – The Story of Buffalo Springfield
John Einarson and Richie Furay (Quarry Press, 1997)
Everything you wanted to know about Buffalo Springfield... and then much much more. Exhaustingly dense but worth it if you're a fan. Not sure that I am, but I'm determined!
To The Limit – The Untold Story of the Eagles
Marc Eliot (Little Brown, 1998)
A so-so unauthorized bio on the Eagles, worth reading for the participation of Henley, Souther and others, but most interesting for the post-publication controversy — Henley tried to have the book withdrawn from stores.
Heaven And Hell – My Life In The Eagles (1974-2001)
Don Felder with Wendy Holden (Weidenfeld & Nicolson, 2007)
I thought this was a good read at the time, but felt differently later. Like a bad after-taste. His stories have a ring of truth to them and the anecdotes are good, both about his early days in Florida and his crazy days as an Eagle. The photos are great, too. But something still irks me as reader. The bitterness and nasty name-calling about his former Eagles bandmates/bosses - Don Henley and Glenn Frey - end up just being in poor taste. It shouldn't matter that Felder was a rude jerk when I met him in Sydney in '95. And it's not the worst book I've read. But it's no literary masterpiece either. Its major appeal is that a real member (or former member) of the band has actually written a book at all!
Fleetwood
Mick Fleetwood with Stephen Davis (Sidgwick & Jackson, 1990)
A worthwhile romp through Mick Fleetwood's life in and out of Fleetwood Mac.
Rolf Harris — The Autobiography: Can You Tell What It Is Yet?
Rolf Harris (Corgi, 2001)
I read this for some research and found myself rivetted. For such an artistic soul, Rolf is a totally artless charmer and I laughed and cried as I read his at times brutally frank account of his life and times. Really good fun.
Do You Feel Like I Do? A Memoir
Peter Frampton with Alan Light (Hachette, 2020)
If I sat down for a chat with Peter Frampton and asked him to tell me about his life, I reckon it would be just like what's in this book. Open, candid, down to earth, sweet, funny. And a few surprises. A tender soul, a good read.
Freddie Mercury
Peter Freestone with David Evans (Omnibus Press, 1998)
Everything you ever wanted to know about the decor in Freddie's house, the food he ate, the clubs he went to et al. A frank, unpretentious and often poignant account from Mercury's personal assistant.
Heroes & Villains – The True Story of the Beach Boys
Steven Gaines (Da Capo, 1995)
I read this lying on a beach in Hawaii, which seemed wholly appropriate. I loved the way it genuinely captured the drama of the Wilson family's life and career. Much much better than the Timothy White bio, below.
Fire And Rain – The James Taylor Story
Ian Halpern (Citadel Press, 2000)
One of two pretty crappy JT bios. This is written by a fan who doesn't really cut it as an author.
Me
Elton John (Henry Holt, 2019)
Elton delivers brilliantly. Although this is a selective memoir, with people and events he did not want to deal with left out, it is still a remarkably candid and entertaining journey written truthfully – I think! A thousand times better than the fantasy biopic Rocketman.
Bad Seed — The Biography of Nick Cave
Ian Johnston (Abacus, 1996)
Mostly a book for devotees who want a blow by blow, album by album, track by track account of Nick Cave's career. Not a bad research tool if you are studying Cave, which is what led me to the book. But nothing exciting. And, through no fault of the author's, very out of date.
Freddie Mercury — The Definitive Biography
Lesley-Ann Jones (Hodder & Stoughton, 2011)
This actually deserves three and a half quavers as it is better than average, but it just doesn't soar the way I keep hoping a book about Freddie Mercury will. An updated version of Jones' original book from the mid-nineties, this was released to coincide with the 20th anniversary of Mercury's death. It is colourful, detailed, revelatory and generally well-written. I miss Freddie more than ever so I enjoyed reading this. But I did wish it was exceptional, as Freddie himself was.
A Natural Woman
Carole King (Grand Central Publishing, 2012)
Completely written by King without a co-writer, which she probably could have used, this memoir starts slowly and in a clunky way, moves into a more flowing narrative, and then in the final chapters becomes fragmented and clunky again. But for most of the books she tells a good yarn, even if one gets the impression that her memories are very selective. Sheila Weller's book, Girls Like Us, reviewed below, gives a more detailed picture of some of the more dramatic sections of King's life. It has certainly been a fascinating life, from her early songwriting achievements with first husband Gerry Goffin, to her phenomenal recording achievements with Tapestry and subsequent albums, her concert touring, theatre acting, environmental and political activism, and general socialisimg with the rock & roll "cats" she's known along the way, living between New York, Los Angeles and the wilds of Idaho. She makes bad puns and goes into too much stream of consciousness details at times, but it does make her seem all the more like a natural woman. (Bad pun.)
The Operator – David Geffen builds, buys and sells the new Hollywood
Tom King (Random House, 2000)
This is a fascinating and at times appalling read, as the author – and the reader – comes to terms with the amazing contradictions in the character and behaviour of the man who founded then sold Asylum Records and Geffen Records, and is one of the partners in DreamWorks. Where this rises above the average executive bio is in its detailed depiction of his personal relationships. A good yarn, although at times the writing is average.
Backstage Passes And Backstabbing Bastards
Al Kooper (Billboard Books, 1998)
Worth it for the title alone. Kooper is hardly a modest man, but his story is a good read and his wit is sharp. And, hey, this is the guy who founded Blood Sweat & Tears, after all.
Blood – A Memoir
Allison Moorer (Da Capo, 2019)
Neither Moorer nor her elder sister Shelby Lynne aka Sissy, a major character along with herself in this gut wrenching memoir, can ever shake free of the darkness bequeathed to them by their father, who shot dead their mother and then turned the gun on himself when they were young girls. Over the years both have written and recorded songs about this family drama, but this memoir goes much further than anything either has previously done. It is beautiful and heartbreaking all at once. The CD of the same name is equally startling.
Wild Tales – A Rock & Roll Life
Graham Nash (Crown, 2013)
After reading so many books about the 1960s, Crosby Stills & Nash, Laurel Canyon et all, especially David Crosby's memoirs, I wasn't sure there could be anything new to learn and approached Graham Nash's book half-heartedly. But it was a fantastic journey through his own life and work, and the early period leading up to and during The Hollies, in England, was evocatively and humbly recollected. Nash's perspectives on the highs and outrageous lows of the CSN and CSNY adventures were in fact refreshing, and searingly candid. There is much more to Nash than the bands he has performed with, and his love affairs, family life, photography and environmental causes all get plenty of space here, too. He writes a great song and he tells a great tale. Definitely recommended.
Life
Keith Richards with James Fox (Pheonix, 2010)
I resisted this for as long as I could but finally I dived in. Resisted because I am not a Rolling Stones fan. But that didn't really matter. This book is sensational. Keith Richards is a disarming, charming, witty, self-depracating, no-holds-barred memoirist with so many incredible tales to tell, many of them outrageous and frightening, just as many hilarious. The most enjoyable aspect for me was in-depth descriptions of his relationships – with his parents, his women, his friends and his bandmates – told with honesty and poignancy. I ended up really liking Keef. Really. The only reason the book doesn't get five points is because I am just not a Stones fan. But I loved it.
Simple Dreams – A Musical Memoir
Linda Ronstadt (Simon & Schuster, 2013)
While Linda Ronstadt rarely put pen to paper to write a song, it is clear from her long-awaited memoir that she has a talent for a beautiful turn of phrase and an ability to describe environment and the sound of a note in a heartfelt and efficiently sparse way. The scenes she depicts from her youth, growing up on the edge of the Arizona desert landscape, near the border of Mexico, with ponies and braids, family singalongs and adoring parents, and her migration west to California to pursue her dream of singing to wider audiences, are beautifully wrought. Her fondness for those early times, her dismissive attitude to the most commercially successful time of her career – the mid- to late-seventies – and then her passion for singing opera, standards arranged by Nelson Riddle, and Mexican songs in authentic Mariachi style, are all brought to life vividly. She skims over details of the relationships with men in her life – meaningful or passing – but this is, after all, a "music memoir", and the greatest romance in her life has always been the one with music. Lovely.
Little Girl Blue – The Life Of Karen Carpenter
Randy L Schmidt (Chicago Review Press, 2011)
This book starts as a fairly predictable artist biography and then dramatically unfolds the heartbreak and tragedy of Karen Carpenter's too-short life. Schmidt writes of a woman who sang like no other, with the voice of an angel, but lived an often hellish existence controlled by a nightmarish mother and self-centred brother, and never really learned how to grow up and be independent. Her anorexia, described in often gruesome detail, turned out to be the only way she knew how to take control. There are also some fascinating stories about some of the songs they recorded, and a telling anecdote about Neil Sedaka being fired as the support on The Carpenters' 1975 US tour because he was a bigger hit with the audiences. A very good read.
Street Player – My Chicago Story
Danny Seraphine (Wiley, 2010)
The first memoir by a member of Chicago, the founding drummer who was unceremoniously ousted by the band 20 years ago and has a heartwrenching story to tell. As a Chicago fan I really loved this book so I am quite biased, but even so it is a good yarn about a guy who grew up on the streets of Chicago the city, could have been a mobster but instead found music and with it success, fame, fortune and women; yet still struggled with his many personal demons, which he writes about candidly. This is one of the few music memoirs that made me cry. Great read.
The Long Run – The Story of the Eagles
Marc Shapiro (Omnibus Press, 1995)
Crappy. Badly reasearched, badly written, full of factual and spelling errors. A quick cash-in when hell froze over. If you need an education on The Boys, head over to L&M's Eagles Fastlane website instead.

(barely)
Boys in the Trees – A Memoir
Carly Simon (Flatiron Books, 2015)
Extraordinarily detailed, as though these chapters have come straight from Simon's journals, which I'm sure they have. Painstakingly candid, from her view of things as the youngest, awkward member of her family, aching for love and acceptance, to her complicated, often torturous relationship with James Taylor, and just about every encounter in between, it's all about her Daddy, the saddest character in this tale. Love her or hate her, this is quite a journey.
The Rise And Rise Of David Geffen
Stephen Singular (Birch Lane Press, 1997)
Interesting if unspectacular. The Tom King book is a better and more rewarding read.
Somebody To Love?
Grace Slick with Andrea Cagan (Warner Books, 1998)
Not so slick in the writing, but how can you resist reading about Grace's lustful night with Jim Morrison and an abundance of strawberries and cream? And she autographed mine for me, so I'm plugging it!
Lost In Music
Giles Smith (Picador, 1995)
An English lad's foray into pop music, both as a wannabe player and as a die-hard fan. His various bands, such as The Cleaners From Venus, are doomed, and his opinions on some of my favourite bands and albums are out of order (how dare he say that owning ELO's A New World Record "would command about as much respect... as a Garfield pyjama case and matching slippers"?!), but his observations are sharp and witty and he is endlessly self-deprecating. His Nik Kershaw chapter is worth the price alone. And his chapter entitled "Phil Collins", about being a pop journalist, is spot on. "You get closer to them than in your wildest dreams. And further away from them than you ever imagined you could be."
Good stuff.
Nick Cave – Sinner Saint: The True Confessions
Mat Snow, editor (Plexus, 2011)
A comprehensive anthology of interviews with Nick Cave, from a range of writers, including Barney Hoskyns, Antonella Cambotto, Ginny Dougary and yours truly, from my book Songwriters Speak. A necessity for any die-hard Nick Cave fan; fascinating for anyone curious about Cave's multi-faceted life and career.
Late, Late At Night
Rick Springfield (Touchstone, 2010)
This has got to be one of the most brutally honest, self-depracating, warts and all memoirs I've read. And it's teeming with incredible detail from years and years ago. Rick either kept elaborate journals or just has an amazing memory, or a great songwriterly way of bringing vague memories back to life. At any rate, the crux of the matter is that this unbelievably handsome Aussie-turned-American rock star has battled depression and low self-esteem his whole life, and sex addiction for his entire adult life, and yet he is just a soft sweet tender dog-loving puppy underneath it all. Yep, I believed it all! A terrific read.
The Cake and the Rain – A Memoir
Jimmy Webb (St Martins Press, 2017)
Focusing on his childhood and very early career up to the early 1970s, with two parallel timelines that come together at the end, this is just a piece of Jimmy Webb's magnificent cake of a life, and left me wanting more, much more of the story and the people in his story. It is beautifully written, tender, especially the chapters about his parents, making me weep at least twice. The stories of his crazy ascent to fame and fortune and the equally crazy characters on his path, notably Richard Harris, are in turn hysterical, strange and sometimes sad. It's a great book. I want Part 2. Now.
Girls Like Us – Carole King, Joni Mitchell, Carly Simon and the Journey of a Generation
Sheila Weller (Atria, 2008)
This is one of those gobsmackingly compelling books, and if it wasn't for the author's too-often pretentious and convoluted prose style, it would rate five quavers. Most of us knew that Joni liked to spread herself around (literally) amongst the cream of the west coast male musicians, but who knew that Carole King was a serial masochist in her constantly crazy marriages, that Gerry Goffin had a love child with the Cookies' Jeanie McCrea and that Carole tolerated it? Or that Carly Simon soothed the pain of her break-up with James Taylor by shacking up with his drummer Russ Kunkel? Or...? I won't spoil any more of the numerous surprises. Weller interviewed former husbands, lovers, best friends and family, but other than obtaining some comments from Carly, she avoided interviewing the three protagonists. This is a fascinating study of music and relationships during the growth of feminism. This is also voyeurism in the extreme, and you will never listen to a Joni Mitchell song in the same way again.
The Nearest Faraway Place – Brian Wilson, the Beach Boys and the Southern Californian Experience
Timothy White (Henry Holt, 1994)
So much historical detail, so little contemporary substance. The true drama of one of pop music's best stories is forsaken for an endless history lesson. Disappointing.

(only because of the great subject matter)
Long Ago And Far Away – James Taylor – His Life and Music
Timothy White (Omnibus Press, 2001)
As Timothy White left this earth prematurely, dead from a heart attack in 2002, I have removed my hardline opening comment about this book. Which doesn't, unfortunately, excuse it. This is a turgid, uninspired, wanky bio of a brilliant musician who deserves better than the two crappy books thus far written about him. Considering White had full access to Taylor, his family, Carly Simon and others, he could have come up with more than an endless account of sea-faring ancestral Scots. White completely skimmed over the really interesting aspects of JT's life. RIP Timothy, but don't bother.
Kicking & Dreaming – A Story of Heart, Soul and Rock & Roll
Ann & Nancy Wilson with Charles R Cross (It Books, 2012)
This is a good read, full of colourful detail of the Wilson sisters' childhood and family life, early forays into music, formation of their band Heart, the writing of songs, touring and personal relationships. Generally it doesn't disappoint, although when band line-up changes are mentioned it is often without explanation, leaving the reader wondering, "Well WTF just happened?" As a Heart fan since their earliest days, I did feel that I had an insight into their lives and loves, which offered me a greater appreciation of their music. I heart Heart.
Howling At The Moon — Confessions of a Music Mogul in an Age of Excess
Walter Yetnikoff with David Ritz (Abacus, 2004)
I finished reading this book at the close of Yom Kippur, which seemed wholly appropriate. Yetnikoff, who ran CBS Records from 1975 to 1990, was mentioned in enough hard hitting books like Hit Men and Mansion on the Hill (both listed above) for the reader to have an already unflattering picture of the man. Yetnikoff confirms all the bad reports and illustrates them with flourish, along with good doses of self-deprecating Jewish humour. There are great anecdotes about stars like Michael Jackson and Barbra Streisand, and his fellow music execs in the '70s and '80s. But it's a story of redemption ultimately, and a great, riotous, rolicking read. Loved it.
Crosby Stills & Nash – The Authorized Biography
Dave Zimmer and Henry Diltz (St Martins Press, 2000)
Authorized too often means obsequious. I wish this was better but it's pretty average textually. Henry Diltz's photos, on the other hand, make it worth having. Diltz has chronicled CSN's lives, together and separately, since the beginning. If you need a starting point to learn about this seminal trio of musicians, this book is okay.
I'll Sleep When I'm Dead – The Dirty Life and Times of Warren Zevon
Crystal Zevon (Ecco/Harper Collins, 2007)
Rivetting and exhausting, you don't have to be a Warren Zevon fan to enjoy this scary ride through his life, loves, music and death. A crafty blend of diary entries from Zevon and anecdotes from the people in his life, it tells a story that is tender, tough and tragic with great courage from Zevon's ex-wife in putting it all together. I couldn't put it down.
Conversations With Tom Petty
Paul Zollo (Omnibus Press, 2005)
I am not a fan of Tom Petty but I am a big fan of Paul Zollo, so I read this book from cover to cover. Extraordinarily detailed Q&A interviews with Petty about his life and career, with special attention to the songwriting. For the Petty devotees.
Songs In The Rough
Stephen Bishop (St Martins Press, 1996)
A beautifully produced coffee table book by a highly respected songwriter. Short interviews with songwriters and photographs of original hand-written lyric sheets. Nice to have in the collection.
The Craft And Business Of Songwriting
John Braheny (Writer's Digest, 2002)
Australian songwriter Brian Cadd put me onto this book when I was researching Songwriters Speak. Even for someone like me who does not aspire to write songs, it's a fascinating read, especially to get an insight into the process a professional songwriter goes through. Mine is the 2nd edition; there is now a 3rd edition available.
American Troubadours – Groundbreaking singer songwriters of the 60s
Mark Brend (Backbeat, 2001)
An interesting but often tedious look at the careers of important, influential and often underrated figures including David Blue, Tim Buckley, Tim Hardin, Fed Neil, Phil Ochs and Tom Rush. Brend knows and loves his subject matter but relies too heavily on outside source material and hearsay; even when he has direct interviews with a few of the surviving artists, he doesn't seem to get much out of them. But it's worth knowing about these guys, so the book is worth ploughing through. Good pictures, too.
Behind The Muse
Bill DeMain (Tiny Ripple Books, 2001)
This is not a bad book at all, containing 40 interviews with songwriters about their craft, although in format and intent it is a total rip-off of the superior Paul Zollo book (below). DeMain's questions are less imaginative and in-depth than Zollo's, but he does talk to a very diverse range of songwriters. Definitely worthwhile, but get Zollo's book first.
Singer-Songwriters
Dave DiMartino (Billboard Books, 1994)
Basic and factual, like many Billboard-published books. A nice reference source, but nothing revelatory inside.
Always Magic In The Air – The bomp and brilliance of the Brill Building Era
Ken Emerson (Viking, 2005)
A marvellous, in-depth recounting of the songwriting lives and achievements of Leiber and Stoller, Bacharach and David, Sedaka and Greenfield, Mann and Weil, King and Goffin, Pomus and Schuman, Barry and Greenwich. And more besides. The laborious detail of each and every song written and recorded unfolds as a gloriously laid out history of some of the greatests pop music ever made, and the stories of the ordinary geniuses who made it. Very, very good.
Written In My Soul — Rock's Great Songwriters Talk About Creating Their Music
Bill Flanagan (Contemporary Books, 1986)
The granddaddy of Q&A books on songwriters. It influenced Paul Zollo and in turn influenced me. Seriously good interviews with some often breathtaking responses from his subjects. The interviews that impressed me the most were with songwriters I didn't think I'd be interested in, such as Pete Townsend, Keith Richards and Elvis Costello. This book is long out of print but it is definitely worth tracking down. Try ebay.com.
Songwriters Speak
Debbie Kruger (Limelight Press, 2005)
A shameless, unrated, plug for my book, an essential companion to Zollo's Songwriters on Songwriting, below, especially for fans of Australian and New Zealand songwriters.
Click here for more info.
Off The Record — Songwriters on Songwriting
Graham Nash and Manuscript Originals (Andrews McNeel, 2002)
This is a gorgeous coffee table book, and it is much more than a book. Featuring beautiful reproductions of handwritten lyrics by songwriters who talk about their careers and songs, the package also includes two audio CDs with more interview material from the same songwriters. While the interviews in the book don't go into the kind of depth of Paul Zollo's book (from which this one steals its title), the diverse range of writers is compelling and the photographs are exceptional.
And Then I Wrote – The Songwriter Speaks
Tom Russell and Sylvia Tyson (Arsenal Pulp Press, 1995)
A little book full of quotes from songwriters. Sweet.
Song – The world's best songwriters on creating the music
that moves us
J Douglas Waterman (ed.) (Writer's Digest, 2007)
There are 100 songwriters interviewed in this book, an anthology of Q&As from American Songwriter magazine. Some are very scant on useful information. Some are with songwriters from Nashville I'd never heard of and don't particularly want to hear of again. Some are by interviewers who should go to the Paul Zollo school of interviewing, or just give up and do something else. And then there are the gems – interviews with Sheryl Crow, Rodney Crowell, Smokey Robinson, Cat Stevens and Bill Withers, to name a few, that are really really good to read. Zollo has a few of his priceless interviews in here, too. And there are plenty of younger rock and hip hop writers to satisfy their fans, as well as the classic rock and country writers. There's enough in this buffet to please everyone.
Tunesmith
Jimmy Webb (Hyperion, 1998)
Thank you, God, for Jimmy Webb. Even though a chunk of this book went way over my head, while he delved into the intricacies and technicalities of writing – notations and all – for the most part it is a gorgeous insight into the thoughts and inspirations of one of the world's greatest living composers. A must-read — even though I don't agree with his pedantic attitude to rhyming lyrics.
You Must Remember This... — Popular Songwriters 1900-1980
Mark White (Charles Scribner's Sons, 1985)
This book is really dated (and out of print), but an interesting source of information on some of the older songwriters such as Cole Porter, Sammy Cahn, Hoagy Carmichael and Jerome Kern. The information on the modern songwriters is incomplete because of publication date, and there is a focus on some British songwriters who won't mean much to Australians or Americans.

Songwriters on Songwriting (Expanded Fourth Edition)
Paul Zollo (Da Capo, 2003)
Reading this book just about changed my life. It certainly has been the biggest influence ever on my interviewing technique. A volume of 62 intelligent, insightful and revelatory interviews with some of the best songwriters in the world, past and present. Paul Zollo knows his stuff. I loved this book so much I made a point of making the author one of my best friends. You have to own this book; it is a precious and inspired work.
House of Hits: The great untold story of Australia's first family of music
Jane Albert (Hardie Grant, 2010)
I tenaciously stuck with this book from page to page but could not wait to finish it. An interesting story about the growth of a local music business and an important family that paved the way – The Alberts – but the book just failed to ignite. Jane Albert is a journalist but perhaps she was too close to the subject matter, or restrained by living family members hindering her ability to make it a more exciting story. The narrative was turgid and the author seemed to have little affinity with or passion for the music artists that built the "house of hits". The only lively chapter was towards the end, when Ted Albert teamed with Baz Luhrmann to produce the film adaption of Strictly Ballroom. Albert died before the film was completed, and the book continued to die as well.
Pleasure And Pain — My Life
Chrissy Amphlett with Larry Writer (Hodder, 2005)
This is a really good memoir by a true survivor, and the only female rocker in Australia who could tell such a story. Amphlett's recollections are vivid, candid and at times painfully raw, and she shares the pages with the words of various other characters from her life, including Divinyls members, managers and even her mother. I found this quite moving.
To buy in Australia click here.
Chasing the Dragon – The Life and Death of Marc Hunter
Jeff Apter (Hardie Grant, 2011)
I wanted to like this biography, but I was disappointed. A paint-by-numbers account of Dragon singer Marc Hunter's life and career with all the predictable stories and many quotes used from other sources, the book suffers mainly for the lack of interview material from the protagonist himself. That can't be helped, given that Hunter has been dead for years now, but while I did learn a few things I hadn't known, this book lacked substance for me.
Up from Down Under – How Australian Music Changed The World
Jeff Apter (Five Mile Press, 2013)
Jeff Apter is certainly prolific. He churns out books, mostly but not exclusively about Australian music, and probably makes a fairly good income from it. My limited experience of his work is disappointing. I find his writing blokey, cliche-ridden and his research lazy. If I saw the term "done and dusted" one more time I was going to scream and start ripping pages out. Up From Down Under is about the American success of Australian artists such as Helen Reddy, Peter Allen, Olivia Newton-John, the Bee Gees, Air Supply, Little River Band, Rick Springfield, INXS, Keith Urban and a few others. The early stories of Reddy, Allen and even Newton-John are quite interestlngly conveyed and I even learned a few things I hadn't known before. But when reading about subjects I know a lot about, especially Little River Band, it is really frustrating to be faced with blatant errors and corner-cutting. Apter cites my interview with Graeham Goble in the APrap magazine, which I guess he read online here on my website. Why not get hold of my book, Songwriters Speak, and consult the longer interview with Goble, the interview with Shorrock, and for that matter, the interview with Andrew Farris from INXS, Steve Kipner and other identities he refers to in the book? Am I griping out of envy? Actually, no. It's frustration that someone entrusted with the task of telling an interesting story does it so inefficiently. My standards are very high, to be sure, and many readers don't know or care about what is really fact and what is careless padding. But it matters a great deal to me.
Long Way 'Til You Drop
Tony Barber (Five Mile Press, 2003)
Supposedly a "tell all" book about the behind the scenes scandals on the Long Way To The Top tour in Australia during 2002-3, this comes nothing close to its PR hype. It's essentially a journal by a sweet man (guitarist for the Original Aztecs) who is at pains to say nice things about everyone and emphasise how the whole experience was "heaven on a stick." A few funny bits but basically a yawn.
The Book – Top Forty Research 1956-2005
Jim Barnes and Stephen Scanes (7th Edition, 2006, Top Forty Research Services)
I finally updated my original 1985 edition with the latest and it's just brimming with information. Every single that ever charted in Australia is here, referenced in several ways — by date of chart entry. by artist, by song title — plus the number ones for each year from 1956 to 2005 are listed, as well as the top 20 songs for each of those years. An invaluable resource.
To buy click here.
Working Class Man
Jimmy Barnes (Harper Collins, 2017)
The second in a memoir trilogy that has sold squillions (well, hundreds of thousands) in Australia, this was the only book of Jimmy Barnes's that I was interested in because it covers the Cold Chisel years. But Jimmy's version of events isn't necessarily the actual version, and for someone who admits to being so drunk and stoned nearly his entire adult life, it's a wonder he can recall things as exactly as he writes. At any rate, it's a yarn, and an okay one at that.
Every Day Of My Life
Beeb Birtles (Brolga Publishing, 2017))
Incredibly, this is the first book to comprehensively detail the history of Little River Band, in my opinion the greatest Australian group of the 1970s, whose rise and demise was a story worth telling for so long. It's interesting that of the three key founding members — Glenn Shorrock, Graeham Goble and Beeb Birtles — it was Birtles who decided to put it into a book, because he is the most mild-mannered and least bitter of the three, and his story is unique given his origins in The Netherlands and his pedigree in the unforgettable pop group Zoot (which also began Rick Springfield's career). Birtles places the LRB story in the context of his professional and very personal journey, in which family, friendships and faith play prominent roles. This is a charming and engaging memoir that never pretends to be a literary tour de force, and is always unpretentious, honest, heartfelt and interesting. The inclusion of letters from other players in the story, and particularly one from Shorrock that lays bare the internal politics of LRB, are astounding, and the section near the end that transcribes journal entries during the time of Zoot lead singer and Birtles' best friend Darryl Cotton's death, are heart-wrenching. I've had the pleasure of knowing the LRB guys for many years and interviewing them each at length, and I thought I knew everything, but this book was a revelation. And lovely.
From This Side Of Things
Brian Cadd (New Holland, 2010))
Brian Cadd is one of the Australian tunesmiths and rockers who actually has a really interesting story to tell. Going back to his early years in The Groop and Axiom, through his early-70s solo years and his many adventures in the US, Cadd takes the reader on a fun – and somewhat exhausting – ride. Good read.
To buy click here.
Meanjin on Rock 'N' Roll — All Yesterdays Parties
Ian Britain and Mark Mordue, Editors (Meanjin, Vol 65, No 3, 2006))
This edition of literary journal Meanjin was so well reviewed that I felt compelled to buy it... and had to wait months until it was available as its first print run had sold out. Was it worth the wait? Nah. This collection of writings on rock music by or about Australian musicians is pompous, pretentious and largely yawnful. I did like Greg Macainsh's tribute to his Fender L guitar, and there are a number of pieces I skipped, so I might revisit this anthology down the track. When I've finished setting my hair on fire, that is.
Hey, you in the black t-shirt – The real story of touring the world's biggest acts
Michael Chugg with Iain Shedden (Macmillan, 2010)
Touted as a "hilarious and fascinating" expose, I found this to be a tedious exercise in self-aggrandizement. The first half of the book has Chugg portraying himself as a decidedly unattractive individual who, for some reason, attracts women half his age, who he then goes on to deceive and leave (or be left by). The second half becomes more interesting as he goes into detail about the workings of the rock promotion business. But at no time does the reader get a real behind-the-scenes look at "the world's biggest acts", other than a description of the ludicrous backstage rider for Fleetwood Mac in 1977 or the diva-like behaviour of Frank Sinatra, neither great surprises. Shedden either does too good a job of writing in Chugg's monotonic voice, or a rather poor job of making the memoirist sound interesting. Stuart Coupe's The Promoters, below, is a much more fascinating and hilarious insight into this world.
To buy in Australia click here.
Mondo Bizarro – Australia in the Seventies
James Cockington (Mandarin, 1994)
Cockington is one of Australia's masters of popular culture trivia. This is a fun book, if a bit shallow. Not just about music; this book is about an era. Good (although black and white only) photos.
The Promoters – Inside stories from the Australian rock industry
Stuart Coupe (Hodder, 2003)
Good rolicking fun as Coupe takes you inside the world of rock promoters, painting colourful portraits of characters such as Michael Chugg, Michael Gudinksi and Paul Dainty. Lots of good yarns, some will leave you gobsmacked. Nothing too in-depth or complex here, but an easy and enjoyable read.
To buy in Australia click here.
Roadies – The Secret History of Australian Rock 'n' Roll
Stuart Coupe (Hachette, 2018)
A laugh out loud romp through the years with hard working, hard talking road crew as the lead characters, I absolutely loved this. It's essentially an anthology of stories, most really funny, a few poignant, and whatever the mood the message is never out of sight, that these people are largely underrated and under-known but the live music industry could not function without them. The chapter on Howard Freeman is worth the price of admission on its own. (Note to Hachette, use better glue in the spine. It's fallen apart. But I still love this book.)
The Real Thing – Adventures in Australian Rock and Roll
Toby Creswell and Martin Fabinyi (Random House, 1999)
Better than I expected. This book covers a broad era with admirable depth and analysis. I don't always agree with the authors, but I like their style. More great black and white photos.
To buy in Australia click here.
Beds Are Burning – Midnight Oil: the journey
Mark Dodshon (Viking, 2004)
This started off very promisingly but got repeitious and long-winded. An insight into the life and times of Midnight Oil the band (not the members' personal lives), there are some interesting facts and anecdotes, with lots of quotes from the guys. Definitely one for the fans.
To buy in Australia click here.
High Voltage Rock 'n' Roll: The movers and shakers in the Australian rock industry
Christie Eliezer (Omnibus Press, 2007)
Interesting facts in here, but I never felt I was getting the full story, as this is basically an extended puff piece on six music business executives, who were interviewed at length about their careers and opinions on the industry. There's no criticism, no bite, but it's a worthwhile read if you're interested in the big behind-the-scenes guys like Michael Gudinksi, John Watson and John Woodruff. The most enjoyable chapters were on the two men with the highest profiles – Ian Molly Meldrum and Glenn Wheatley.
To buy in Australia click here.
Willie's Bar & Grill
Rob Hirst (Picador, 2003)
This is an easy read, a light romp through a period of touring and reflection for Midnight Oil's drummer, Rob Hirst, immediately after the September 11 terrorism attacks of 2001 and only a year before the Oils came to an end due to singer Peter Garrett's departure. I read this for research purposes and quite enjoyed it, even though the person who gave it to me said he hated it. There's nothing to hate about it; it's great for Oils fans and fun for anyone who likes books by musicians, especially smart ones.
To buy in Australia click here.
Songwriters Speak
Debbie Kruger (Limelight Press, 2005)
Another shameless, unrated, plug for my book, the definitive reference for anyone interested in Australian and New Zealand songs and songwriters.
Click here for more info.
Don't Stop Believin'
Olivia Newton-John (Viking, 2018)
Listed here because our Livvy is Australian through and through, and rated highly because it is so very moving, this is a simply narrated autobiography by an artist who has never claimed to be making high art. Her honesty and inspiring positivity brought me to tears several times and I kept thinking, I can't bear the notion of a world without Olivia Newton-John in it. A lovely read from start to finish.
Cold Chisel – The Pure Stuff
Anthony O'Grady (Allen & Unwin, 2001)
A fascinating insight into the Chisels in the early years and during their resurrection in the late 1990s. Interesting narrative style, as the author changes tense regularly and places himself as a peripheral but notable character in the story.
Living In The 70s
Alison Pressley (Random House, 2002)
This is pretty ho hum. Not really a music book but a melange of recollections from the best decade that ever was, this is at best a limited and even blinkered look back. The pop culture and media sections are really disappointing — believe it or not, Ms Pressley, not everyone was listening to ABC Radio in the '70s. Check out my 2SM page if you need convincing.
To buy click here.
Thirteen Tonne Theory – Life Inside Hunters & Collectors
Mark Seymour (Penguin, 2008)
This was so highly recommended by music fans and musos that I had high expectations, but I was sorely disappointed. Seymour writes in an off-hand blokey fashion and there is no opportunity for empathy with him or any of the other characters in his world, at least during the period he was in Hunters & Collectors, which he writes of here. A book for Hunters fans or macho rock types.
Now Where Was I?
Glenn Shorrock (New Holland, 2018)
Nicely produced hardback autobiography with great anecdotes and photos. Skims over the parts of his story he doesn't want to go too deeply into but as a companion book to Beeb Birtles' memoir, reviewed above, there is an extra insight into the history of Australian rock with the Little River Band family tree as its focus.
Who's Who Of Australian Rock
Chris Spencer and Zbig Nowara (Five Mile Press, 1993)
There's probably a more up-to-date edition, but this serves me well. Can't remember who was in a particular band, what albums they had, what singles, what dates? It's all here. And more. Nothing exciting, just good facts in an easy-to-use reference style.
Vanda & Young – Inside Australia's Hit Factory
John Tait (UNSW Press, 2010)
The author put a lot of devotion into this account of Harry Vanda and George Young's careers, but the interviews seemed mainly superficial and the surprise revelations were few. I would have liked this book to go into more detail about the Albert Productions years, with more insight into the writing of songs and the relationships with their artists, instead of most of the book being devoted to the history of the Easybeats. But the truth is, Vanda and Young are not overly deep thinkers, and if they are, they aren't into sharing those thoughts. Still, this is a worthwhile addition to a comprehensive collection of books on Australian music. To buy click here.
Paper Paradise
Glenn Wheatley (Bantam, 1999)
Supposedly confessional autobiography that was ghost-written by Ed Nimmervol. I enjoyed it because I knew Wheatley during some of his most exciting and challenging times, but if he had stuck his neck out a bit more this could have been truly scintillating, whereas it's only mildly captivating. Good stuff on the Masters Apprentices, Little River Band and John Farnham.
Black Ties, Red Carpets, Green Rooms
Richard Wilkins with Carrie Hutchinson (New Holland, 2011)
I enjoyed this for the fascinating anecdotes about so many rock stars, movie stars and TV personnel. Wilkins is an affable guy who takes his job as entertainment editor for the Nine Network in Australia seriously, although you rarely get much depth in his TV interviews and similarly there is not a lot of depth here. Just an easy-to-read compilation of interesting encounters. It tends to the cloying and cliched at times and I got the feeling he didn't want to offend too many people, which is a pity, as it would have given it more oomph. Loved the Streisand story.
Glad All Over – The Countdown Years 1974-1987
Peter Wilmoth (McPhee Gribble, 1993)
Wonderful, wonderful, wonderful!! I laughed myself silly reading this. Essential for anyone who lived through this era. I was moved to write Wilmoth a lengthy letter both congratulating him and pointing out a number of factual errors, and he graciously wrote back accepting all points. If you can find it, do yourself a favour and grab it!