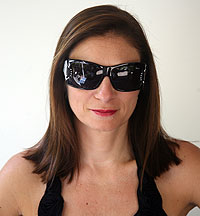 Photo by Henry Diltz
Who is Debbie Kruger and why does she have a website?

Well, obviously I'm all the things listed on the sidebar of each page on this site - a whiz at PR, a writer of numerous articles, a radio presenter, a traveller and someone who loves her home life, too, with all that encompasses. This site explores in some depth the vast experience I have had in these different areas of my life and career, but if you want a one-page potted history, you've come to the right place.

| | |
| --- | --- |
| I was born and raised in Sydney, Australia, the too-cute first child of Lou and Lisa Kruger. My parents say that as a toddler I would climb out of my pram, get down on the pavement and declare, "I'm a doggy-doo." Clearly I was bold and adventurous from an early age. Not to mention articulate and profound. | |
| | |
| --- | --- |
| That's me, top left, in the funky purple outfit, with Masada College girlfriends at my 10th birthday party. Rachel Ehrlich is at my elbow. | My childhood was fairly normal, if you can say that attending a small religious school with only seven children in my class was normal. My ego somehow managed to survive being regularly pipped to the post for lead roles in our primary school musicals (Fiddler on the Roof, Oliver! and Joseph and the Amazing Technicolor Dreamcoat) by the ever-popular Rachel Ehrlich. I had other ambitions. At the age of 10, my greatest dream was to sing "Tie a Yellow Ribbon Round the Old Oak Tree" on Young Talent Time, and I spent hours practicing in front of the mirror. |
From an early age, music was important in my life, and I was listening to the radio actively from around the age of nine or ten. By 1976, well ensconsed at Killara High School, I was quite the groovy gal, heading off to Queen and ABBA and Sherbet concerts in my denim gear and blue Yardley pot-o-gloss eye shadow. A child of the '70s - and proud of it! There's a lot more about those days and music's influence on my life in the '70s in the

Broadcaster

and

Music and Mayhem

sections of this site.
My Young Talent Time ambition having never been fulfilled, I carried my hopes into the Killara High Entertainers Talent Quest, where my friends Shari, Alison and Derani joined me in what was possibly the first ever ABBA tribute band, SADD.

We didn't win, but our "Ring Ring" and "Dancing Queen" were awesome.
My high school days were instrumental in shaping my life to this day. I deal with the Killara High influence in the Homebody section of this site.
In the 1980s I travelled relentlessly, but still managed to pick up my Bachelor of Arts from the University of NSW and then my Master of Arts in Theatre Studies from the same university. I studied for the MA while also working full-time as a journalist with the show business newspaper Variety. Prior to that, in 1985-86, I spent a year as the Membership Officer with the Australian Writers Guild, working alongside esteemed script writers such as David Williamson and Justin Fleming (who has become a life-long friend) and gaining a wealth of contacts with which to embark on my journalistic career. I also worked on writing program material, assessing manuscripts and researching plays for the Sydney Theatre Company.
Interestingly, I had decided in the early 1980s that I did not want to be a journalist. I even dropped out of the highly regarded Communications degree course at what was then Mitchell College of Advanced Education (now Charles Sturt University) in 1981 - although that could have been more due to the college's location in the NSW town of Bathurst, a place I believe to be the arsehole of the universe. I felt more comfortable at UNSW, even though in those days an Arts degree for Jewish girls was considered to be a precursor to marriage.
At any rate, one's true vocation tends to catch up with one, and although my great career goal was to be a literary manager in a theatre company - either the Sydney Theatre Company or Royal National Theatre in London would do - I found myself pursuing a career as a high-flying entertainment journalist. More about this in the Writer section.

Debbie with Justin Fleming
in London, 1991.

In 1990 I moved to London to pursue my dream of working in theatre, and I did read manuscripts for the National Theatre for a while, as well as review major West End plays for Variety during my year as a London reporter. But journalism prevailed over theatre as a career. It was during the two years I spent in London at this time that I made my first foray into PR, looking after all the communications and publicity for a fledgling group of Australian Arts professionals based in London, named Australian Actors Abroad. This - and more about my many stays in the UK and elsewhere around the world - can be found in the Jetsetter section.
| | |
| --- | --- |
| Moving back to Sydney in mid-1992, I found Australia deep in recession and, after six months or so of looking at my options, for no paticular reason I got in the car and headed north to Byron Bay. I stayed eight years, during which time I became a bovine-friendly, dog-crazy, land-owning country girl with a paradisical base from which to write articles for national and international publications, a successful national public relations business, Kruger PRofiles, whose clients included the Brisbane Biennial International Music Festival and the Brisbane International Film Festival, and a weekly radio show called "Debbie Does Breakfast." | |
| | |
| --- | --- |
| | During my time in Byron Bay I found myself drawn to the United States more and more, with a number of visits there writing music and travel stories, and a full year in Los Angeles in 1998/99, when I immersed myself in the Californian music scene that I have so loved all my life, wrote scripts for a radio network, interviewed some of my favourite artists, such as Linda Ronstadt and Chicago, and publicized the heck out of rock photographer Henry Diltz. |
Back in Australia again by mid-1999, I settled back in Byron Bay as PR Manager for Sunspirit Aromatherapy, but realised that my LA experience had me seeking new and more stimulating work that revolved around the music industry. So the big decision to move back to Sydney, and my most recent role as Manager of Communications and Public Affairs with the Australasian Performing Right Association (
APRA
), where I worked with and on behalf of Australian and New Zealand composers and songwriters.
| | |
| --- | --- |
| A gathering of Killara High friends in 1999. That's me in black leather in the front row. | Living back in Sydney after most of a decade away also meant reconnecting with great friends and amazingly - in a city that has become bigger, noisier and less friendly than the one I grew up in - making new friends. |
My lifelong passion for music, writing and communicating culminated in my first book,

Songwriters Speak

, released in August 2005. Featuring interviews with 45 of Australia and New Zealand's greatest songwriters, it truly was a labour of love. I spent over four years putting it together, and just before my 43rd birthday I became a published author at last!

Hot off the press – my first book.
It was like giving birth.
I did say this was just a potted history... I hope you'll take the time to explore the site and find out more about my life and career, and keep checking in for news and updates.