The Countdown Spectacular was a concert event that toured Australia in August and September 2006.

I had my doubts about the Countdown Spectacular. Like all the Sherbet fans of old, I had longed for the day when the boys would reunite to sing those great pop hits we loved so well (and still do). But I wasn't so keen on having them share the stage with the likes of Pseudo Echo, Chantoozies, Brian Mannix, Joe Dolce or Alex Smith of Moving Pictures singing the dreaded "What About Me?". So I was very ambivalent about the whole thing and did not rush to buy tickets when they went on sale.

But as the time drew near, I weakened. Even though Sherbet were doing some not-so-secret warm-up gigs that I knew I could go to, I just couldn't let something like a Countdown tour pass me buy as I figured I might just regret it if I didn't go.

So I went twice. I bought myself a ticket to the first show and then, when my old friend Leanne from Geelong said she would come up to Sydney and see it with me, I bought two tickets to the second show. Front row seats.

And you know what? It was spectacular. Really.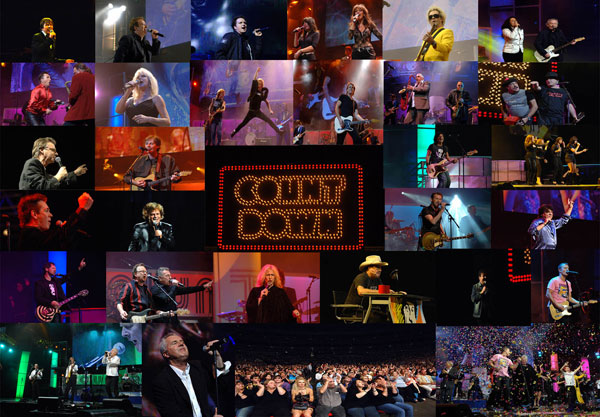 Photo montage © Bob King
(Note: If you've found your way to this page somehow and did not grow up in Australia in the 1970s, and therefore don't have a clue about Countdown or Sherbet, I suggest you do yourself a favour and check out the Sherbet section of my Music and Mayhem page, and also the blurb on Countdown on my Australian Music Media page. Then come back here and it will all make sense.)
As it was the Sherbet reunion that made the whole Countdown Spectacular thing viable, let's focus on Sherbet to begin with, and the warm-up gigs that they did in Melbourne and Sydney prior to the Countdown tour.

I'd been in close contact with Sherbet's keyboard player and chief songwriter, Garth Porter, throughout the year as this mighty reunion was taking shape, and new songs were being recorded for inclusion on the Superhits CD compilation, released by Liberation Music. I wrote the all-important media release that went out with the CD and the Superhits DVD, which you can check out here. (No, it's not my name at the bottom of the release; funny how record company publicists need outside writers to do their press releases - but ideal for a Sherbetologist PR whiz like me!)

I happened to be visiting Melbourne on the weekend that Sherbet played their first pre-Countdown warm-up gig, at the not-so-glamorous Doncaster Shoppingtown Hotel on Friday August 18. I went along to this monumentous show with my old highschool concert buddy Robyn, who lives in Melbourne, which made the experience all the more special. She hasn't stayed as attached to Sherbet over the years as I have (despite being a much more obsessed fan than I back in the '70s) but she became quite impassioned during the show, punching me in the arm a few times – her quirky way of expressing joy and affection. (Click here for old pics of Deb and Rob in concert mode circa 1978. No current pic of Robyn available, but she's looking fab.)

The 2006 Sherbet shows were a real treat; they performed two sets, playing all the best hits – "Howzat", "Summer Love", "Cassandra", "Slipstream" et al, as well as a few of the early live treasures such as their cover of "Wishing Well" and the magnificent piece of perfect pop, "Free The People". As the Countdown shows limited their set to five songs only, it really was essential to see them in their little warm-up gigs to get the full Sherbet experience.

L-R: Clive Shakespeare, Harvey James, Daryl Braithwaite, Tony Mitchell, Alan Sandow and Garth Porter at South Sydney Juniors.
Photo © Bob King
A week later the band played closer to home, at South Sydney Juniors Club, and the show was well attended by local industry types and photographed beautifully by Bob King, who was always photographing Sherbet back in the '70s.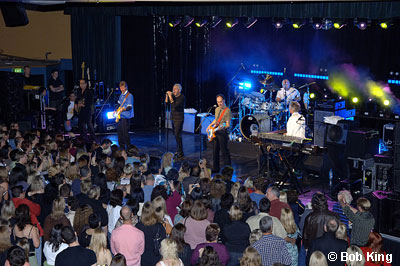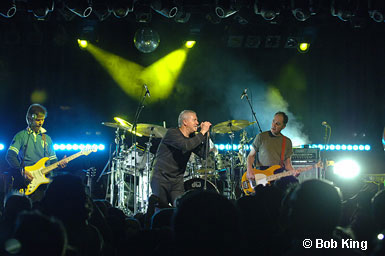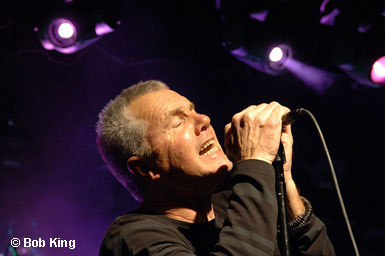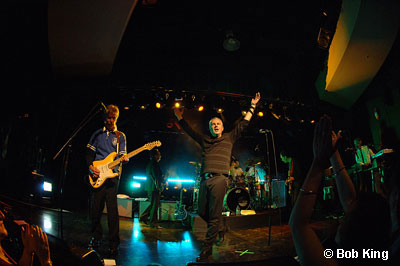 Libby Gore (aka Elle McFeast) just had to get up on stage and cavort with Daryl, and Garth's wife Mary, celebrating her birthday, partied on from the audience with balloon firmly attached so that all could see where she was. Fans from everywhere, including Thailand, crowded the stage, and if you closed your eyes you could almost pretend you were at the Hordern Pavilion in 1976. Well... maybe kind of almost.

Music sages Glenn A Baker, Debbie Kruger and Anthony O'Grady. What a lineup!
I enjoyed the show in the company of evergreen rock historian and all-round guru, Glenn A Baker, and former RAM Magazine editor and fellow Sherbetologist, Anthony O'Grady. Their ears even survived my mandatory blood-curdling scream at the appropriate moment during "Howzat". Just for old times' sake.

| | |
| --- | --- |
| Bob was hoping for a photo of all six Sherbets after the Souths Jrs gig, but Daryl and Alan rushed off, so there were only four for the shot. Still, a great pic of some former heart throbs. Well... Garth still makes some hearts flutter, I dare say. Tony is still a total gentleman with a fantastic memory for names, and Harvey still has that playful and slightly crazed look in his eyes. | Photo © Bob King |

The boys did a third warm-up gig in Shellharbour, south of Wollongong, too far south of Sydney, which I skipped. I was happy to wait for Countdown to arrive.
I watched the first show, on Friday September 1, from the ninth row of Acer Arena, exhausted from a hard day's work and expecting to be bored by the '80s artists I'd never even liked in their heyday – or had any memory of (eg Paul Norton). But I was actually dazzled by the array of performers, both great and daggy, well-preserved and severely damaged by time, singing better than ever and stretching for the notes. I was amazed by the songs I remembered that I didn't even know the names of. I loved the dancing and the stage sets. I just loved it. Here's the rundown:
• John Paul Young – "Yesterday's Hero"
• Swanee – "If I Were a Carpenter"
• Scott Carne from Kids in the Kitchen – "Change in Mood"
• Cheetah – "Spend the Night"
• Choirboys – "Run to Paradise"
• Ol' 55 – "Looking for an Echo" and "On the Prowl"
• Wendy Stapleton – "Play the Game"
• Brian Mannix from Uncanny X-Men – "Everybody Wants to Work"
• Countdown Dancers do numbers from Saturday Night Fever, Grease, Xanadu and
Michael Jackson hits.
• Paul Norton – "Stuck on You"
• Jo Camilleri and Wilbur Wilde of Jo Jo Zep & the Falcons – "Shape I'm In"
• Red Symonds' touching and witty video tribute to dead lead singers – Shirley
Strachan, Marc Hunter, Steve Gilpin, Michael Hutchence and Bon Scott.
• Alex Smith from Moving Pictures – "What About Me?"
• David Sterry from Real Life – "Send me an Angel"
• Stephen Cummings from Sports – "Who Listens to the Radio?"
• Grace Knight and Bernie Lynch from Eurogliders – "Heaven"
• Billy Miller from the Ferrets – "Don't Fall in Love"
• Joe Dolce with Molly Meldrum on accordian – "Shaddap Ya Face"
• Hush – "Glad All Over" and "Boney Maroney"
• Shane Howard from Goanna – "Solid Rock"
• Leo Sayer – "You Make Me Feel Like Dancing" and "When I Need You"
• Countdown Dancers do "Flashdance", "Fame", "Footloose", "Mickey" and "YMCA"
• Sean Kelly and James Freud from The Models – "I Hear Motion" and "Out of Mind
Out of Sight"
• Chantoozies – "Wanna Be Up"
• Molly's Humdrum
• Jon English – Medley of "Words are not Enough", "Six Ribbons" and "Turn the Page"
• Brian Canham from Pseudo Echo – "Funky Town"
• Mondo Rock – Medley of "No Time", "Cool World", "Summer of '81" and "Come
Said the Boy"
• James Reyne – "Reckless" (acoustic) and medley of "Fall of Rome", "Errol",
"Beautiful People" and "Boys Light Up"
• Renee Geyer – "Say I Love You" and "It's a Man's World"
• John Paul Young – "I Hate The Music"
• Sherbet – "Slipstream", "Cassandra", "Rock Me Gently", "Howzat" and
"Summer Love"
• Finale with all performers – "Living in the 70s", "Never Tear Us Apart", "April Sun
In Cuba" and "High Voltage"

* Many thanks to Sue Konon for sending me her detailed summary of the concert which helped
me with this set rundown.

A pre-concert toast to friendship and dagdom
As I said earlier, I attended the second Sydney Countdown show with Leanne.

Leanne is from Geelong in Victoria, and we first connected as penpals with a common interest – Sherbet – in September 1976. So this was a 30th anniversary celebration for us and our enduring friendship. Incredibly, in all those years, we had never attended a Sherbet concert together. So this was a long overdue event!

In 1976 Leanne called herself "Daryl-Lea" and was even more obsessed with Sherbet than me or Robyn. She had met the boys a few times and was a seasoned concert-goer, whereas I was only just starting my concert-going life.


The back page of Leanne's first letter to me, September 1976

| | |
| --- | --- |
| These photos were taken in Sydney in 1978, the first time Leanne and I met face to face. We have been great friends through the years, attending each other's birthday parties (mine) and weddings (hers) and now, to top it off, we've shared the Countdown Spectacular! | |

So here we are at the very front of the stage with Renee doing her thing in the background. We had a blast watching this show together, and Leanne was also blown away by the backstage passes I was able to obtain as she got to meet her former idols again after so many years.

A highlight for me was in fact meeting the great Roger Davies, manager of Sherbet in the '70s, and since then one of the most successful international artist managers, guiding the careers of Olivia Newton-John, Tina Turner, Janet Jackson, Cher and Pink, to name a handful. No pics of Roger, but here is a selection of photos from my camera and Leanne's camera.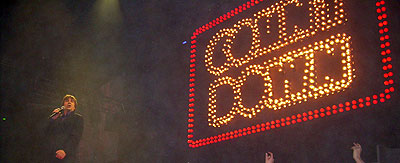 JPY loves the music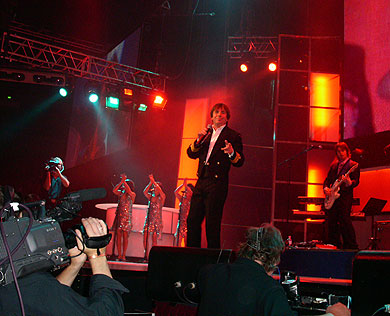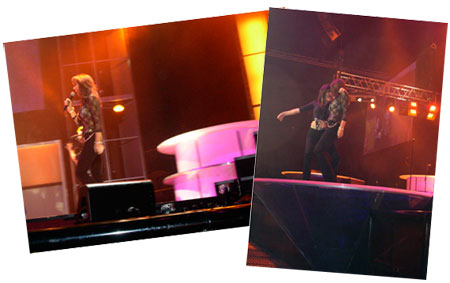 The sensationally sexy Cheetah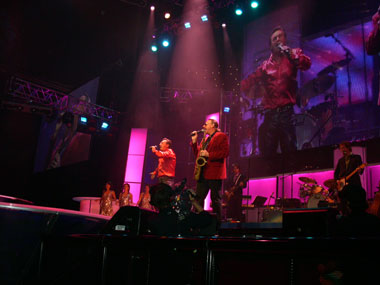 The ageless Frankie J Holden with Wilbur Wilde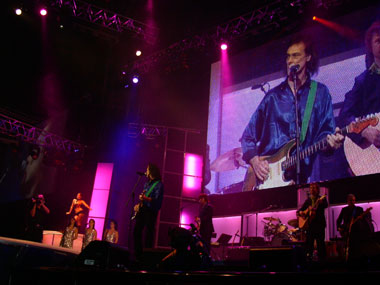 Billy Miller delivers a cautionary ditty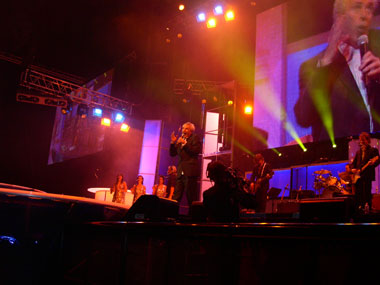 Stephen Cummings comes out of his glass house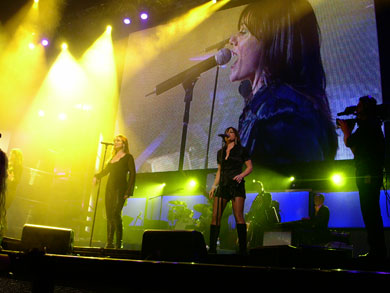 Tottie and Ally from the Chantoozies strut their stuff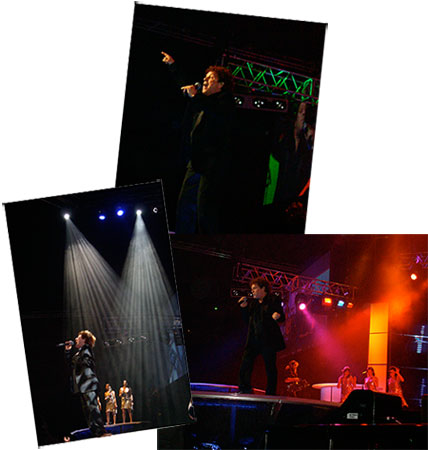 Loveable Leo loves the limelight
| | |
| --- | --- |
| Guitar hero Les Gock from Hush | James Reyne's reckless moment |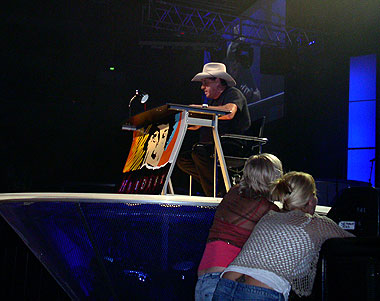 Molly's Humdrum with a captive audience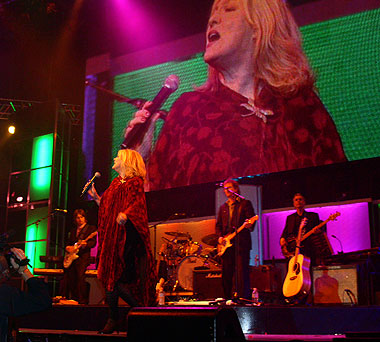 Renee says she loves us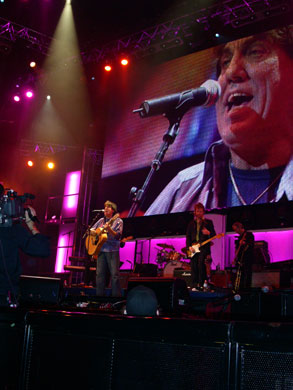 Jon English – still a superstar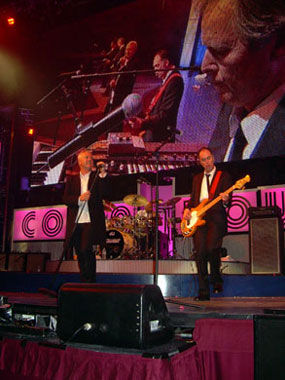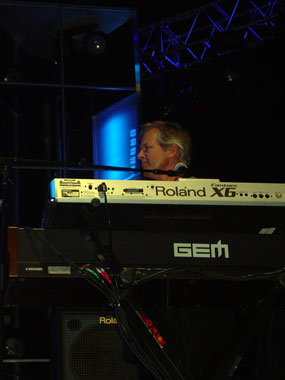 Sherbet finally take the Countdown stage
Backstage was very low-key – no wild partying – but the company was mighty fine.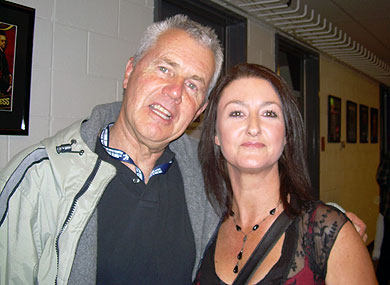 Daryl-Lea of the new millenium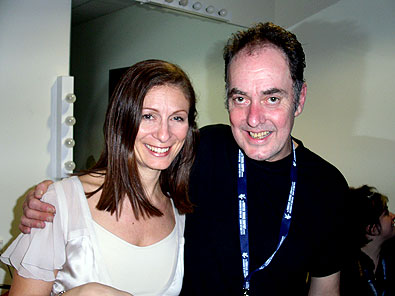 Debbie and Tony after the show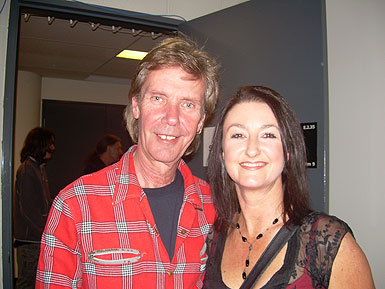 Harvey and Leanne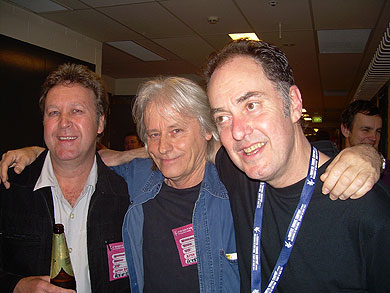 Gary and Herm from the Ted Mulry Gang with their old pal Tony
(Great pic from Leanne)
Debbie, Annie, her husband Alan and Leanne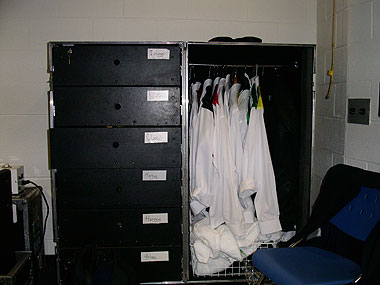 The Sherbet dressing room
So there's the story of a spectacular concert event that I was able to share with one of my dearest friends. Roll on Flashez Festival and Sounds Sensation!!
A year later the Countdown Spectacular 2 was staged and I was there, too, so you can check out the details by clicking on the logo below.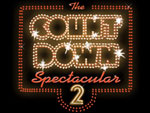 The official Countdown website no longer exists but you can go to Countdown Memories for some great info. You know, do yourself a favour and all that...

The Countdown Spectacular DVD and CD set lets you re-live the whole experience... or experience it anew if you missed it live, but you'll need to search eBay and other sites to find them now (2020 update).

And if you're not aware, there is a great interview with Garth Porter about his songwriting for Sherbet in my book, Songwriters Speak.


**Copyright notice**
Please do not use images from this page on other websites without permission.