Following the huge success of the Countdown Spectacular in 2006, the promoters decided to do it all again in August 2007, with different Australian artists (some of the ones they left off the first lineup), plus a slew of overseas acts that had either appeared on Countdown in the '70s and '80s, or at least had their clips played regularly.

I definitely had my doubts about this one. Glancing down the list of talent, there were only a couple of local acts I loved – but I could see them elsewhere if I wanted – and only two international acts I was crazy about. But crazy was the operative word. I was reeeaally crazy about Rick Springfield and Graham Bonnet. Ahh heck, it had to be a fun night, surely. So along I went to Acer Arena, on a hellaciously wet miserable Sydney winter's night, VIP pass slung around my neck, to relive those halcyon days again.


Was it spectacular this time? No.

Fun, yes. Silly, yes. A little dull in parts, yes. Magical occasionally, for sure. The production was not as slick nor as inventive as the 2006 Spectacular and some of the performances really let the show down. But did I have a fabulous time? Absolutely!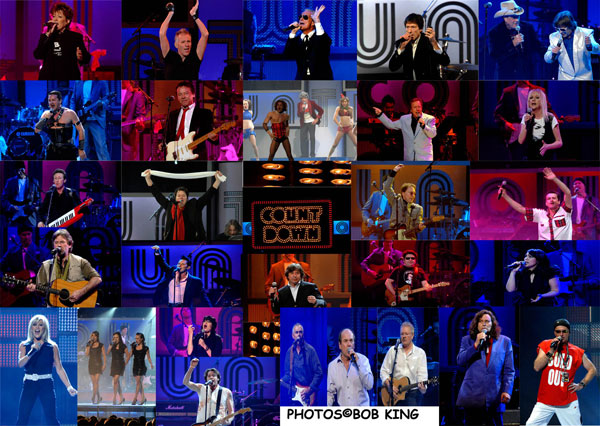 This time instead of the excitement of a Sherbet reunion, the headlining Australian act was Birtles Shorrock Goble, my pals from the original Little River Band, who've been playing together again – on and off – for five years now. I'd seen them many times, but I'd say most of the 20,000-strong crowd at Acer Arena hadn't seen them at all, so there was a palpable excitement when they performed a medley of their biggest hits.

And instead of a reunited Hush doing the hard rock finale to the first act, this time we had Doc Neeson's Angels firing up the audience. I'd all but forgotten that audience retaliation in "Am I Ever Gonna See Your Face Again?" – "No way, get f#*@ed, f#*@k off!" – and hearing 19,999 people screaming it was certainly nostalgic.

But the really big drawcard of the night was Australian music legend Rick Springfield, whose profile in his home country had been negligible for more than 20 years, but whom I had always had an extremely soft spot for, as a performer, a songwriter, and a total hunk.
I didn't get any performing shots of my own this time as I was sitting in the elevated section with some of the VIPs, and running backstage now and then, but Bob King very kindly sent me a couple of glimpses of Rick and the fabulous montage above. As for the full rundown of who performed, here it is:
• Katrina (without the Waves)
• Plastic Bertrand
• Graham Bonnet
• Samantha Fox
• Radiators
• Ignatius Jones
• Sharon O'Neill
• Paul Gray from Wa Wa Nee
• David Paton from Pilot
• Richard Gower from Racey
• Robin Scott aka M
• Doc Neeson's Angels
• John Schumann from Redgum
• Doug Fieger from The Knack
• Dave Mason from The Reels
• Kate Ceberano
• Supernaut
• Les McKeown from the Bay City Rollers
• Richard Clapton
• Martha Davis from The Motels
• Birtles Shorrock Goble
• Rick Springfield
• Plus John Paul Young, Molly Meldrum and the Countdown Dancers


My personal highlights, lowlights and other notable mentions:

Best vocal performance – Birtles Shorrock Goble by a million miles and nobody will ever get close.

Most delightful magic moment – David Paton's look of amazement as 20,000 people all sang "Oh ho ho it's magic" before he could get the lyrics out himself.

Biggest disappointment – The once superb Graham Bonnet with a now ravaged voice screeching "It's All Over Now Baby Blue" to an aghast audience. We were spared the tragedy of hearing "Warm Ride" delivered in a similarly massacred way.

Most touching warm and fuzzy moment (notwithstanding the above) – Telling Graham Bonnet backstage that his recording of "Warm Ride" in 1978 is one of my all-time favourite songs from that era, the best-ever Bee Gees song not recorded by the Bee Gees, and having Graham hug me and thank me (all the while confessing he hated the song and the disco era it came from).

Most ludicrous warm and fuzzy moments – Plastic Bertrand and Samantha Fox each telling the audience they loved us. Really? But we'd only just met.

Best catch up with great pals – Chatting away backstage with Sharon O'Neill and her divine partner Alan Mansfield, two of the nicest people in the business.

Nicest international guests – Robin Scott, Doug Fieger and David Paton

Biggest backstage smiler – Richard Gower from Racey. Did he want to lay his love on me or was he smiling for everyone?

Bummer moment – Missing Supernaut performing "I Like It Both Ways" because I was busy hanging out with Rick Springfield.

Best highlight of all – Hanging out with Rick Springfield!!!


| | |
| --- | --- |
| I wish that I was Jessie's Girl... | I've admired Rick since his Zoot days, long before "Jessie's Girl", General Hospital and American superstardom. I have always thought Rick has a lot more depth than the shiny rock god image he'd cultivated. Even before I saw VH1's Behind The Music special on him, which revealed some of his darker aspects. I've told Rick I'd like to talk to him about his songwriting some time, so fingers crossed. |
The wonderfully nice and talented Beeb Birtles, of Little River Band and Birtles Shorrock Goble, was originally in Zoot with Rick. They recorded the best-ever cover version of a Beatles song, their prog rock take on "Eleanor Rigby" from 1970. Until the Countdown Spectacular 2 tour, Rick and Beeb hadn't seen each other for many years. I only wish I could have been in Melbourne with them a week later when they hooked up with Zoot's lead singer, Darryl Cotton. Nevertheless, sandwiched between these two total legends was pretty damn fine.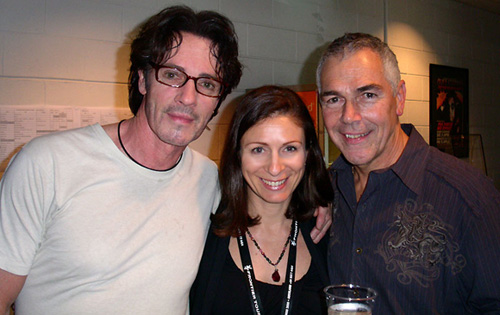 Rick, Deb and Beeb
| | |
| --- | --- |
| In 1975 I was singing along with all of Australia to Pilot's two massive chart hits. I still have a mixed tape of songs recorded from the radio (2SM, of course) and track one is "January". I told David Paton this and he was bemused. A really sweet and friendly guy from Edinburgh (and absolutely no relation to the Bay City Rollers' infamous manager, Tam Paton, he assures me), and amazingly well-preserved, too. | It's magic! Deb with David Paton |
| | |
| --- | --- |
| Deb with Doug Fieger, the guy with the knack | This guy is so cool. SO very cool! I told Doug Fieger I had seen The Knack at a 2SM free concert in 1979 and he remembered the gig well. Time has smiled most fondly on his huge hit "My Sharona", and Doug loves talking about how the real Sharona is a very successful real estate agent in Los Angeles (check out her groovy website here) and is proud yet genuinely humble about the song's phenomenal legacy. Great guy, so great to meet him! |
And yet another lovely cool dude. Robin Scott, aka M, told me the Countdown Spectacular gigs were the first time he ever performed "Pop Muzik" live. I was dubious, but he was emphatic. He enjoyed my impromptu rendition of the song in the backstage dressing rooms area, and my commentary on early rap in pop songs like his "Pop Muzik" and Blondie's "Rapture".

New York, London, Paris, Munich... everybody talkin' about – mmm – pop muzik!
Deb with the big M, Robin Scott, in Sydney
I guess the most interesting thing about seeing the Countdown shows in 2006 and 2007 was how amusing it was to watch many thousands of people reveling in nostalgia. For me, nostalgia is a way of life. It's not really nostalgia at all, it's just music that I've taken with me through the decades. I still have "Pop Muzik" on the original vinyl 45 single (as well as Graham Bonnet's sublime "Warm Ride", Supernaut's "I Like It Both Ways" and many other songs performed at the Spectacular). I've listened to those Pilot songs many times over the years and "My Sharona" never ever went away.

Don't forget the official Countdown Website. It has info on the tour and lots of great pics and songs to remember the Countdown era.

Rick Springfield has a huge website worth checking out. Beeb Birtles' site is also terrific, with a lengthy section on Zoot.

There are very informative sites for Doug Fieger, Robin Scott and David Paton, as well as all the artists who performed at the Countdown Spectacular. But obviously I'm more partial to these guys.
Will there be a Countdown Spectacular 3? I suspect not, as I think they've run out of artists, and unless they can entice Pussyfoot, Noosha Fox, Roger Voudouris and Christie Allen out of retirement, there really seems no point.

**Copyright notice**
Please do not use images from this page on other websites without permission.