My trip to the UK in 2004 was specifically planned for interviews for my songwriters book, and I was very lucky to get four fantastic interviews, including two songwriters at the very opposite ends of the spectrum: Nick Cave and Rolf Harris. Photos from the interviewing side of the trip will appear in the photo gallery for the book closer to its publication.

This was my first time back in London for six years, and it was a really wonderful two weeks, the happiest time I'd spent there since before living there in the early 1990s. It was very joyous and comforting to spend time with my cousins — all nieces and nephews of my late father — and particularly to stay with my darling cousin Cyndy, who has been one of the best friends and biggest influences on my life. All that will make more sense once the rest of Jetsetter is constructed (it will happen!) but in the meantime you can take a look at some pictures of my great time with relatives, old friends, and old sights.
One thing I really enjoyed doing on this visit to London was sightseeing like a tourist. I hadn't done that for nearly 20 years, in all my times living there and visiting. Just walking around with a camera and enjoying the tradition and picturesque scenes around me. It didn't hurt that in my first week there the weather was warm and sunny and glorious, and that I'd been working out for months before leaving Sydney so had lots of energy for walking.
Actually... the truth is that I stayed at this modest abode, but I didn't think you'd believe me, so I made up the sightseeing thing.
| | |
| --- | --- |
| | One of my very favourite things to do on a nice day in London is to take a walk through St James's Park. I have had my picture taken in this spot on this bridge many times over the years. So why not once more? That view of Whitehall, looking like some fabulous European palace, always gets me. |
| | |
| --- | --- |
| And of course Green Park is always gorgeously green in the summer, and full of pasty white English bodies trying to tan themselves during their lunch hours. I took a happy stroll up to Piccadilly and wound my way through the back streets to Regent Street, as always bustling with buses. | |
There was something vibrant and almost sparkling about Central London that I hadn't seen since the 1980s. People had been telling me for the past few years that London had a new lease of life, and it was nice to experience it first-hand. Of course, it is still the most expensive place on earth to be! And the shops are still as enticing as ever and in some instances more enticing, as both Liberty's and Selfridges have been much tarted up.
I can recommend, however, Godiva Chocolates on Regent Street, where the chocolate dipped strawberries are huge and juicy and much better value at £1 each than their American counterparts which charge $4 for the same thing.
| | |
| --- | --- |
| My cousin Cyndy worked on Regent Street way back in the 1970s. When I first met her she was working in the Art Department at Burberry's. Many jobs and many of my visits to London later, she is as groovy and fun to be with as ever. This photo was taken at a lunch, the day after my arrival in London, in celebration of the 29th wedding anniversary of Cyndy and her husband Michael, aka the Birris (to be explained when the rest of Jetsetter takes shape). | |
| | |
| --- | --- |
| | 29 years? Impossible, I hear you say. I know, Cyndy doesn't look a day over 30, which made her a very infantile bride. Here she is with said husband, Michael, a London cabbie who was really born to be a rock guitar god. Either that or a cat. |
| | |
| --- | --- |
| Viv and Henry also joined us for the lunch. I've known them since I lived with Cyndy and Michael in 1980 when I was a mere baby of 18-years old. I introduced Henry to Little River Band then. I dragged Cyndy and Michael and Henry and Viv and some other friends of theirs to see LRB at the Finsbury Park Rainbow in June, 1980, and Henry became a big fan which he has remained to this day. And that makes him a man of good taste. | |
| | |
| --- | --- |
| | Wayne Harrison, my brilliant theatre friend, who pops up all over this site, is based in London now and has an impressive home in Stoke Newington (just up the road, in fact, from where my father grew up in Stamford Hill). Wayne is an ardent lover of all things bulldog, hence the little statues at his front entrance. |
| | |
| --- | --- |
| Wayne's partner Malcolm Poole is an artist, a painter of considerable style, and their house is full of Mal's art. Here they are in their lounge room with some nice mood lighting. | |
I was very fortunate to be in London as Malcolm opened his first West End solo gallery show. It was a very nice affair, on a beautiful warm evening, full of ex-pat Australians and cultural English folk.

After the opening, everyone went back to Stoke Newington for a feast of food and wine. I have to say I was extremely well fed on both occasions I visited Wayne and Mal's home.

Oh, and here's a link to a website about Malcolm and his Sydney studio.
| | |
| --- | --- |
| Back in the dark recession-filled early 1990s I was a scribe in Variety's London bureau, which you can read all about on my Variety page. One of the nicest people in the office — the absolute nicest person, in fact — was Lee Simkins. We hadn't seen each other for over 13 years but we reconnected recently online, as you do, and met up for a lovely lunch in Covent Garden one day. | |
Covent Garden was a regular stomping ground of mine in the 1980s, and I even worked there briefly, for the ill-fated magazine Management Week, in 1991. But nowadays the precinct is a shadow of its former self, the market area looking quite shabby. Best shopping is on Floral Street, where my favourite British designer, Paul Smith, has his shop.
Speaking of shopping, I was most impressed with Stella McCartney's incredible shop and had lots of giggles in Moschino's cheeky emporium, both on Conduit Street, and loved N Peal Cashmere's new diffusion line, N Peal Works, in the Burlington Arcade. Fashion hound that I am.

In between all this shopping, eating and socialising I was interviewing for my book. Early in my first week in London I met up with Darren Hayes, formerly of Savage Garden.
| | |
| --- | --- |
| And later that week I went to Richmond to interview Terry Britten, once of the Twilights, later famed producer and songwriter for Cliff Richard and Tina Turner among others. Here's a photo of me with one of Terry's Grammy awards for "What's Love Got To Do With It." I'd never seen a Grammy before let alone held one so it was pretty cool. I'd like to thank... | |
| | |
| --- | --- |
| | Back in 1990 when I was working in London with Variety, one of the people I met in the industry was Ray Gillon, who was then an audio specialist at Dolby Sound. We became great friends and have stayed in touch over the years. Ray is now a film producer, specialising in foreign-language versions of major studio films. You can read an interview with Ray about his work here. And here's another good article on Ray. |
| | |
| --- | --- |
| Despite his pressing schedule working on the new Harry Potter film Ray met me in Richmond, Surrey, on the day I interviewed Terry Britten (whom Ray of course knows, because Ray knows everyone), and we had lunch at Strada, a terrific Italian restaurant. And he took this really nice picture of me, one of my favourites from my London trip this time. | |
| | |
| --- | --- |
| | But back to the relatives. When I was very young, 17 in fact, I lived in London with my Aunty Ruby, who was very much the mother hen of the Kruger Family in England. Her daughter, and my cousin, Ros, is now the mother hen of the clan. Here is Ros and her daughter, my second cousin (or is that first cousin once removed??), Hayley, at Friday night dinner in Radlett. |
| | |
| --- | --- |
| Ros's brother is my cousin Robert, who picked me up at Heathrow on this trip, waiting in the arrival hall with a sign that read "MY FAV COUSIN." Aww shucks. | |
Ros had an afternoon tea — at least one Sunday tea with the relatives is mandatory on a visit to London — for all the cousins. This is quite an historic photo actually. It was the first time I had seen all my cousins together since all our parents, the aunts and uncles, had passed away. My Dad, the youngest of seven Kruger siblings, was the last to go, in March 2004. So it was quite lovely to see everyone and reinforce the bond that we all share. Sadly two of the cousins have themselves passed away in recent years. So this is the gang now. Of course some have different surnames, but four of us here are still Krugers.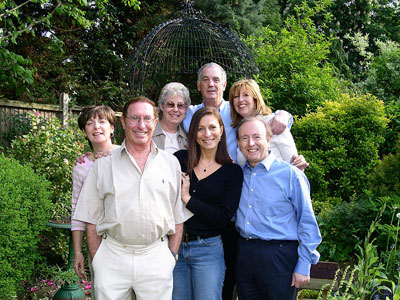 Left to right: Ros, Michael (the eldest cousin), Maureen, Debbie,
Robert, Cyndy and Barry. Absent are Ivor, whom nobody sees,
and my sister Paula (the youngest cousin).
| | |
| --- | --- |
| | And here I am with second cousin Hayley, and Robert's daughter, second cousin Dominique, whom I hadn't seen since she was about five years old. Dom and I had a few things in common. One of her internet passwords, for instance, is "Moschino." Enough said. |
| | |
| --- | --- |
| Cyndy and I spent a fabulous Saturday night together, just the two of us, as VIPs at the Hilton on Park Lane. We had complimentary cocktails in the Executive Lounge, stuffed our faces in the restaurant on a Spanish buffet, went to the theatre, luxiuriated in our hotel room, had a huge breakfast and then snooped around Knightsbridge on the Sunday. Too much fun. | |
The theatre we went to was the highly recommended Jerry Springer The Opera. I'd love to quote you some of my favourite lines in the show, but they're all incredibly rude. It was really funny. Well, the first act was funny and clever, the second act really dragged until the very end, when the best line of the show was sung in unison by the chorus: "Three-nipple cousin-f***er." When I sang it to friends and relatives in the days following, nobody else seemed to appreciate the humour in the way Cyndy and I did. Which says, I think, you either had to be there seeing it live, or you have to be really twisted like Cyndy and I are.

As you can see from this photo taken outside the Cambridge Theatre, it was quite cold on this evening. Nice twilight, though.
| | |
| --- | --- |
| My second week was frantic. On the Monday alone I supervised a photo shoot of songwriter Steve Kipner for my book, had lunch at the home of former Sydney radio and TV personality Lyndel Jacob, and then drove down to Birdham in West Sussex, to spend a few days with my beautiful friend Danielle, who lives in country town bliss with her husband and two young boys. This is me and Dani on the right. | |
While I was in East Sussex I also went to Hove to interview the one and only Nick Cave. Then it was back up to London and out to Bray to see another one and only — Rolf Harris. Quite a week of work on my book! The photos I will share with you down the track, closer to the book's publication, are great.
| | |
| --- | --- |
| | My old high school friend Andréa has lived in London for 15 years or so. She gave birth to Carter last year and I met up with them on a chilly evening in Peckham for dinner and a drink. Carter is a handsome little guy and Andréa has taken to motherhood with relish. Who knew? |
| | |
| --- | --- |
| Cyndy's daughters, Ginny and Nicola, were aged 21 and 19 respectively during my 2004 visit. I've known them closely since before they were even born. There is even a great story about how a veal dinner I cooked Cyndy and Michael (aka the Birris) in January 1982 resulted in the birth of Ginny exactly nine months later. When Jetsetter is finally done — and it will be one day, really — there will be a zillion photos of Ginny and Nicola growing up over the years, because they are my soul children and I adore them. On this trip, they spent most of my two weeks away doing finals for university — Ginny in Leeds and Nicola in Birmingham. But both arrived home to spend a few days with me before I left the UK. This is Ginny, gorgeous specimen of womanhood that she is, contemplating her next motor vehicle (she is car mad) in the kitchen one evening. | |
| | |
| --- | --- |
| | And here's Niccy, the spitting image of her Mum, in her usual pose, on the phone, organising her immensely busy social life. |
Niccy and I spent a fun-filled day doing some touristy things around London. First we went to Madame Tussaud's to visit some good friends of ours... like Madonna... er, I mean Esther...

And those dear folks from Notting Hill, Julia and Hugh...
| | |
| --- | --- |
| | It was a nice opportunity to get up close and personal with Brad, who has always had a soft spot for me... |
| | |
| --- | --- |
| ... And to talk about a film version of my life story with none other than Steven Spielberg, who says he has been a longterm admirer of my work and checks into the Debsite regularly. | |
Nicola, meanwhile, had some important matters to discuss with The Holy Father. As all Jewish girls feel they must...

And then we both were invited up to join the royal family for some pomp and ceremony. As you can see from the photo below, we were most appropriately attired for the occasion. HRH Her Majesty the Queen was very keen to discuss bare midriffs with Niccy, as she is thinking of having her gowns all cropped in the middle for a more contemporary look. Niccy, being the style princess she is, had lots of good advice. The first tip being, "Go to Top Shop."
| | |
| --- | --- |
| After a flying visit to Top Shop to stock up on their terrific £6 tank tops, we munched on chicken sandwiches at a nearby Pret (that's Pret a Manger) where I chipped a tooth (which thereafter cut my tongue and drove me crazy for the rest of my trip). Then Nic and I made our way down to Westminster and across the bridge to South Bank where we had a flight reservation on the London Eye, the world's highest observation wheel. | |
| | |
| --- | --- |
| | There are some pretty amazing views from the London Eye. Even on a grey day, which is unfortunately what we had. Seeing the Houses of Parliament all sparkling and clean from high above was quite wondrous. |
| | |
| --- | --- |
| That's Large Ben. Big, isn't it? Actually, the building is called the Clock Tower, part of the Westminster Palace, and Big Ben is actually the name of the bell inside. But you knew that, didn't you? Wondrous, isn't it! | |
| | |
| --- | --- |
| | Of course, on an observation wheel this high, I was not taking pictures in the open air. We take our "flight" (it is sponsored by British Airways, by the way) in a "pod" that holds 14 people, and which stops every few minutes for the pod beneath us to change passengers. The whole ride takes 30 minutes. |
| | |
| --- | --- |
| So this is me inside the pod of the London Eye. It was great fun. I really enjoyed being a tourist in London again, having lived there twice before and visited so many times. As I hold a British passport in addition to my Australian one, I have long stopped feeling like a tourist in England, but it's a nice way to experience the place after a long absence. Maybe I should do some touristy things around Sydney some time. I think I'll wait for Nicola or Ginny to come and visit before I do the Manly Ferry again, though. | |
Actually, it is a gripe of mine that Cyndy, my closest cousin, the person who influenced me by turning me into a Dallas fan, who taught me style in the early 1980s, who played a pivotal role in my development in many areas of my life, has never come to visit me in Australia. What Cyndy does do extremely well, however, is dish up a good dinner. I am always well fed at Chez Birris.
Especially dessert. One night she served up a dessert of such originality, such exquisite sublimity, that I felt it made a magnificent still life subject.
Speaking of exquisite, I did miss my angel dog Morgan on this trip, and everyone knows I am a dog person, not a cat person. However, the feline component of the Birri family must not be underestimated. Meet Wooty. Wooty is so named because she is the antithesis of Sooty, Cyndy and Michael's first cat. I knew Sooty way back when I lived with the Birris in 1980. Now and then Sooty, a jet black cat of course, would have a friend come to visit, a snow white cat whose name we did not know. So we called it Wooty. Fast forward to 1997, with Sooty having used up her nine lives, and the Birris got their new cat, a snow white creature whose name could only be Wooty.

Princess Wooty, actually. I was in London in September 1997 and we were all sitting at home watching the terribly sad funeral of Princess Diana. Wooty was acting very strangely. Almost possessed. We decided the spirit of Diana had entered the cat and from then on she became known as Princess Wooty.
| | |
| --- | --- |
| | At any rate, she is a cat, and a white furry one at that. I spent my entire two weeks in residence in Ginny's bedroom doing everything in my power to keep Wooty out and off my bed and things. She defied me whenever she could. |
| | |
| --- | --- |
| Michael loves the cat. He loved Sooty beyond what could have been deemed natural, and he loves Wooty in the same way. This is a regular position that Michael can be found in when he is not in his cab or varnishing outdoor furniture. "What are you doing, Michael?" I ask. "Making love to the cat," he replies, eyes closed in meditative bliss. | |
| | |
| --- | --- |
| | It's no wonder we girls decided to get all dressed up and go out for a big night of food and drink before I left London, leaving Michael to his feline love-making endeavours. |
They are quite a family, though, the Blooms (as the Birris are known to the rest of the world) and no stay in London, long or short, is right without their presence at the centre of my experience. A big thanks to them for making my stay so happy in 2004.