THEY WROTE THE SONGS
Songwriters discuss the stories and inspirations behind their most famous songs

Debbie Kruger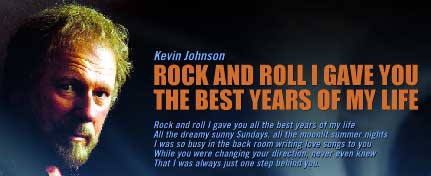 "ROCK AND ROLL I GAVE YOU THE BEST YEARS OF MY LIFE"
Kevin Johnson

Rock and roll I gave you all the best years of my life
All the dreamy sunny Sundays, all the moonlit summer nights
I was so busy in the backroom writing love songs to you
While you were changing your direction, never even knew
That I was always just one step behind you.

Kevin Johnson's 1973 hit about the out of luck troubadour traipsing around the streets of San Francisco and London's Soho in search of that elusive break was ironic given that at that point he had never set foot outside of Australia. Since the song's success – it has been recorded by numerous international artists – he has toured Europe and released recordings there regularly.

Johnson had already been writing and recording for several years before his first hit, 1971's "Bonnie Please Don't Go (She's Leaving)," which also charted in North America. He landed publishing and record contracts in the US, but both deals saw Johnson's success stagnate, with no real action.

"There was a lot of frustration because I was living on the smell of an oily rag at this stage. Because I'd signed with an American company I couldn't record here, so I didn't record anything for two years, which was like madness," he recalls. "There was frustration that had been going on for years before 'Bonnie Please Don't Go' and then two years writing and bashing my head against a brick wall."

Johnson wrote his biggest hit in two days. "It was a quick song for me because I've spent months on one line. It just came to me one day as I was driving home, feeling all this frustration of two years without making a record. So I decided to write a song not about giving someone the best years of my life, but to write about the pursuit of success, which I thought related to a lot of people around the world, not just in music but anything.

"At that stage I hadn't been out of Australia. There are elements of a lot of things in the song, like Don McLean did with 'American Pie.' But what I felt at that time – and I'll be damned for saying this – was that Australia emulated whatever was happening in all the major centres. So when I said I was 'always one step behind,' I mentioned San Francisco because as soon as San Francisco was happening everybody here was trying to play louder than anybody else with flowers in their hair – but about a year after. You can't follow, and that's what everyone in Australia was doing."

The song struck a strong chord and remains one of the most memorable songs composed by an Australian. He admires some of the international versions, although he can't understand what French star Joe Dassin was singing, and was amused when Mac Davis changed the song's ending to a happy one. "There were a few people who wouldn't sing, 'I'll never be a star,' because in their mind they were big stars."

Other than its curious adaptation for the AFL in Melbourne recently ("Aussie Rules I thank you for the best years of my life") Johnson has not encouraged exploitation of the song. He is comfortable with the song's legacy but says, "I have never tried to trade on it. A lot of people come to me and prefer 'Bonnie Please Don't Go' or many other songs to 'Rock and Roll'. So it's only one other song."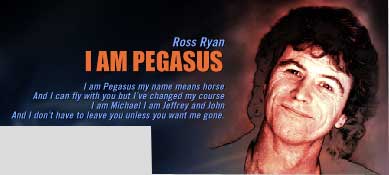 "I AM PEGASUS"
Ross Ryan

I am Pegasus my name means horse
And I can fly with you but I've changed my course
I am Michael I am Jeffrey and John
And I don't have to leave you unless you want me gone.

From a folk background in West Australia, Ross Ryan emerged as "Perth's answer to Cat Stevens" in the early 1970s, although he related more to the likes of Jackson Browne and Joni Mitchell. "I Am Pegasus," one of the biggest Australian songs of 1974, was an accidental hit – "inexplicably successful," according to its writer.

Despite a persistent myth, the song did not, Ryan insists, emerge from a toxic haze. "I wasn't taking drugs then; I didn't smoke dope when I was writing that. That didn't happen until I was touring behind the My Name Means Horse album, which 'Pegasus' was on."

The truth of the song's meaning is simply that Ross does in fact mean horse, and Ryan pointed this out on the album's back cover, offering Teutonic, Saxon, Norse and German definitions of his name.

Ryan originally had two songs in mind. "One was about the fact that I had just discovered that Ross means horse; I'd looked it up in a baby book, and I thought that was really funny, so I had the line 'My name means horse.' And also at the time I was having a really disastrous attempt at a relationship with an air hostess. It didn't work out, so I was writing a song about that, and 'I am flying but let me down' meant I want out of the relationship. Which was not quite true, because she was more interested in getting out of the relationship than I was. The guy she was going out with was Jeffrey, so that's where the Jeffrey in the song comes from, it says, 'I am Michael, I am Jeffrey and John.' Michael was the boyfriend of my high school sweetheart, Christine, and I think I became a songwriter because of her."

The process took around two months. "I was writing two songs and getting nowhere with them, so I combined them and got a flying horse. And I came up with Pegasus, I liked the sound of it, so I thought, okay, that's cool, 'I am Pegasus, my name means horse'! Then I'd read somewhere that John Lennon used a rhyming dictionary, so I ordered one from England, and I looked up all the things that rhymed with Pegasus and I got Dimitrius and Sagittarius. And of course the Sagittarian's the half-man half-horse."

Ryan's producer at the time, Peter Dawkins, heard the finished song and said it was the obvious single. "But it wasn't really a song that I related to. I saw it more as a bit of a songwriting exercise, a bit of a throwaway."

While the song has never been covered – after all, he says, you'd have to be called Ross to want to sing it – "I Am Pegasus" is etched in the minds of many Australians and emerged on various compilation albums. "I even found it on an album with 'American Pie'. I thought that was kind of cool. Because 'American Pie' was the song, and I was thinking when I first started recording, I need an 'American Pie'! A song that would capture people's imaginations."

Until ten years ago, the song embarrassed Ryan. "I used to quite arrogantly purposely change it in live gigs, take the piss out of the song completely, because I was uncomfortable with it. But at the same time I'd missed the point that it was really an insult to people who like it. They were there to see it and I should have been flattered that they liked it in the first place."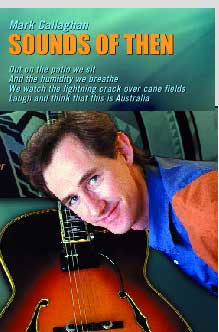 "SOUNDS OF THEN"
Mark Callaghan

Out on the patio we sit
And the humidity we breathe
We watch the lightning crack over cane fields
Laugh and think that this is Australia

It amuses Mark Callaghan that his classic 1985 GANGgajang song "Sounds of Then" has been taken up as a de facto national anthem.

"The irony of the song – and it's similar in some respects to 'Down Under' by Men at Work, which is actually quite a savage song, not at all complimentary of Australia, not a song that is holding up values of Australian manhood or Australian culture to be admired – is that 'Sounds of Then' is not a jingoistic song," he says.

"It's called 'Sounds of Then' and not 'This is Australia', although we had to put 'This is Australia' in the record because people didn't know what the song was called. Some people call it 'Out on the Patio'."

Callaghan says "Sounds of Then" started as a poem in his notebook, reflecting on the time that his family moved from England to Bundaberg in Queensland, a major culture shock. "We lived half way between Bundaberg and the ocean, all around was bush scrub and cane fields. And walking up to the top of the street to catch the school bus, one morning you turn around and there's fire.

"It's one of those songs where if your goal was only to sell records, whatever it took to do it, then the song would have been called 'This is Australia'. But it's not about that. It's a brick veneer drama. My parents got divorced when they came to Australia, it was a horrible period of my life. And the song is actually about how smells and sounds and sensations can rekindle a memory – which is what music does so successfully for people: I think I hear the sounds of then and people talking / Scenes recalled by minute movement / And songs they fall from the backing tape…

"That's what it's about. It's not about, 'Isn't Australia great!' And the memories that are being recalled are from the time my family moved to Australia. When out on the patio we'd sit and the humidity we'd breathe, we'd watch lightning crack over cane fields, laugh and think, 'This is Australia'," Callaghan says shrugging his shoulders.

While never a major chart hit, "Sounds of Then" is one of Australia's most resonant songs, used several times on television, including a Coke commercial and as the promotional theme for the Nine and Ten networks. "I've never had a hit, but a good number of my songs kind of ooze, continue to ooze."

First with the Riptides and then with GANGgajang, Callaghan was not necessarily striving for pop stardom, but hoped to create quality music that was popular. "I liked the idea of playing music and I thought that you could have fun and have intellectual rigour as well in terms of lyrical content."

With a full career fronting bands and working behind the scenes (he's done stints as an executive at Sony Music Publishing and Festival Mushroom Records), Callaghan has never rested on his laurels. But he has not resisted the song's bequest. "Of course, our entrée to a lot of things is 'Sounds of Then'. We can do things like open the Rugby Union International or play at the first day of the cricket test, both of which we did last year. And the guys in the Australian cricket team know that song and they love it, and they play it on their after-match tape. And as we travelled the country we met sports people and we know that our song has inspired them. And that's great, it's great to be part of the culture in that sense."