In December 2009 Pattie Boyd, former UK sixties supermodel, ex-wife of George Harrison, ex-wife of Eric Clapton, visited Sydney for an exhibition of her photographic work at Blender Gallery in Paddington, titled Through The Eyes Of A Muse: The photography of Pattie Boyd.

Pattie is managed by Peter Blachley of Morrison Hotel Gallery in New York, an old friend and colleague of mine through his partnership with Henry Diltz, and so I was hired to publicise the exhibition. I'd already had great success with Henry's own exhibition, also at Blender Gallery, in 2008.

I was fortunate to meet Pattie in London five months ahead of her visit, when we had lunch and chatted about her career, her photography, and my ideas for publicity. She's lived quite a remarkable life, detailed candidly in her memoir, titled Wonderful Today (Wonderful Tonight in the US). Details of her book and her work can be found at her website.

Self portrait, 1997 © Pattie Boyd
Pattie was a trooper as I worked her through a series of press, radio and TV interviews. Coverage included ABC-TV's 7.30 Report, TEN News, Nine Network's Today Show, 702 ABC Sydney, 2UE, 2GB, WSFM, Eastside Radio, Sydney Morning Herald, Daily Telegraph, Rhythms Magazine, RUSSH Magazine and lots more.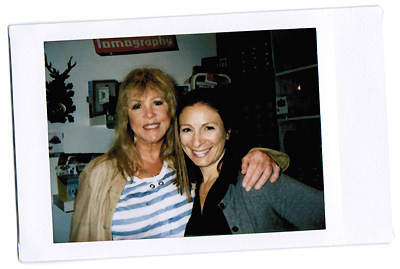 Pattie and Debbie shot polaroid style at Blender Gallery

Here are a few links to some of the media coverage for Pattie in Sydney:
Sydney Morning Herald
Daily Telegraph
ABC TV 7:30 Report
Interview with Chris Smith on 2GB
RUSSH Magazine

| | |
| --- | --- |
| Here is Pattie with the indefatigable Angela Bishop, entertainment reporter for TEN News, and one of the most decidated, thorough and decent entertainment reporters in Australia. She always does such a great job. And she doesn't mind a pic with the celebs when possible. | Angela Bishop and Pattie |
Interviewing for the Today Show

And here's Pattie being interviewed by Richard Wilkins for the Today Show. He was dapper as always, heading off straight after the interview for a long lunch at Lucio's with his fiancee. Well... I guess he had been up since before dawn, but it did seem rather decadent. Still the story looked great when it went to air. Thanks, Dickie.

Pattie and Richard Wilkins
| | |
| --- | --- |
| A couple of days of back-to-back radio interviews meant driving Pattie through all the various tunnels of Sydney. At 2UE, she was interviewed by Tim Webster, a true legend of Sydney radio. I told Pattie before we arrived that Tim was "a ledge". She was unfamiliar with this Australian way of abbreviating words and found it amusing. As she walked into the studio with him she exclaimed, "Debbie says you're a ledge! Is that right?" Tim was suitably humble. | Pattie and Tim Webster |
| | |
| --- | --- |
| Pattie with illy Coffee and Chris Smith | Over at 2UE preparations were underway for the staff Christmas party, while in the studio Chris Smith was plugging illy Coffee, and Pattie was offered a shot of it. Hence her buzzy smile. |
Jonathan Coleman and Ian Rogerson aka Jono and Dano, did a nice long interview with Pattie over at WSFM. It was pre-recorded so there was plenty of banter. Pattie enjoyed their cheekiness and warmth, if not the long drive out to North Ryde!

Pattie being interviewed by Jono and Dano

Dano, Debo, Jono, Pato
The opening night of Pattie's exhibition was a great occasion at Blender Gallery, where the gallery director, stylish stunner Tali Udovich, and I brought out our most colourful frocks. Tali is in a one-off Brazilian designer dress bought in Surry Hills in Sydney. I'm in an ornate Badgley Mischka, bought a couple of months earlier in Los Angeles. In case you wanted to know.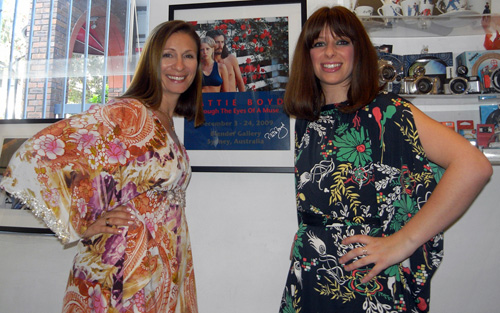 Debbie and Tali
| | |
| --- | --- |
| Debbie with Pattie | I'm not sure what designer Pattie was wearing, but as a former super model of the sixties, running around with Jean Shrimpton and Twiggy and wearing the best fashion of the day, she still has great style. She spent the entire night posing for photos as the paparazzi were in force, but she enjoyed the attention for her work, which was the main thing. |
| | |
| --- | --- |
| Here I am with old pal Peter Blachley. We go back to the late nineties when I was living in LA and doing PR and marketing for Henry Diltz, when they had first become business partners. Now they own fabulous galleries in New York and manage star photographers like Pattie Boyd. I'm just glad to be their PR girl of choice in Australia. And it was good to have Peter in Sydney for his first visit back since he was on R'n'R during the Vietnam War!!! | Peter Blachley and Debbie |
| | |
| --- | --- |
| Glenn Shorrock, Pattie Boyd and Jim Moginie | Guests at Pattie's opening night included Glenn Shorrock (ex-Little River Band) and Jim Moginie (ex-Midnight Oil). Both huge Beatles fans and in awe of Pattie's connection to that world and work. |
| | |
| --- | --- |
| Glenn A Baker was also there, only a month on from his open heart surgery – such a trooper. Of course Glenn will always find a precious piece of memorabilia in his archive to bring along and get signed, and in this case it was a beautiful photo of Pattie in a magazine from around 1967. Of course she duly signed it. | Jim, Debbie and Glenn A |
| | |
| --- | --- |
| Jo Shorrock came along, too, always a delight to have at a social event. | Jo Shorrock with Pattie |
| | |
| --- | --- |
| Mick cannot help but look down on Glenn and Debbie | The big excitement of the night was the arrival of Mick Fleetwood and his wife and young daughters, who had just arrived in Sydney for the start of the Fleetwood Mac tour that month. Pattie's sister, Jenny, was Mick's first wife, so she is Aunt Pattie to his older kids, and they are still great friends. Mick was a towering presence over shorties like me and Mr Shorrock. |
Thank goodness my favourite Australian music photographer, Bob King, was on hand to take the photos I couldn't take... such as those with me included!

Glenn and Mick reminisced about the great late seventies when Fleetwood Mac and Little River Band toured together.

As for me, I was just thrilled to meet such a great music legend. A true "ledge", in fact.

The long and the short of it – Mick and Glenn

Mick Fleetwood with Debbie - cool!
Tali organised a superb dinner for Pattie, her friends and exhibition team, at one of Sydney's hottest new eateries, Bootleg Bar + Italian Food, in Potts Point. Doesn't hurt that Tali's other half is the owner and chef. Great food, great staff, and great company. Mick sent his jetlagged family back to the hotel and stayed on to wine and dine with us, and graciously offered us all tickets to see Fleetwood Mac in our city of choice. For me it was Brisbane, a week later.

Debbie dining with Mick at Bootleg

The post-opening night celebration dinner – thanks Tali!
| | |
| --- | --- |
| Pattie signs off | The end of my job with Pattie was to be on hand for her book and poster signing back at the gallery on a sunny Saturday morning. Then we said goodbye and she stayed on in Australia for a while on holiday, before jetting off to the Bahamas or somewhere equally exotic, where another exhibition of her work was about to open. What a life! |