When putting together a festival like the Brisbane Biennial, you receive publicity materials from around the world from the management companies or record companies of the various artists you're presenting. Until the artists actually arrive on your shores, those materials are usually all you have to work with.

Leading up to the 1997 Biennial, the photos we recieved of Chanticleer didn't tell us much except that this seemed like a bunch of happy chappies and, according to the hype in their bio and press clippings, they were "America's premier vocal ensemble."

Well, as I discovered on the day of Opening Night, they were indeed happy chappies, and forget America - this was the most angelic, mellifluous and blissful combination of male voices I had ever heard anywhere in the world.
We set off together that Friday morning for our media calls - a live interview and performance at ABC Radio, photo calls for the major national and metropolitan newspapers and a television shoot at St Johns Cathedral for ABC TV.

By that night, when the boys featured in the Gospel at the Symphony concert, we were all desperately in love.


Auditioning for the group.
Chris Fritzsche, Chad Runyan and Michael Lichtenauer look on with polite restraint.
| | |
| --- | --- |
| Debbie and Tim Krol bonding | Chanticleer stole the show at the Gospel concert with their rendition of "Jesus met the woman at the well." Brisbane, or Australia, had never heard anything like it, particularly singing that ranged from the sopranos of Corey McKnight and Chris Fritzsche to the resonating bass of Eric Alatorre, whose moustache was also something to sing about. |
Some of the singers chose to skip the Opening Night party, to rest themselves and their voices as they had more concerts ahead. Others came along and partied late, particularly Michael Lichtenauer, who was excited about going to Sea World on the Gold Coast where Chanticleer were performing on the Midday Show with Kerri-Ann Kennerley. "I'm going to jump out of the noses of dolphins!" Michael declared all night.

The group's quietly-spoken leader on the tour, Associate Conductor Frank Albinder, maintained his usual dignified presence.


Debbie and Frank Albinder on Opening Night

Corey, Michael, Debbie, Jay and Tim jazzing it up

After a fantastic recital at St Johns on Sunday afternoon a number of the guys came along to our Jazz extravaganza and we hung out and bonded some more.

Michael was still raving about dolphins.
By Tuesday morning the press coverage was out in full force. Their final Brisbane concert, that night, was bittersweet for me, as I really didn't want my time with them to end. Even though I had another two weeks and dozens of other artists to work with, I knew in my heart that the highlight of this Biennial had already happened.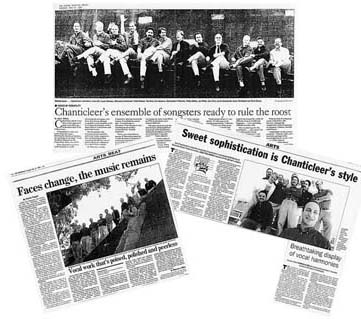 | | |
| --- | --- |
| After their final Biennial concert, we treated the boys to a thank you dinner, and helped David Munderloh celebrate his birthday. | In the absence of any dolphins, Michael contemplates diving out of David's cake. |
| | |
| --- | --- |
| Saying "See you again soon" to Eric and Tim | The next morning I was at their hotel to bid them adieu, as they were flying down to Sydney for performances there. By this time I had already been persuaded by Tim to come to San Francisco a few months later for his wedding, on a journey that would change my life... |
Fortunately I had one of my Chanticleer boys back in Brisbane for a while. Countertenor Philip Wilder stood in for Andreas Scholl, who had to pull out of the Biennial at the last minute due to throat problems. Philip sang with Ensemble 415 and his "Stabat Mater" was gorgeous.

He was also good company at other opening nights, including La Gran Scena, where we encountered the odd rhinocerous in drag.
Of all the musicians I have ever had the pleasure of working with, the guys from Chanticleer gave me the most joy. They were absolute angels, shining a light on my life at a time I needed it the most. I will love them forever for that. The pleasure they gave me was intensified by the grattitude they showed in return, not only by being loving friends and excellent hosts on my many visits to San Francisco since, but also by expressing their thanks in a lovely testimonial which you can read here (if you have Acrobat Reader).

You might also want to find out about the marvellous times I've had with some of the boys in San Francisco in the past few years on my Jetsetter page.
Chanticleer has been around a long time, and one of the things that keeps the group vital is that it changes personnel regularly. That's both good and bad, because of course it means that beloved members of the group move on. Since the group's visit to Australia in 1997, only half of the 12 who came to the Biennial still remain. Ken, Chad and Corey left only a few months after their Australian tour, and in the next few years Chanticleer lost David, who went to Switzerland, Frank, who moved east to Washington DC to become Music Director of the Washington Men's Camerata, and Tim, who is still in San Francisco, enjoying a successful solo career.

For the latest information on Chanticleer and a check on their latest line-up, visit their website.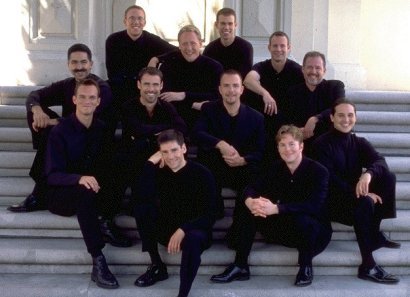 Photo by Marty Sohl