After the worst summer weather I had ever experienced in Byron Bay, or anywhere in Australia, I treated myself to a compensatory holiday in Hawaii for 25 blissful days. I wanted to re-visit my favourite spots around Oahu, and take my first trip to Maui. Here is a detailed pictorial account of my happy Hawaiian holiday. Aloha!

My first visit to Hawaii was with my parents for just a few days in 1978. We stayed at Waikiki Beach. I didn't return to America's southernmost state until 1999, after my year of living in LA. On that trip, I didn't even go to Waikiki. I was invited to stay in somebody's home on the North Shore, on the beach near Hale'iwa for a week. As the Jetsetter section of my site gets fleshed out, photos from all those trips will be found, scanned and posted.
I fell madly in love with the North Shore in 1999, so in 2005 when I went back to Hawaii again for a 10-day holiday, I spent half that time on the North Shore, near the famous Waimea Bay.

On my 1999 visit, the winter was over and the water was dead calm, turquoise blue, magical. In 2005 at Christmas it was big surf of the scariest kind, with all the beaches taped off so swimming was banned.

Waimea Bay

| | |
| --- | --- |
| | In 2008 I was at Waimea Bay in mid-April which, surprisingly, was still late-winter in the world of Hawaiian weather. There was more cloud than I expected, the odd shower, and a fair bit of wind. The water was calm... except for the shore breaks, which were potentially lethal. But nothing could take away from the fact that I was back in paradise. And I managed to take most of my photos on blue sky days. |
There is this thing that people – mostly guys – do in Hawaii. They jump off rocks into the ocean way below. Where there is a beautiful beach and a big black rock, there are crazy guys jumping off. These guys were jumping off the rock at Waimea Bay one perfectly clear day.
Waimea Bay is probably my favourite beach in Hawaii or anywhere in the world these days, but Sunset Beach comes a pretty close second. Famous for its huge waves in the winter, I love it like this, calmer and more swimmable.

Sunset Beach

| | |
| --- | --- |
| | I love watching people on a beach like this, where every human body stands out and looks great against the ultra blue water. Even mine when the angle is good. That's me, below, on a very happy day at Sunset Beach. |
| | |
| --- | --- |
| I rented a convertible and enjoyed driving around Oahu with the sun on my face and the wind in my hair. I can't complain about the beach parking access either. Just drive on up, put on the parking break, and collapse on the sand. Life's a beach. | |
Below is Papa'iloa Beach, one of the locations used for the LOST television series, my absolute favourite program at the moment. There are LOST sites all over Oahu, especially on the North Shore. Papa'iloa is the setting for the survivors' beach camp, so has featured in many episodes.
Sadly, I didn't see any filming going on at this beach or any of those fantastic actors hanging around Hale'iwa getting shave ice. The closest I got was being massaged by the magical hands of Brenda, who had been called in to give Josh Holloway a quick neck rub on set one day. But I did check out some of the beaches. I guess they clear the fishing lines and passers-by when it's time to shoot a scene at Papa'iloa.

| | |
| --- | --- |
| Past Hale'iwa heading to the western point of the North Shore is the rugged Mokule'ia shoreline, and more LOST locations. That collection of yellow buildings where The Others lived, that's actually a YMCA camp. And a little further up are a bunch of fabulous red rocks where many scenes were filmed in the early seasons. These beaches are too rough for swimming and too windy for sunbathing, but I did see a few people seeking solitude up that way. | |

If I'd had more time, I might have followed the location guides provided on the Lost Virtual Tour website. It's pretty cool.
Every day or evening (or both) I would go into Hale'iwa, with its lovely shops – North Shore Swimwear is the best bikini shop anywhere and Polynesian Treasures has the most beautiful authentic Hawaiian pareos – and very laid-back restaurants – I love the coconut shrimp at Hale'iwa Joe's.

And the shave ice is the best to be found in Hawaii.

There are usually lines at Matsumoto's but Aoki's is probably better and you don't have to wait so long. My flavours of choice? Strawberry, coconut and mango.
Past Turtle Bay and heading down towards Oahu's Windward side is the town of La'ie, and the rock formations at La'ie Point are definitely worth a visit. The actual point of land jutting out is called Laniloa and according to legend, it was a Mo'o – giant lizard.

| | |
| --- | --- |
| | The natural sea arch in the long thin island offshore was apparently caused by a tsunami in 1946. This and other interesting facts about the North Shore can be found in the essential guide book, Oahu Revealed. |

| | |
| --- | --- |
| They're jumping off a rock at La'ie Point, too. | |
After five days on the North Shore, I drove down the windward – east – side of Oahu to the beautiful town of Kailua, and specifically the exclusive residential area Lanikai, which has, in my opinion, the most idyllic beach in Hawaii. I discovered Lanikai Beach in December 2005 when the windward side was nice and windless. On this trip, the wind was definitely up, but it didn't take away my blissful enjoyment of being back there.

| | |
| --- | --- |
| I mean, really, did you ever see such exquisiteness? This place is heaven, so you'll have to bear with me as I show you numerous photos from my three days at Lanikai. Usually the beach is quiet and scarcely populated, except on weekends when the local residents come out to play. Lankai has got to be one of the all-time great places to live in the world. | |

Knees up at Lanikai

Best foot forward at Lanikai

| | |
| --- | --- |
| | Holidaying on my own can sometimes mean photographing my limbs just to get a record of my actual presence in a spot, but now and then I'll just ask a stranger to take my picture, as I did on this very windy but gloriously turquoise Lanikai day. |

| | |
| --- | --- |
| Lanikai is possibly Oahu's most dog friendly beach. The dogs are all well-behaved, very loved by their owners, having a marvellous time in paradise, and none is making a mess or causing any disturbance. Why can't the councils in Australia be so cool about our four-legged friends??? | |

On the left here is Yumi, who caught my attention one day... I wonder why. I put a photo of him on the Canine Friends page, too.

And the little character, below, was such a cute fixture on the sand, looking attentively out to sea, I had to capture his presence, too.
The perfect hibiscus in my Lanikai cottage garden.

My tiny cottage in a little corner of Lanikai was on the grounds of a huge house owned by a lovely family. The only way to stay at Lanikai is private rental, as there are no hotels or guesthouses there; for a wider range of accommodation there's Kailua proper, which has a fantastic array of restaurants and cafes. I loved the steak and lobster at Buzz's, the sandwiches at Kalapawai Market Deli, and the parmesan fish alla arugula risotto and rocket pesto at Zia's.

Hammock dreaming at my Lanikai Cottage
... entranced by the thought of a nice Hawaiian dinner... yum...

| | |
| --- | --- |
| | Lucy's Grill & Bar (sister restaurant to Buzz's) is also fabulous. Friend and fellow-Eagles fan, Karyn, who is lucky enough to have been born and raised in Honolulu and still lives there, came out to Kailua one night to have dinner with me. Karyn is a bit of a foodie like me and loves dining at good restaurants. She pops up again in photos later when I describe my final week in Hawaii, at Waikiki Beach. |

Meanwhile, it was time for Maui, where I'd booked 10 days in a condominium down in Kihei, a good point from which to explore the whole island. Well, anywhere on Maui is a good point from which to explore, as long as you don't mind driving and traffic. Maui is much busier and more developed than I expected. And there is so much to do and see, it is hard to be still, no matter how much I just wanted to relax. I guess in a way I did both – I got busy and drove around in order to find the best places to lie on the beach and relax. In fact, my mission over the 10 days was to find the perfect Maui beach and to decide whether I preferred Maui or Oahu.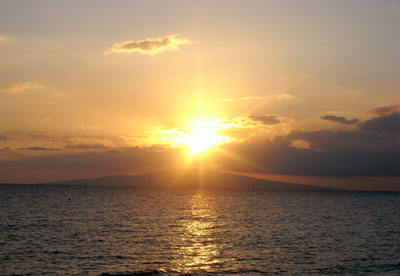 My first Maui sunset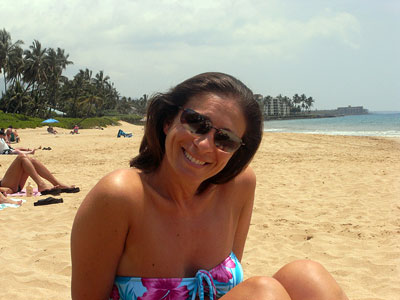 My first Maui beach, Charley Young to be exact
My condo was directly across the road from Charley Young Beach, which is very popular with locals but which didn't overly impress me, even though I am looking very happy in that photo above. It didn't scream "idyllic Maui beach" to me. So after spending my first beach day there, the next day I drove down the road, not far, to the resort area of Wailea, and deposited myself on the very pretty Wailea Beach.


Early morning on Wailea Beach

| | |
| --- | --- |
| | There are two massive resorts perched above Wailea Beach, and if you are a guest at the Four Seasons, you get a sun bed, umbrella and side table along with an ingratiating cabana boy offering iced water and pineapple skewers. If you're not a guest at the Four Seasons, don't even dream of using one of those sun beds, even if you're willing to pay a charge for the privilege. Get thee back onto the sand and be the lowly nobody that you are! |

Class system aside, Wailea is very pleasant and I spent time there on a few different days. Wailea is also great for shopping, and I did some good damage at The Shops At Wailea as well as enjoying a couple of fantastic dinners at the

Tommy Bahama's

restaurant there. The best coconut shrimp ever!
| | |
| --- | --- |
| Only a couple of days into my Maui visit, I was joined by my great friend Henry Diltz, rock photographer extraordinaire, who flew in from Los Angeles to hang with me for a few days. We hadn't seen each other since my last trip to LA in 2004, way too long, so there was much catching up to do. And photos to take. Hundreds of photos! And what fun we had! | |
First there was serious music business to attend to. Not only did I have the delight of Henry with me on Maui, but my favourite band, Chicago, were playing their first-ever concert on Maui that very weekend. So only hours after Henry flew in, along we went for some fabulous music and good backstage company.

If you click on the ticket and pass to the left here, you can find out all about the night Chicago played Maui.

The welcome sign at the MACC
(Maui Arts & Cultural Center)
After the Chicago show, Henry was in such a fine and artistic mood, he snapped me in various dark and atmospheric spots... like my car...

| | |
| --- | --- |
| | ... or under the shadows of some leafy palms on a bench... |
The next morning Henry, normally a late starter, was reluctantly dragged out of bed early so that we could get out into the bright blue morning and continue my search for the ideal Maui beach. The locals all told me that I would love Makena, better known as Big Beach.

Big Beach

So we drove down there to check it out. And certainly it was picturesque, with its turquoise water and long stretch of sand, with no sign of any modern development – resorts or condos – along the foreshore, as is the case with most Maui beaches. Here it seemed as you stepped onto the sand that you were miles from civilisation... except for the other people there!
The thing is, and call me a whiner, but Big Beach seemed a bit too much like any good Australian surf beach. It didn't say "Hawaii" to me. And although it doesn't look like it in these pictures, the surf was really rough with huge onshore breaks, and not ideal for swimming in.

But we had a lovely morning there!

| | |
| --- | --- |
| I got into some serious reading, diving into my new book, Girls Like Us, which details the musical and romantic lives of Carole King, Joni Mitchell and Carly Simon. (You can find out more about it on my Essential Reading page). And did some tanning work on my back sans bikini strap mark. | |

Henry made up for his lost morning sleep-in.
After a couple of hours at Big Beach we drove down through the lava fields of South Maui to La Perouse, a strange place that looks like another planet, until you look out at the reef-filled water, which is quite marvellous.

| | |
| --- | --- |
| | I really wanted to swim across to this perfect little beach, which is on a private estate. In Hawaii all beaches are public access, but when they are adjacent to private land, getting that access can be tricky. The only way onto this beach is via the water. And the water looked inviting. But there was no time, alas. I meant to get back there later in my Maui visit but I didn't. |

| | |
| --- | --- |
| Henry didn't have any underwater camera equipment with him, so he stayed on dry land – or should I say, dry lava. | |
Time for lunch so we went back to Wailea for some very ordinary hamburgers and phone calls to the mainland. Well, Henry made calls and I sipped on my very ordinary (virgin) pina colada.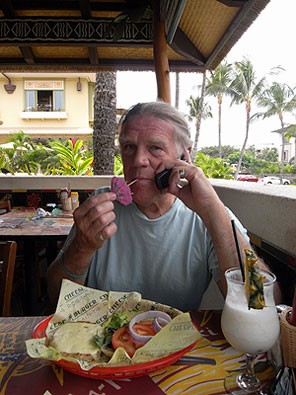 | | |
| --- | --- |
| | Back at the condo, Henry needed a rest before we could push on with our day. |
Once rested and restored, we headed north along the coast of Maui, past Lahaina, to Ka'anapali Beach, Maui's other major resort area, where we were going to do a sunset photo shoot.

Henry and Debbie at Ka'anapali

Just like a Monet painting. (Photo by Debbie)

When I was living in LA in 1998, Henry took some lovely photos of me at Hermosa Beach at sunset, so we thought we'd revisit the idea. But not without a photo or two of Henry at sunset, too.

You can see the photos from our Ka'anapali sunset shoot here.

I call this one "Still Life on Ka'anapali". The accoutrements of a stylish sojourn at sunset by the sea.

We went off to dinner at the Hula Grill, in the Barefoot Bar, thus named due to the sandy floor underfoot. I strayed from my usual pina colada to try their lava flow. Go the strawberries!

| | |
| --- | --- |
| | Henry takes a better extended-arm shot than I do. This is us at the Barefoot Bar, just before we ordered, and then Henry disappeared for a while to take a phone call and forgot I was waiting for him! No, really, I just loved eating dinner alone! |
The next day we headed back up the coast again, this time to Lahaina, to meet up with some friends and check out possible gallery spaces for Henry's gallery business, Morrison Hotel Gallery. I was very much enjoying my convertible on Maui. Car, that is.

| | |
| --- | --- |
| | We went to a restaurant perched on the water at Lahaina called Mala, where we met up with a lovely couple, Light and Heather. Yes, Light. Light's stepdad is Cyrus Faryar, who is one of Henry's bandmates from the Modern Folk Quartet. Cyrus lives on Hawaii's Big Island, while Light lives with Heather in Kula on Maui, and they were our tourguides for an afternoon in Lahaina. |

Light and Heather at Mala

Actually, a lot of the time it seemed that Henry was being tour guide. Here he is pointing something out to Light and Heather just across the road from the famous Pioneer Inn.

| | |
| --- | --- |
| | Lahaina is a very touristy town, full of shops selling nothing particularly interesting, and art galleries. Many many art galleries. Before starting her wholesale flower business, the Maui Wholesale Flower Exhange, Heather made her living as an artist and worked for one of the major Maui gallery chains. So she knows plenty about the Lahaina gallery scene. |

Henry was still enjoying his little Canon pocket digital. Very strange not to see him carrying around his big camera/s.

We cruised down Front Street, to the Banyan Tree which takes up an entire park. This tree is a sight to behold. The branches have themselves taken root, so while it looks like there are many trees in the park, it is in fact one huge tree with many trunks. Hopefully the photos below will convey a good idea of what it's like.

This Hawaiian woman sat quietly in the Banyan Tree Park making her little clay flower hair clips. They look very realistic. I bought one of the pink ones.

| | |
| --- | --- |
| | Henry liked the look of this vacant gallery on Front Street. I liked the fact that it backs onto the water, so a rear deck could always be an option for entertaining on opening nights. With galleries already running in Manhattan, Long Island, Hollywood and La Jolla, a Maui gallery would be a nice addition for Henry and his fellow rock photographers to hang their work. So would London, Paris, Tokyo, Sydney... |

Across the road in the hot afternoon sun we ran into Bill Champlin, Chicago's keyboardist and vocalist. Bill's been with the band for 27 years now but he's still a new guy to purists like me. A nice guy, though. He and his wife Tamara were hanging around Lahaina taking some time out while the other band members had headed back to the mainland after their Hawaii gigs. We recapped on the Maui gig from a couple of nights ago before bidding adieu and moving in opposite directions in the Lahaina throng.

With the sun setting on the horizon, Light and Henry needed some guy time before ending the day.

I heard the Eagles song, "The Last Resort", the final track from the Hotel California album, playing in my head all day. "You can leave it all behind, sail to Lahaina, just as the missionaries did so many years ago..."
And on the drive back south to Kihei, Henry took these photos of the scenery along the road. Very pretty.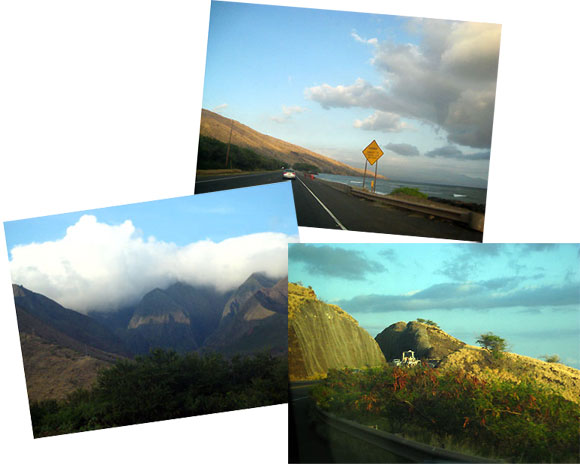 Henry left Maui the following day, bound for Hilo on the Big Island, to catch up with Cyrus and Chip Douglas, also an MFQ cohort. I continued on my search for the perfect Maui beach.
A few locals had recommeded Keawakapu Beach, not far from where I was staying. So I went to check it out.

Hmmm, yes, quite nice with the palm strees leaning over the sand. And the view out to the uninhabited island Kaho'olawe and the Molokini Crater were, though hazy from the vog, quite nice. But perfect? No, not quite.

| | |
| --- | --- |
| I thought about doing some snorkelling out at Molokini, but decided that it felt like too much hard work. So I just stayed onshore and gazed out at it restfully. | |
I spent a long full day doing the Road To Hana. This is a famous drive along the windward shore of Maui that meanders along a narrow winding coastal road with some 600 bridges, many of them one-way, for 50 miles and then some, and which takes 3-4 hours in one direction. Waterfalls, black sand beaches and sacred pools await the brave tourist, and there were many of them along the way, all clutching their Maui Revealed book for a mile by mile guide.
A very picturesque, lush tropical route, it was hampered only by the weather on my chosen day. It rained much of the time, alas. Good for the waterfalls, but not so great for enjoying my convertible.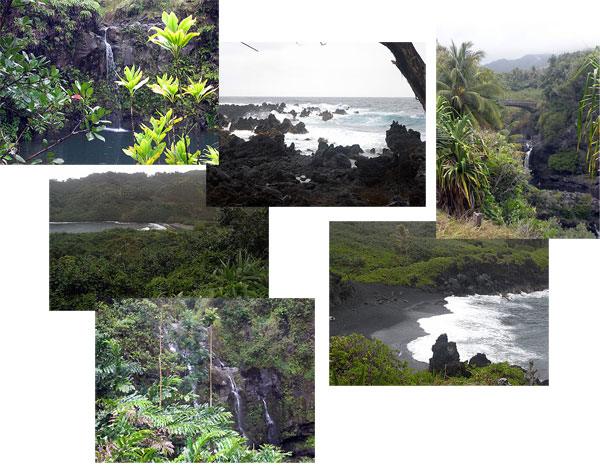 | | |
| --- | --- |
| I pulled up at Waikani Falls, also known as the Three Bears, behind two tourist buses. As there is virtually nowhere to park, anyway, it was somewhat challenging. But at least there was someone to ask to take my picture. | |
| | |
| --- | --- |
| | And there are always lots of people hanging around at the Black Sand Beach at Wai'anapanapa Park. Sadly, it just looked grey and soggy in the rain, and it was really pouring at this point. There are freshwater caves there, too. They were dark and soggy. |
The town of Hana itself is nothing special, although certainly lush and green, situated on a pretty bay. But as all the guide books and locals will tell you, you don't drive the Road to Hana just to get to Hana (unless you actually live there, in which case it's a bugger of a commute). You do the drive for the joy of the journey. So I didn't stay long in Hana, just paused long enough to take a picture.
Heather had told me that if I wanted a perfect Maui beach, then the drive to Hana would be worth it for Hamoa Beach, which is a few miles of winding road past Hana. Well, yes, Hamoa is probably a lovely beach, albeit with dark sand. But the weather was so grey and windy, it was hard to get enthusiastic. Another time, perhaps.

By the time I got to the 'Ohe'o Gulch, known more popularly as the Seven Sacred Pools (even though there are not seven pools), the weather was warmer and a bit sunnier, although not hot enough or clear enough for me to want to brave the chilly water. So I just stood and watched.

| | |
| --- | --- |
| This bridge on the main road overlooks the first pool and is a popular jumping spot (yes, they're jumping off rocks – and bridges – on Maui, too). Again, I was happy just to look. And then I turned around and drove all the way back (the road around the east of Maui and around the Haleakala Crater to the Pi'ilani Highway was closed due to landslides) the long winding Hana Highway and back to Kihei. Exhausted! | |
Another day, another Maui Beach. I tried Po'olenalena Beach, not far from Big Beach at the south end of Maui. It was quite pretty but very windy, and construction was going on on the road down to the carpark, with very unfriendly workmen making things as difficult as they could. I did like the lack of hotels or condos on the beach, but the construction looked foreboding in that regard.

| | |
| --- | --- |
| Both the photos above and to the right are of Po'olenalena Beach, which I imagine would be even more picturesque on a clear still day. After a few hours here I drove back down past Big Beach to grab some lunch at the Makena Grill. Marisa, who owns and runs the roadside stand, was having a bad day and needed some TLC. Even life in paradise has its challenges. | |

We had a long chat while I ate my grilled fish. Then she pointed out the hole in the wall across the road that lead to the Secret Cove, below. People apparently like to get married there because it's private and picturesque. Not so secret on the day I checked it out; there were people sitting on deck chairs enjoying the view. I left them to it.
On my last day in Maui I drove up to the very northern tip of the island, past Lahaina, past Ka'anapali, still searching for the perfect beach. I tried Napili Bay, but the high tide had left no sand to sit on, and I was disappointed by the condos that lined the sand. I tried Kapalua Beach, recommended as a brilliant swimming beach, and yes, it did look lovely, but there was major condo construction going on and if I had sat there it would have been to the sounds of jackhammers and drills on a humungous scale. Despondent, I kept driving.
I went up to Honolua Bay, and from the highway is a lookout with spectacular views of the coastline, with lovely clear calm water and jutting rock formations. Alas, it is sooo windy up on the northern tip of Maui, that even the coves are hard pressed to offer protection. Lovely to look at, though.

| | |
| --- | --- |
| | Honolua Bay itself is beautifully protected, and Maui's most popular snorkelling site. The beach itself is not really a beach; there's no sand, just lots of rocks, and so lying around sunbathing – my favourite beachside occupation – is not a comfortable proposition. And nor did the people on this catamaran invite me onboard. What was with them? Couldn't they see me eyeing their position longingly? |

| | |
| --- | --- |
| | The reefs at Honolua Bay are magical. Can you see the couple down there snorkelling? I should have done it, I even had snorkel gear in the car. I was just too too lazy. Next time for sure. |
I ended up back at Ka'anapali Beach for the afternoon. It was lovely there – no wind, calm waters (other than the inevitable shorebreaks) and much clearer skies than we'd had for most of the week. In fact, I'd say it was just about idyllic.

So Ka'anapli ended up getting my vote for if not the perfect Maui Beach, certainly my favourite.

But as to which island I prefer... That's Oahu, hands down. Or feet down, as the case may be.

I was really looking forward to getting to Waikiki!
After 10 days on Maui, I headed back to Oahu to give the tan one last week of intensive treatment on Waikiki Beach. I arrived on a Saturday when a street fair called Spam Jam was taking place on Kalakaua Avenue, blocking the main section where my hotel was. The traffic getting off the freeway from the airport and into the Waikiki area was horrendous, and after an hour of hell in a taxi, I had to be dropped a block away anyway. Thank goodness for the friendly bellman at the Outrigger who came up to collect me and my bags.

Once checked in, settled and fed at Dukes Canoe Club Bar, I headed out to find out what Spam Jam was all about. Not much, it turned out. But I liked the fact that I could get leied for five dollars.
| | |
| --- | --- |
| My room at the Outrigger Waikiki on the Beach was on the 16th floor with a full ocean front view. Nice. Here's the view looking east, to Diamond Head. | |
| | |
| --- | --- |
| | Here's what you see if you look the other way – the best section of Waikiki with the Royal Hawaiian (Pink Palace) next door. I stayed there in 1978, on my first trip to Hawaii. I'll get some pics of that up on the Debsite one of these days. |
| | |
| --- | --- |
| And here's the view directly below and ahead. Stunning water with reefs below, and the Na Hoku II catamaran, which is one of the boats that takes sail every two hours through the day until sunset. I meant to go out on that boat but... I was having way too much fun being lazy on my sun bed on the beach. | |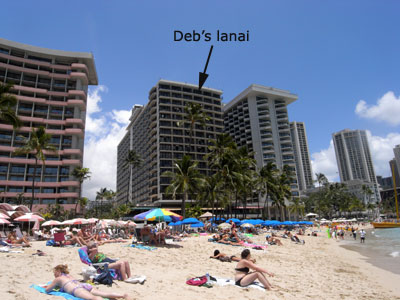 | | |
| --- | --- |
| | Here I am on my first Waikiki morning. I look miserable, don't I? |
My friend Karyn came over to hang out on my lanai while I took in the sun 16 floors down on the sand. She brought a beautiful gift for me – an authentic haku, a traditional Hawaiian head lei.

Karyn lives in Hawaii but doesn't do the beach; she just likes to watch.

Deb with haku

| | |
| --- | --- |
| Karyn and I went to the famed Nobu Waikiki for dinner. Two of Karyn's sons are chefs, and one works at Nobu, so we got fantastic treatment, and an assortment of amazing dishes kept coming from the kitchen. It was magnificent food, my best meal in Hawaii. | Deb and Karyn still had room for dessert at Nobu |

| | |
| --- | --- |
| | Our waiter, Landon, was an absolute honey. I asked him to come home to Byron Bay with me, and the idea appealed as he enjoys a good surf. But he had to work that Friday so wasn't going to be able to make the flight. Bummer. |

| | |
| --- | --- |
| I also wanted to try another of the premier Honolulu restaurants, Chef Mavro and Karyn had been keen to try it, too. Her other chef son had worked in Chef Mavro's other, since closed, restaurant in Honolulu, so he called ahead to make sure we'd get fine service here, too. Which we did. Except for the waitress who unfortunately sprayed my new silk dress with fish broth. | |

Thanks to Todd, the restaurant's managing director, I got the dress dry cleaned the next day at Honolulu's best drycleaner. Thanks, Todd. That's what I call customer service. And it's why we look so happy over our wonderful dinner in these photos. Karyn is the perfect dining companion, loads of fun and loves good food!!!
Back at the Outrigger and feeling very happy, I snapped some night-time views from my lanai. Blissful, mellow, buzzing, magical, balmy, heavenly all at once.
During my last days on Waikiki I got to hang out with the wonderful Abby, a gorgeous mad woman who recently moved to Hawaii from Indiana. We met on the beach, got chatting and discovered numerous uncanny parallels in our lives. She took me for a spin around Diamond Head to check out a part of the island I hadn't explored before, all the way around to the wild pounding surf of Sandy Beach.
This is Abby, and me below, on the extremely windy point of Diamond Head, at Diamond Head Beach Park and Kuilei Cliffs Beach Park, where some people brave the unfriendly conditions just to have some privacy and peace away from the Waikiki tourist scene.

| | |
| --- | --- |
| A part of this beach is also known to some locals as Sparkling Beach. In the sand are lovely glistening sparkles that looks like diamonds. | |

| | |
| --- | --- |
| | Abby likes to be active. Her paddle board came down with her one day and after watching her out and about on the water I joined her for a paddle. Well, she paddled, I straddled. No photo of me straddling, for obvious reasons. |
Abby and her husband Ed own the newly-opened Waikiki franchise of trendy Chinese restaurant, PF Changs. They took me to dinner there one night. I can't complain about my dinners in Waikiki!

Debbie and Abby – new BFFs
Now, here are some Waikiki stalwarts! Julie and Frank are from Gilroy, California, and they have been holidaying twice a year at the Outrigger Waikiki on the Beach for – wait for it – 38 years!! Every morning, really early, at about 6.30am, they come out onto the empty beach and set up their umbrella and chairs and mats and towels for the day, then they go off for breakfast, and come back down for their day on the beach in pride of place.
I used them as my daily marker, and when I'd come down at about 8am to rent my sun bed from the friendly cabana boys, I'd say, "Just put mine next to Frank and Julie"! I was very sad to say goodbye to this lovely couple. But at least I know where they'll be next time!

| | |
| --- | --- |
| The Royal Hawaiian's Mai Tai Bar is one of my favourite spots on Waikiki. They do a very nice Pina Colada, alcoholic or virgin, and their coconut shrimp is very delicious. | |

| | |
| --- | --- |
| | So for my last lunch in Hawaii, that's where I headed. So lovely. As of June 1 they were closing down the hotel for a complete refurbishment, so I am glad I was there before that happened. |
Even though it is so busy and touristy, I absolutely LOVE Waikiki Beach. It is perfect. I don't care if the sand comes from Australia. The water is from nowhere else. It's so blue, so calm, so warm, so inviting. I just lie on my sun bed and look out at the pale acqua ocean and am so soothed.

The picture below shows where I was positioned each day on Waikiki. Abby and her adorable daughter, Natalie (who reminded me of Abigail Breslin in the film Little Miss Sunshine) came to play with me on my last afternoon.

| | |
| --- | --- |
| This was after I'd straddled and Abby had paddled. Natalie is a great little photographer. | |

Little Miss Sunshines on Waikiki

Debbie, Abby and Natalie – blissed out on Waikiki

And then I had a poolside massage, and we all went out for my last supper at the Cheesecake Factory. I had an early departure the next morning, so I bade my new friends a sad goodbye, but promised to return as soon as possible to pick up where we all left off.
Aloha!