It was nearly four years since my last visit to London, and I would not have chosen to go at such a chilly time of the year, but the Eagles beckoned, so with a warm coat, lots of black woollens in my suitcase, a new camera and a song in my heart, I ventured forth into the cold cold ides of March.

For some background on some of the characters here, you might want to take a look at my London 2004 visit.
My faithful cousin Robert was at Heathrow Airport to greet me with another sign welcoming his favourite cousin. There are several cousins in our generation of the family so this is no idle preference. My suitcase was the very last one off the plane, so Robert had a long wait in the arrivals hall on a bitterly cold morning. What a pal.

We went straight to Cyndy's new flat for a breakfast of smoked salmon and bagles. Here are two wonderful cousins looking into the camera of their favourite cousin.

While life changed for me last year, it also changed for Cyndy, who is no longer partners in Birridom with Michael. So I had a new place to stay this time in London.

Cyndy's youngest daughter, my second cousin Nicola, lives in the new flat, too, and kindly surrendered her bedroom for me this time. The price? A pair of ugg boots from the ugg boot shop in Byron Bay. Nic loved her new uggs to bits (and she already had a few pairs). She loved them so much she didn't even want to take the tag off. I was in my pink ugg slippers, and we made a fine pair from top to toe.

"Ugg! It's good to have you back again, Deb."

| | |
| --- | --- |
| | Cyndy's oldest offspring, Ginny, was around plenty during my stay, even though she lives in digs of her own these days. Ginny's big contributions to my well-being this time were the loan of her fabulous black anorak with button-up furry-trimmed hood (I so want one), and a GHD hair iron. What's GHD? Click here. |
As wonderful and heart-warming and all things fabulous it is to see my beautiful cousins, the main catalyst for this London trip was the commencement of the Eagles' Long Road Out Of Eden world tour at the 02 Arena. Normally when such an event is announced somewhere far far away, I would think to myself, "Gee, I wish I could go." And this time when I thought that, my response to myself was, "Well, gee, I can!"

So I did. I saw three of the five concerts the Eagles performed in London – March 20, 23 and 26. I took Cyndy one night, Ginny another, and on the third night I went on my own. With another 18,000 or so people around.

Two cousins and an arena

Cyndy had never seen the Eagles in concert before, and prior to this occasion had never considered seeing the Eagles in concert. Happy to report she absolutely loved the experience. Here we are in our 10th row centre seats on Thursday March 20.

And here I am with Ginny, also experiencing her first Eagles concert – from fourth row centre – on Sunday March 23.

Also at the March 23 Eagles concert – and in pride of place in the front row – were Melissa and Lisa from Austin, Texas, who flew over for 48 hours for their Eagles fix.

| | | |
| --- | --- | --- |
| They only decided a few days earlier that they would come at all. As mistresses of L&M's Eagles Fastlane website, they are cyber personalities and so were magnets for all manner of interesting people wanting to come and say hello to them. Including me! We've been online pals for nearly 12 years, but our face-to-face meetings have been 10 years apart. | | L&M&D in the fast row |

And what of the concerts themselves? Well, I have put together a fairly comprehensive report covering the three nights I was there, with lots of photos. Click on the montage below to find out all about it!!

This poster is actually a limited edition lithograph, which I took home with me on the first night. This was the night the North Greenwich tube station had some kind of drama and the station doors were closed to thousands of Eagles fans, left out in the cold and rain for 30 minutes until we were allowed inside and down to the platforms. Fortunately the poster was wrapped in plastic and survived the ordeal.

It also survived the trip home to Byron Bay. Despite Cyndy's opinion that it would fit into my suitcase, it didn't, and had to be carried on board as hand luggage. Somehow, despite leaving it in three different places in Heathrow's Terminal 3 departure/duty free area, I got it home.

Cyndy guards the precious proof of my Eagles odyssey

| | |
| --- | --- |
| | Lisa hates having her photo taken, so it was with good grace that she constantly submitted to the snapping of my camera. Here we are on the tube ride home on the Sunday night, basking in the glow of The Boys. |
Meanwhile, back at the homestead, Cyndy put together a fabulous Friday night dinner. I have been eating Cyndy's Friday night roast chook dinners for 28 years and she never disappoints.

| | |
| --- | --- |
| | It was time to meet some of Cyndy's new friends, including David, a special new someone on the scene. David was the recipient of one or two of Cyndy's text messages when she was visiting me in Australia last December. (See here for the proof.) It was nice to finally find out what all the fuss was about. |

Cyndy and David sending mind texts to each other.
The Girls Night Out took place this time at the Orange Tree in Totteridge. As always, were were all sharing the luuurrv for the camera. It had been only three months since Cyndy and I had said goodbye at Brisbane Airport after her two-week visit to Australia and I never imagined at the time that I'd be going through that same departure door so soon. But it was fantastic to be reunited and I'm all for more frequent visits, in one country or the other, with my closest family members!!

Ginny is another one who doesn't like having her picture taken, and I'm never sure why. She's a stunner. Here she is looking fabulously young and hip next to her old cousin. For my part, I was falling asleep from jetlag, my head literally dropping to the table while the three of them devoured a sticky date pudding.

Below are Cyndy and her daughters, pre-desert, looking most fetching at the Orange Tree.

Nicola was assigned the task of pouring the wine. Her concept of a glass of wine is, as you can see, quite literal. No wonder I was falling asleep!! Thanks, Nic.

Despite jetlag and a huge glass of wine, I tottered around in Totteridge in my killer Chloe shoes, which I had taken with me to London with the intention of wearing to one of the Eagles concerts. Why would I wear such shoes to a rock concert, let alone out to dinner when I was jetlagged? Because they are too exquisite to not wear, of course. Photos below, post-dinner.

Debbie in Those Shoes – at home and in the front row at the 02
I woke on the morning of Easter Sunday, to snow falling steadily outside. Springtime in London – really.

This was the day of my second Eagles concert, but first, Cyndy held an afternoon tea for some of the other cousins to catch up with me.

First, Cyndy and Nicola had to get cosy while choosing the tea set for the occasion.

Then everyone arrived for smoked salmon and bagels (yes, we like that) and cakes and pastries, and lots of cups of tea.

Here are my two eldest cousins, Michael and Maureen. Their parents, my Aunty Rae and Uncle Harry respectively, were my Dad's older siblings.

Michael looks remarkably like my father. He's a cool guy; he works as an extra on motion pictures, the latest being Atonement and the new Harry Potter epic. You don't recall seeing my cousin Michael in Atonement? He was the guy walking a dog down the street.

| | |
| --- | --- |
| | On the left in this photo is Michael's wife, Roberta. Then the threesome behind her are Doreen, Barry and their youngest son Jonathan. Barry is another of my cousins. His mother Jan was married to my Uncle Sam, and Jan is the only one from her generation in our family still surviving. |

Here's a closeup of Doreen and Barry, a lovely couple. Seeing my relatives so infrequently means there is always something new to find out about them when we meet. I never knew Barry's wife Doreen was a book editor, for example.

First cousins, incomplete, in 2008.
L-R: Debbie, Michael, Cyndy, Maureen, Barry
Missing are Robert and Ros (sleeping and in Spain, respectively), Ivor (who never sees his relatives) and Paula (who never sees her relatives).


L-R: Nicola, Debbie, Jonathan, Ginny.
Me with just a few of my young beautiful second cousins.
Before I continue, there is one other family member that needs her moment in the sun, and that is, of course, Wooty. Also known as "The Woot". Background on Wooty can be found on my London 2004 page.
Wooty has been around for some time now and she should have used up at least a few of her lives, but it seems she is saving them all up for a time way in the future and has no intention of disappearing any time soon. Nor does Wooty have any intention of being one of those quiet cats that keeps to themselves. Oh no. Wooty cries and whines and meows like some crazed demented lunatic in an insane asylum.

| | |
| --- | --- |
| Wooty is nonetheless dearly beloved by Cyndy and her girls, and it is out of respect to them that I include this photo study of Wooty 2008 on this page. | |

I will say, though, and it is no secret, that Wooty drove me mad enough in 2004 but excelled herself in 2008. I took only black woollen clothes to London and Wooty's white fur has a way of getting over everything. I mean everything. Even items of clothing that are still sealed in their plastic wrapping. Unwrap them and they have strands of white cat hair all over them. Amazing.

| | |
| --- | --- |
| So after a nuclear disaster, when the whole of civilisation as we know it has been obliterated, there will be three things that survive: cockroaches, Cher, and Woot fur. | |

Yeah, yeah, she's cute, butter wouldn't melt in her mouth. But can you really trust those eyes?

I mean, really?

Moving on... Easter Monday and Cyndy and I spent some quality time doing a few of our favourite things – shopping and eating.
Here we are enjoying high tea at Brown's Hotel in Mayfair. The room is very homely, in a traditional-yet-ultra-chic-contemporary sort of way. We'd been trying to get into The Ritz, but failing that, I was extremely happy with the beautiful understated elegance of Brown's. Information on their Afternoon Tea is here.

Happy 'cause I'm having tea
We did get to The Ritz, however. After our huge afternoon tea, we strolled down the road and crossed Piccadilly to meet Lisa and Melissa for a drink in the Rivoli Bar.

L&D&M standing on a corner in Mayfair, London
It doesn't rhyme, but it's a nice picture.

| | |
| --- | --- |
| | This was an opportunity not only to taste some fine champagne and snazzy cocktails in elegant surrounds, but also to do a post-mortem on the Eagles concert we had seen together 18 hours before. Which meant a full hour talking about the Eagles, and our mutual admired, Don Henley (he who does not do station IDs – see here). And to share experiences and spend some precious time before Lisa and Melissa flew back to Texas the next morning. |

L&M putting on The Ritz

| | |
| --- | --- |
| As for Cyndy, who sipped her champagne while looking reasonably engaged throughout, she said to me afterwards, "Well, Debbie, this shows how much I love you!" Seems her forays into Eagledom didn't stretch to a 60-minute chatfest on Don and the boys. | |
Continuing our eating-and-drinking tour of high-end traditional Mayfair establishments, we moved on next door to dinner at The Wolseley. How could I have spent so much time in London over the past 30 years, including living there for long periods of time, and not know The Wolseley? Strange, but true.

We met up with old pals Viv and Henry, and Geoff and Jackie. Both couples had been to see the Eagles at the 02 two nights before. And Geoff and Jackie had just returned from a glorious holiday in Australia. So there was plenty to talk about!

That's Henry (a longtime Little River Band fan, since I took the gang to see them in 1980 at the Finsbury Park Rainbow) and Geoff on the left.

| | |
| --- | --- |
| And this is me with Jackie and Viv. The Wolseley has a curious rule (as do a few London eateries, including the Ladureé tea room in Harrods) that patrons are not permitted to take photographs inside the restaurant. Luckily I was advised of this after I had already taken a few photos. | |
"So what about a bit of sightseeing, Deb?" I hear you ask. Well... there comes a time after some dozen visits to London, including a couple of stints living there for long periods of time (two years in the early '90s), when sightseeing becomes a bit redundant. And cold weather makes it less inviting. On this trip, when indulgence was the key word, the kind of sights I was most interested in were this kind: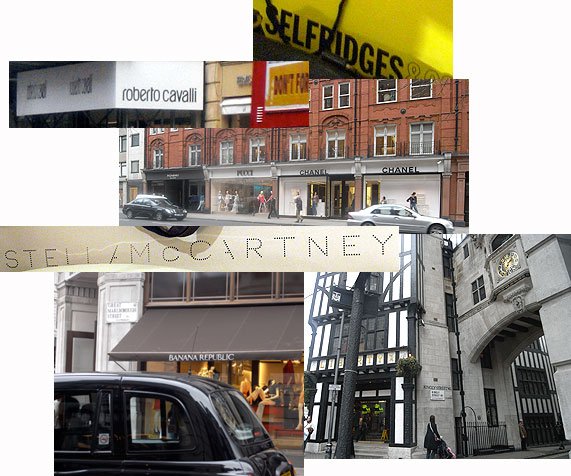 And the weather being so cold and grey, there wasn't a heck of a lot of colour to capture in the lens, but a brief late afternoon pause at Neal's Yard in Covent Garden, one of my old stomping grounds from the early '90s, provided a scene bursting with colour.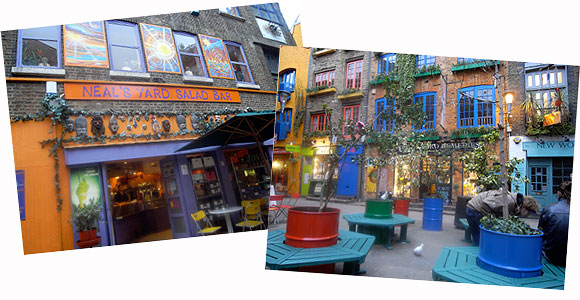 But okay, I did start to feel strange about being in London for more than a week without having seen an iconic London structure. So one morning, on my way to meet a writer colleague for lunch, I took some snapshots around Trafalgar Square and Piccadilly Circus. Just for fun.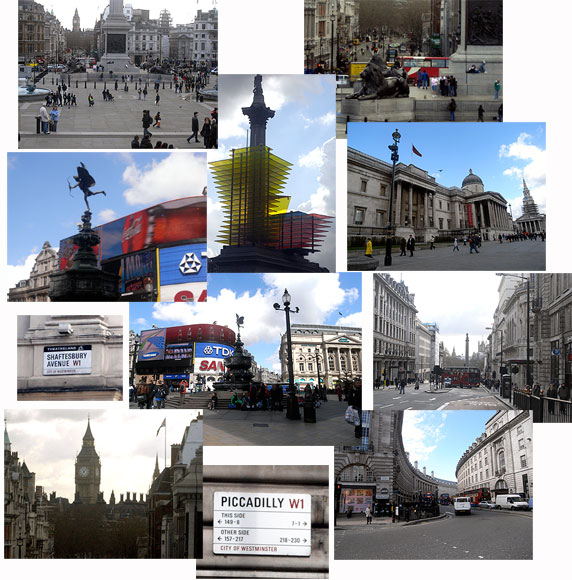 | | |
| --- | --- |
| | I was meeting Barney Hoskyns, the fantastic music writer who has authored a slew of great books, including two of my very favourites on the West Coast music scene – Hotel California: Singer-Songwriters and Cocaine Cowboys in the LA Canyons, 1967-1976 and Waiting For The Sun – The History of the Los Angeles Music Scene. He also edits the Rocks Backpages website that some of my writing is featured on. Barney is one of my heros. One of these days I'll remember to get my camera out when I'm with him and embarrassingly request we have our photo taken together. We met at the ubiquitous Pret a Manger – the one on Piccadilly near Green Park tube station – and then took tea at Fortnum & Mason. More tradition in Mayfair. It was that kind of London visit. |
| | |
| --- | --- |
| Another friend with musical connections to me... I had dinner in Covent Garden one night with Colin, a lovely fellow I befriended some years ago through our mutual love of the group Heart. He lives outside of London but happily was able to be in town that week so we could get together. | |
I got to catch up with one of my very favourite people, the beautiful Jon Anderson ("Ando" to me), who's a big guy in film distribution, and who's working in London these days overseeing international marketing for major film releases. Usually jetting around the world somewhere, it was fantastic luck that he was in London while I was there, and after a wonderful dinner at The Ivy, we went off to the Prince Edward Theatre to see Jersey Boys, which had just opened in the West End a week before. And what a brilliant show!! I don't go to the theatre much these days, but this is one I would see again. If you've never heard of it, it tells the story of the Four Seasons – the pop group with Frankie Valli, not the Vivaldi piece. Absolutely fantastic, highly recommended.
Even more elusive than the jetsetting Ando is my dear old high school friend Andréa, who popped into town to have breakfast with me just before I left London. We met at Joe Allen, an old theatre haunt of mine in Covent Garden, where they do a very decent late breakfast. Hard to believe Andréa has been living in London for 19 years now. She still talks about moving home to Sydney. Her friends in Sydney (and Byron Bay) still live in hope.
| | |
| --- | --- |
| | And of course I couldn't be in London without a cuddle from my crazy filmmaking friend Ray. Last time we saw each other was while he was in Sydney 18 months earlier, doing foreign language post-production on George Miller's Oscar-winning Happy Feet. With Ray it's usually a fleeting catch-up, and this time it was in his friend Andy's animation studio in Covent Garden. Better fleeting than never meeting. |

Back to the younger Birris, and on my last night in London, en route to another cousins gathering, Ginny took me to see the flat where she's been living. In this photo she could be doing a cookware demonstration or posing for a shampoo commercial. You decide. The combat pants don't give any clues away. Either way, that GHD hair iron was doing a spectacular job.

| | |
| --- | --- |
| | I just had to share this photo of Nicola striking a seductive pose on Ginny's bed while we had some girlie time, the three of us. Nic was heading off to Glasgow the next morning for a weekend in Scotland visiting a friend. We were already feeling sad about the impending farewell. |
But first, a final cousins dinner, this time at Ros's house. Her daughter Hayley got married in August 2007 to her longtime love, Daniel, and I couldn't make it to the wedding, so of course I was treated to the official wedding album and all the details.

Hayley, Daniel, Debbie and Ginny, nice and cosy

| | |
| --- | --- |
| | Ros's husband Paul looks on here as cousin Robert goes through the wedding album with Daniel. I got the impression they had all done this many times already since last August! |

| | |
| --- | --- |
| Here's Ros with her son, my second cousin, Adam. When I went to live in London in 1980, Adam was still a baby, only 11 months old when I first arrived, and there is a famous photo (eventually to make it onto the Debsite) of an inexperienced Deb holding Baby Adam. Somehow word filtered through that not only did I not like babies, but that I didn't like Baby Adam. For 28 years Adam has believed I didn't like him. | |

| | |
| --- | --- |
| | So I assured Adam that I thought he was a lovely baby, as far as babies go, and that I never had any adverse feelings towards him. I hope that finally he was at peace over this. |

| | |
| --- | --- |
| Ros's roast chicken was a very fine roast chicken. Ros makes a great Friday night dinner. There isn't much more to say about that but I like the photo so it gets a place on this page. | |

Nicola, Ginny and Adam

| | |
| --- | --- |
| | I remember Hayley as a baby, too, and the thing about her is that she actually hasn't changed a bit. Grown a little, to be sure, but facially she looks exactly the same as she did 27 years ago. |

Here Cyndy and Ros discuss the meaning of life over some kosher wine.

| | |
| --- | --- |
| | Hayley doesn't look much like her mum, does she. |

This is a nice photo of the three youngest female first cousins in our clan, not counting my sister, who is never around at these gatherings anyway.

Cyndy, Debbie and Ros

| | |
| --- | --- |
| | Robert, who is Ros's brother (I hope you have been keeping up with our family tree because there will be a test later), came to Australia in 2001 or 2002 for a surprise visit to see my parents. Ros, Paul, Adam and Hayley had been for a visit in December 2000. With both my parents now gone, it made the bond between us cousins even stronger, as they had come over and seen us on our own turf, seen Mum and Dad in their home. Robert feels very deeply about his family, which I like. |

Robert also feels deeply about baseball caps, so I brought him one from Byron Bay, which he was wearing proudly as we said goodbye that night before I flew out of London. Shame about the colour, but it was all the Byron Bay Hat Co shop had.
And then my final day, and after major packing dramas (Oh no! You mean all this shopping won't fit in my suitcase and I need a second case and I will have to pay excess baggage? Geez...), Cyndy and Ginny and I went out for a goodbye lunch (without Nicola, who was en route to Glasgow) to Prezzo in Cockfosters. David joined us, and took this lovely photo, below, of us three girls.

Until next time... xx