THEY WROTE THE SONGS
Songwriters discuss the stories and inspirations behind their most famous songs

Debbie Kruger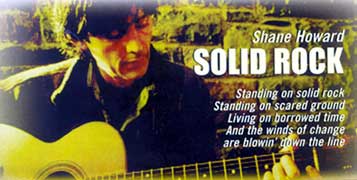 "SOLID ROCK"
Shane Howard

Standing on solid rock
Standing on sacred ground
Living on borrowed time
And the winds of change are blowin' down the line

One of Australia's most respected and compelling folk music artists with a two-decade career of writing about the essential Australia and, more recently, his Irish heritage, Shane Howard has always focused on what he believes are unassailable truths.

While Bob Dylan was an obvious and important influence, Howard was guided for the most part by the few Australian songwriters and performers singing about something he could connect with. "There's a Ted Egan song, 'Gurindji Blues', which I remember hearing on the radio at a fairly young age, and somewhere in the back of my mind that must have been a wake up or catalyst. And then I heard bands like The Dingoes and even Richard Clapton, that Goodbye Tiger era. I always had an interest when people started writing songs about Australia and about our own condition here."

It was natural for Howard to pen a song like "Solid Rock," a fervent statement about indigenous Australians and land rights which he recorded with his band Goanna.

The song emanated from a 10-day camping trip at Uluru in 1980. "It was the twin experiences of being at the rock and going to a traditional inma, which is like a corroboree, at the foot of Uluru – an incredible musical spiritual awakening to the intelligence at work behind Aboriginal culture and spirituality – and then going back in to Alice Springs and seeing the decimation that colonisation had caused. And it kind of coincided with a time when you're politically aware. It doesn't take long when you look into the facts of Aboriginal history in this country, and particularly back at that time, to see that there was an incredible injustice being done. So I guess that was the fire in the belly at the time."

When it came time to record in 1982, Howard and the rest of the band felt strongly that "Solid Rock" should be Goanna's first single, although he never saw it as having hit potential. "In fact I thought quite the opposite. I thought it was way too weighty for commercial radio to respond to it. It mentions genocide; it's quite a heavy song at a certain level."

But as he admits, "it had a beat and you could dance to it." For some listeners, there might have been a superficial appreciation initially. "It was Goanna, it had didgeridoos, it was Australian. I think it took time for people to really appreciate what was going on lyrically."

Howard was grateful when other artists began focusing on indigenous issues. "Goanna had our time in the spotlight, and that window of opportunity closed for us for a number of reasons. And it was great that other people took up the torch. People like Midnight Oil, Paul Kelly, Neil Murray with the Warrumpi Band, No Fixed Address, all those great Aboriginal acts. And I was very happy when Yothu Yindi emerged on the scene."

Howard's relationship with "Solid Rock" is as committed as it was 20 years ago. "I was very lucky that a song that I did have a hit with was one that was very easy to live with. And to this day it still remains potent for me. You can't sing that song half-heartedly."

He is equally proud of one of his more obscure songs, "Flesh and Blood," which was recorded by Mary Black in Ireland and became a top 5 hit there. Black covered five more of Howard's songs and his profile there is considerable, opening the doors for him back through his own cultural history.

"I just think that the whole world of song is amazing, and how they travel. My songs have a much better life than I do. They get to go here there and everywhere."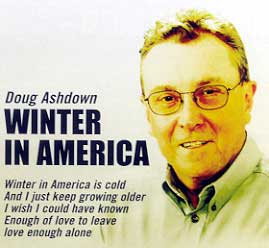 "WINTER IN AMERICA"
Doug Ashdown

Winter in America is cold
And I just keep growing older
I wish I could have known
Enough of love to leave love enough alone

Doug Ashdown's rock and roll heritage was put on hold when he discovered folk music in the mid-'60s and became a devotee of Bob Dylan, Fred Neil and Judy Collins. "I got the folk singing bug and I traded in my electric guitar for a 12-string. I think I was one of the first acoustic 12-string players in Australia," he says.

A hit Australian album in 1970, The Age of Mouse, and a continued admiration for American singer-songwriters led to a move to Nashville in the early '70s to pursue a country-folk oriented career. It was there that "Winter in America" was co-written with Jimmy Stewart as they endured a freezing winter and pined for the Sydney summer.

With perhaps the most fragrant opening lines of any Australian composition – "The harbour's misty in the morning, love, oh how I miss December / The frangipani opens up to kiss the salty air" – Ashdown's lament to "leave love enough alone" has become one of the great Australian standards.

"It's a fabrication on a love song," Ashdown explains, clarifying that unlike the protagonist of the song, whose beloved was across the world and moving on with a new partner, his own wife was very much with him in Nashville. Stewart, also in Nashville, was missing his house overlooking Sydney Harbour. "It still comes from that lonely cold sort of feeling of homesickness."

The song was a melding of two key lines that each had written. "I wrote 'Winter in America is cold and I just keep growing older'," Ashdown recalls. "And Jimmy had 'Leave love enough alone'. We were actually going to write two songs and we ended up putting them both in the same song. In fact it was released originally as 'Leave Love Enough Alone,' which is a silly thing, because even though it's a great line that's in the song, it's not the integral line of the song."

They returned to Australia and Ashdown recorded the Winter in America album. As with most songwriters of classic hits, he didn't forecast the lasting success of the title song. "I think it's the chorus, that singable memorable chorus," he says. "And I've had people say to me that they've had that song on when they've been driving, or when they've had a romantic interlude, or when they've had their anniversary. There's always been some little reason that they've remembered the song.

"I've written other songs that I think are probably nearly as good, like 'Willie's Shades' – I love that song – or 'Love will never be the same again'. But it's funny, you know, if you can just have one, one that goes on and on, then you're very lucky. I feel incredibly good about having it, I'm so proud of it, and I wouldn't have done a lot of things in my life without that one song. It's enabled me to go out and sing all my other songs to people."

In some ways, he says, "Winter in America" is an anomaly. "At the same time it came out I was in a rock and roll band in Australia called Sleeping Dogs, with Kirk Lorange and Greg Lyon from Crossfire, so I was writing jazz fusion. I'm eclectic; the day I recorded 'Winter in America' I probably would have gone home and played Miles Davis.

"And these days people are quite surprised when in my sets I'll pick up an electric guitar and rip into a blues solo."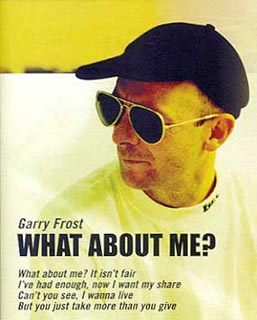 "WHAT ABOUT ME?"
Garry Frost

What about me? It isn't fair
I've had enough, now I want my share
Can't you see, I wanna live
But you just take more than you give

The image of Moving Pictures' lead singer Alex Smith punching his fist in the air, singing the impassioned vocal to "What About Me" on the band's 1981 video might be what people think of when they hear the song, but its writer, Garry Frost, had no thoughts of melodrama when he penned it. His intentions were, in fact, to focus on society's disadvantaged.

"The first songs that I ever wrote were on the injustices of the treatment of Aborigines. And heroin addiction," Frost says. "I was 18, I certainly knew nothing, I was very unworldly. I didn't hang out on the streets and didn't do drugs. So it's really interesting when you look back and think, they were the things that I wanted to write about.

"And that continued when Alex and I were writing stuff for Moving Pictures' first album. At that stage I was working with autistic children and it was basically walking down to the corner shop in Annandale to buy some lunch, and there was a kid in the shop, and he couldn't be seen. I was just upset and started writing a song about it."

It took nearly four months to write "What about me?" – even with some co-writing assistance from his then wife. Neither had any idea that the song was marked to be such a mammoth hit.

"Moving Pictures played it once in a pub as a country-rock kind of version," says Frost, recalling that the band lacked enthusiasm to add it to the regular set list or contemplate recording it. But the band's producer, Charles Fisher, had other ideas. He heard Frost tinkling around with the melody on the piano and Smith started singing along. Fisher insisted the band put it on their debut album. The rest, as they say, is history, but the song was a mixed blessing for both Frost and Moving Pictures.

"It had nothing to do with Moving Pictures, which was an R&B rock and roll band. It took the song somewhere I don't think the band wanted to go, and I'm including myself. But Charles can smell a hit from 13,000 kilometres away. His greatest asset is knowing what is a hit and how to turn it into a hit."

The arrangement and production of the song, timapnis and all, combined with a memorable vocal resulting in a histrionic but winning piece. Frost, who had stumbled into this vocation, never seeing himself as a career songwriter, suddenly found himself trying to live up to the success of a number one Australian hit that also went top 20 in the US. "I was then probably trying to write successful songs as opposed to just trying to write stuff for the band. And it wasn't the right place for the band to go."

He left Moving Pictures and his next band, 1927, also had great success with his songs on their ish album, most notably "That's when I think of you."

"I really felt what I was writing about when I was writing those songs. Less contrived than the stuff that I was writing after 'What about me?'" He looks back on the seven-year period with 1927 as his most prolific songwriting period. A short stint in jingle writing followed, and now he co-writes with and helps produce other artists, works sporadically on a solo album, and is a partner in a Sydney post-production studio facility.

"What about me?" might even get a new lease of life. "I think it deserves some sort of reworking," Frost muses. "My wife disagrees. She just says, 'You're writing wonderful songs now, don't go back there.' But I have done a version; it's dance, it's got a few lyric changes that bring it more contemporary. There's no corner shop any more. It's all boarded up. There's a guy there and it's all vacant lots."